Eggless Caramel Pecan Tart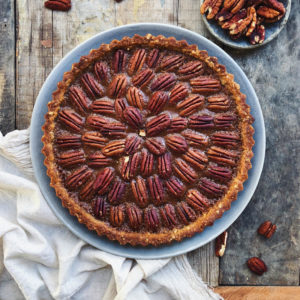 ½ cup butter (113 grams/ 8 tbsp)
⅓ cup castor sugar
1 cup all purpose flour
¼ cup rolled oats
⅔ cup granulated sugar
¼ cup water
6 tablespoons butter
½ cup heavy cream, cold
1 cup pecans
In a bowl, cream butter and sugar.
Mix in flour and oats and beat until the dough begins to come together.
Knead the dough and chill in the freezer for 15 minutes or until the dough is firm.
Roll out the dough and line a 9" tart pan with the rolled out dough. Chill in the freezer for another 15 minutes. Pre-heat the oven to 180C.
Use a fork to prick the chilled tart shell and bake at 180C for 10 minutes until the tart shell is golden-brown.
To make the filling, cook sugar and water in a saucepan set over medium heat until it turns into an amber color.
Bring it off-heat and immediately add the cream. The mixture will bubble vigorously, so be careful.
Mix in the butter while the caramel is still hot.
Pour the caramel into the tart shell. Arrange the pecans on top.
Bake the tart for another 15 minutes.
Recipe by
Bake with Shivesh
at https://bakewithshivesh.com/caramel-pecan-tart/