This eggless lemon cake recipe is very special. It is an old recipe that I had posted on my blog when it was hosted on blogspot. When I moved to word press, I lost that recipe somewhere and it never made it to the new website. A lot of you who had made the the eggless lemon cake asked for the recipe again but the sad truth was that I had never written down the recipe anywhere besides the blog. I thought the recipe was lost forever.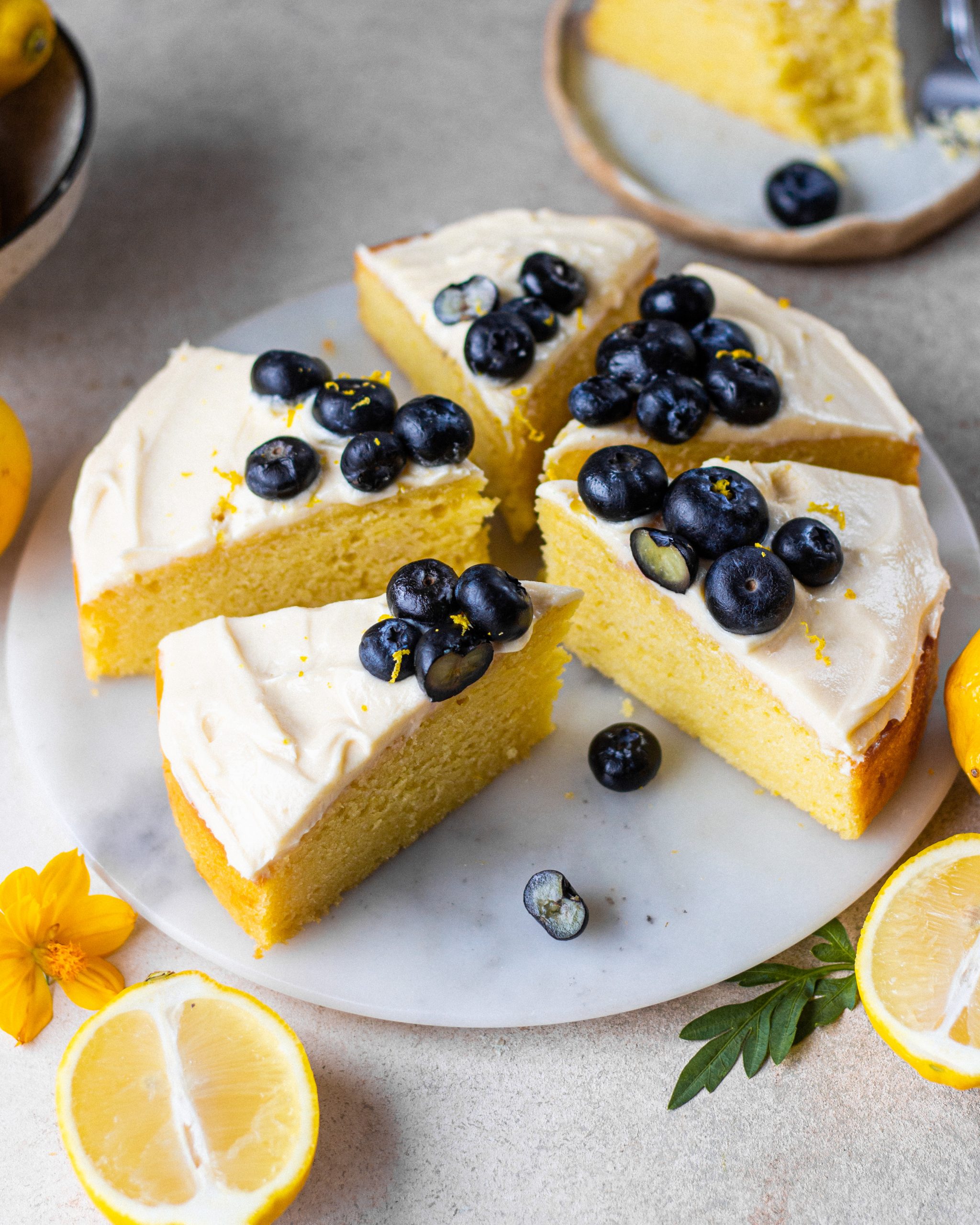 Last month, when I was in Dubai, I met a few of my readers for dinner. One of them happened to mention that the eggless lemon cake recipe from my blog is her favorite and how she has it written down in her diary because she makes it so often. That is how I found this recipe back and that is what makes it so special. I'm so glad I'm able to share it here again for those who've made it earlier and liked it and also for those who'd want to give it a shot.
While I love this lemon cake for how special the recipe is to me, you have several other reasons to try it. This eggless lemon cake is-
flavorful
light
soft
easy to make
delicious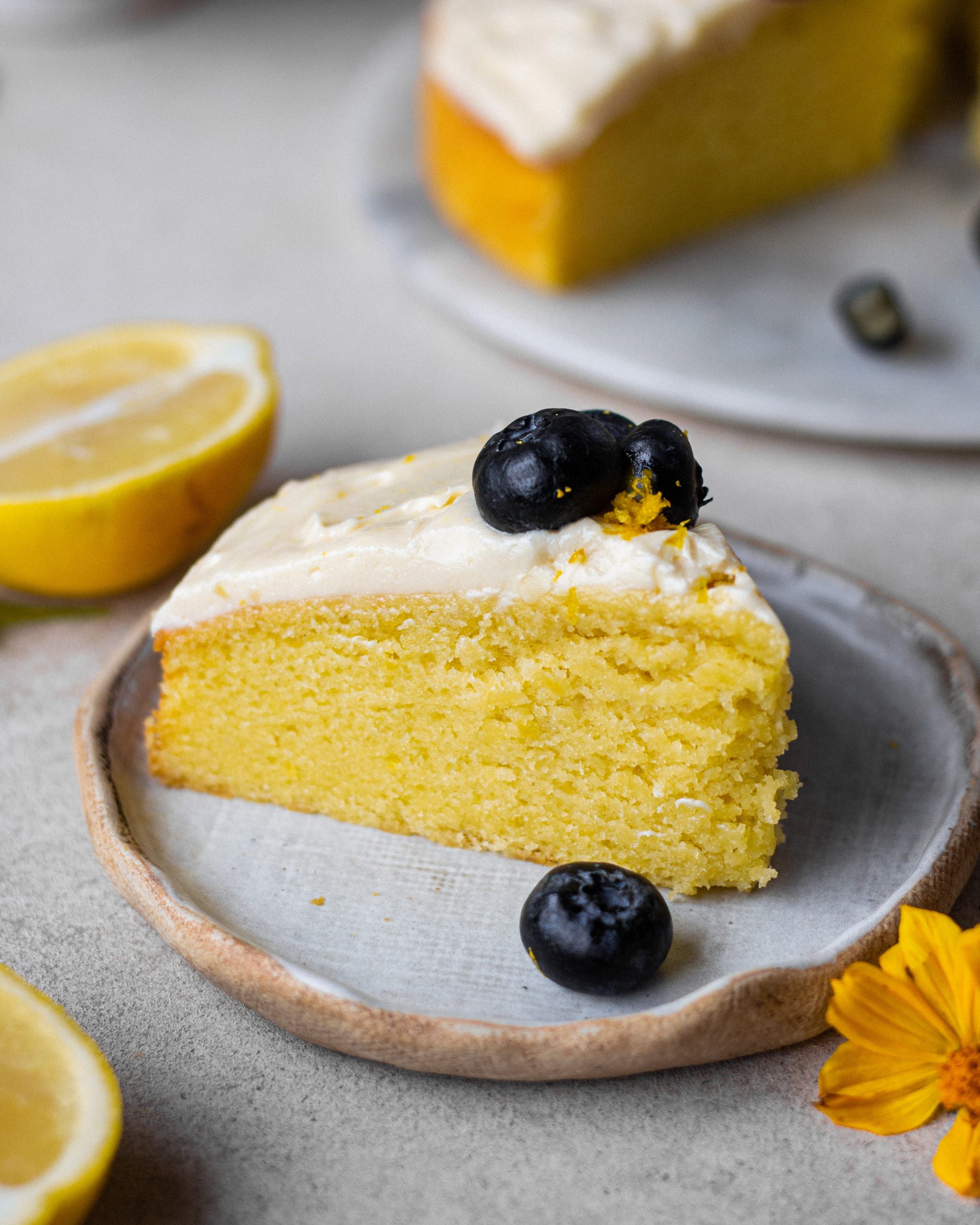 Ingredients for eggless lemon cake
The lemon cake is flavored using both lemon zest and lemon juice. To zest your lemon, use a micro-plane zester or a small grater. While zesting, make sure you are only getting the yellow skin of the lemon and not the inner white skin, which is bitter. Always remember to freshly zest your lemon right before you need it for the cake. Don't keep the rest resting. I also recommend using freshly squeezed lemon juice for the cake. Besides that, all ingredients for the recipe are simple and basic. All-purpose flour is regular maida. Castor sugar is superfine sugar. Please don't use granulated sugar if you can get your hands on castor sugar.
How to make lemon cake eggless
The egg substitute here is Greek yogurt. I like using Greek yogurt instead of regular curd because homemade curd is usually very watery. If you don't have Greek yogurt, you can use market bought curd or hung curd. Just get rid of all the extra water and use only thick curd for this recipe. A lot of eggless lemon sponge cake recipes call for condensed milk but I don't prefer using that as it makes the cakes very sweet.
Tip to bake lemon cake in microwave
Do you want to bake an eggless lemon cake recipe in microwave?  All you have to do while baking this cake in the microwave is to reduce the baking time by 25%. So in the microwave, this will only take 22-25 minutes at 180*C. Everything else remains the same.
You can eat this cake as it is or layer it with frosting. You can either use a vanilla bean buttercream frosting or cream-cheese frosting. If you bake this eggless lemon cake at home, don't forget to share pictures with me by using #BAKEWITHSHIVESH. Happy Baking!

EGGLESS LEMON CAKE
Ingredients
1 +1/2 cup (180g) all purpose flour (maida)
½ teaspoon (3g) baking soda
1 teaspoon (4g) baking powder
1 tablespoon (6g) lemon zest
¾ cup (180mL) vegetable oil
1 + ½ cup (300g) castor sugar
1 cup (285g) Greek yogurt
½ teaspoon vanilla extract
5 tablespoon (75mL) lemon juice
½ cup (120mL) milk + 1 tsp white vinegar, rested for 5 minutes
Instructions
Pre-heat the oven to 180*C. Line a 9" cake pan with parchment paper
In a large bowl, combine flour, baking soda, baking powder and lemon zest
In a separate bowl, beat vegetable oil and sugar.
Beat in the Greek yogurt, vanilla extract and lemon juice.
Add dry ingredients to the wet ingredients in three batches, alternating with milk. Use a spatula to fold the dry ingredients into the wet ingredients. Do not over mix.
Transfer the batter into the prepared cake pan. Bake at 180*C for 35-40 minutes.