EGGLESS LEMON CAKE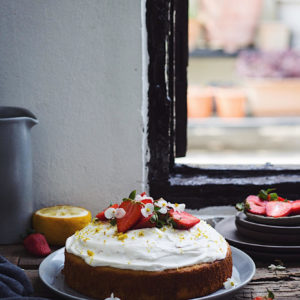 1 +1/2 cup (180g) all purpose flour (maida)
½ teaspoon (3g) baking soda
1 teaspoon (4g) baking powder
1 tablespoon (6g) lemon zest
¾ cup (180mL) vegetable oil
1 + ½ cup (300g) castor sugar
1 cup (285g) Greek yogurt
½ teaspoon vanilla extract
5 tablespoon (75mL) lemon juice
½ cup (120mL) milk + 1 tsp white vinegar, rested for 5 minutes
Pre-heat the oven to 180*C. Line a 9" cake pan with parchment paper
In a large bowl, combine flour, baking soda, baking powder and lemon zest
In a separate bowl, beat vegetable oil and sugar.
Beat in the Greek yogurt, vanilla extract and lemon juice.
Add dry ingredients to the wet ingredients in three batches, alternating with milk. Use a spatula to fold the dry ingredients into the wet ingredients. Do not over mix.
Transfer the batter into the prepared cake pan. Bake at 180*C for 35-40 minutes.