YAY! it's day three of the eggless recipes challenge. I'm sharing 10 eggless recipes in 10 days and I'm so glad you guys like the idea. I've been making so many tarts these days. Do you remember the caramel -pecan tart I made earlier this week? This maple and apple tart is equally delicious and also healthier. I use oats and whole wheat flour in the recipe. I also swapped the sugar with maple syrup.
This maple and apple tart essentially has three elements- the tart shell, the apple filling and the apple slices. All the elements are simple to make and you get a  spectacular tart when you put everything together. The only challenging part of this dessert is probably the tart shell. It is important to let it chill according to the instructions in the recipe. The apple filling is just three ingredients cooked together and the apple slices are what really makes this tart pretty. I love to top this  eggless maple and apple tart with some crushed pecans and serve it warm with a large scoop of vanilla ice-cream. Just so yum!
I really hope you enjoy this recipe as well as the seven other eggless recipes that I'll be sharing here in the next seven days. Happy baking!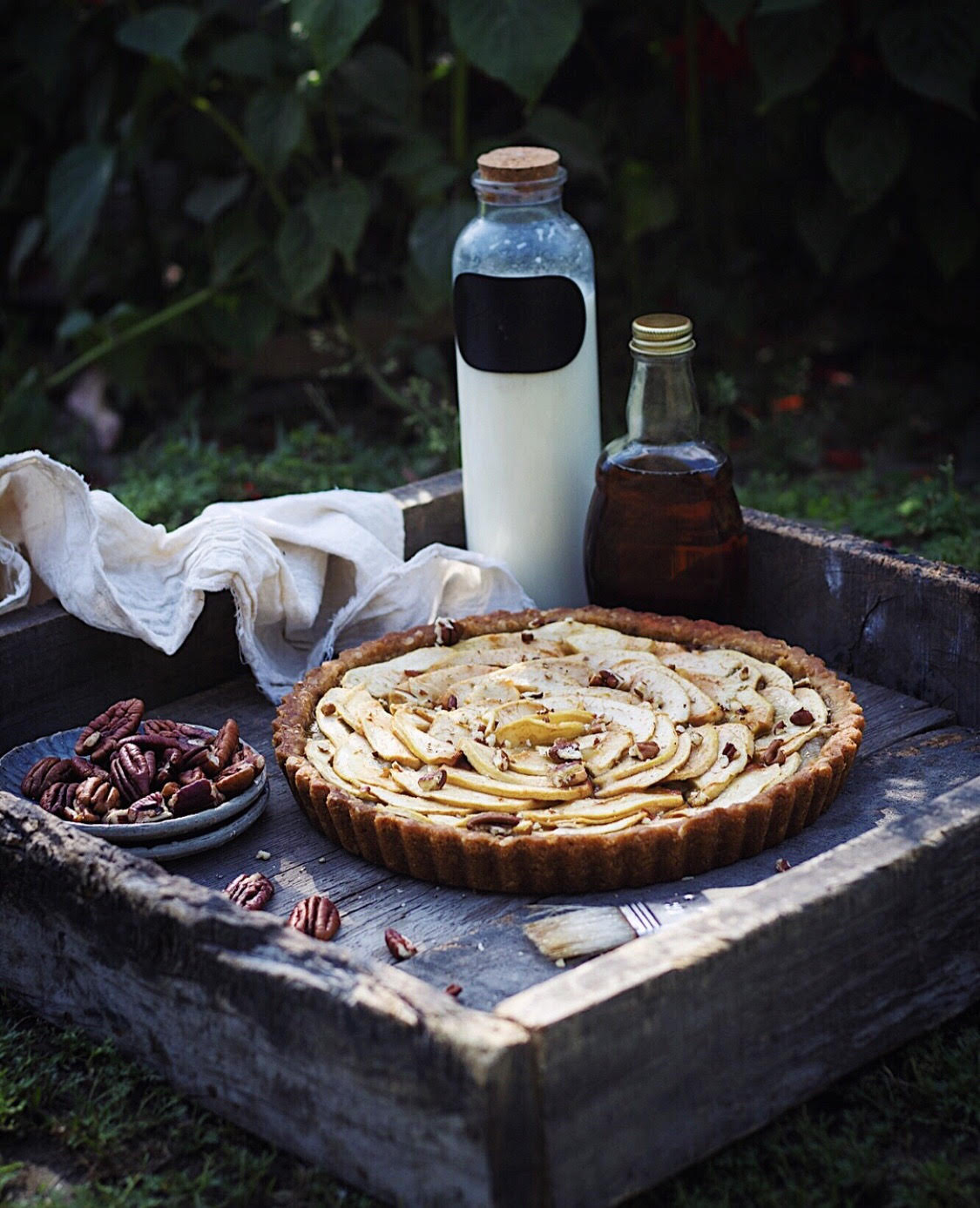 INGREDIENTS-
TART SHELL-
1/2 cup butter, softened
1/3 cup 100% pure maple syrup from Canada
1 cup all purpose flour
1/2 cup rolled oats
FILLING-
2 large apples, peeled and cubed
¼ cup 100% pure maple syrup from Canada
1/2 tsp cinnamon powder
4 large apples, thinly sliced
PROCEDURE-
In a bowl, mix butter and pure maple syrup from Canada.
Mix in flour and oats and beat until the dough begins to come together.
Knead the dough and chill in the freezer for 15 minutes or until the dough is firm.
Roll out the dough and line a 9″ tart pan with the rolled out dough. Chill in the freezer for another 15 minutes. Pre-heat the oven to 180C.
Use a fork to prick the chilled tart shell and bake at 180C for 10 minutes until the tart shell is golden-brown.
To make the filling, cook the cubed apple, cinnamon and pure maple syrup from Canada in a saucepan set over medium heat. Let the apples break down completely.
Pour the filling into the tart shell. Arrange the apple slices on top.
Bake the tart again for 15 minutes at 180C. Brush with maple syrup once the tart is baked