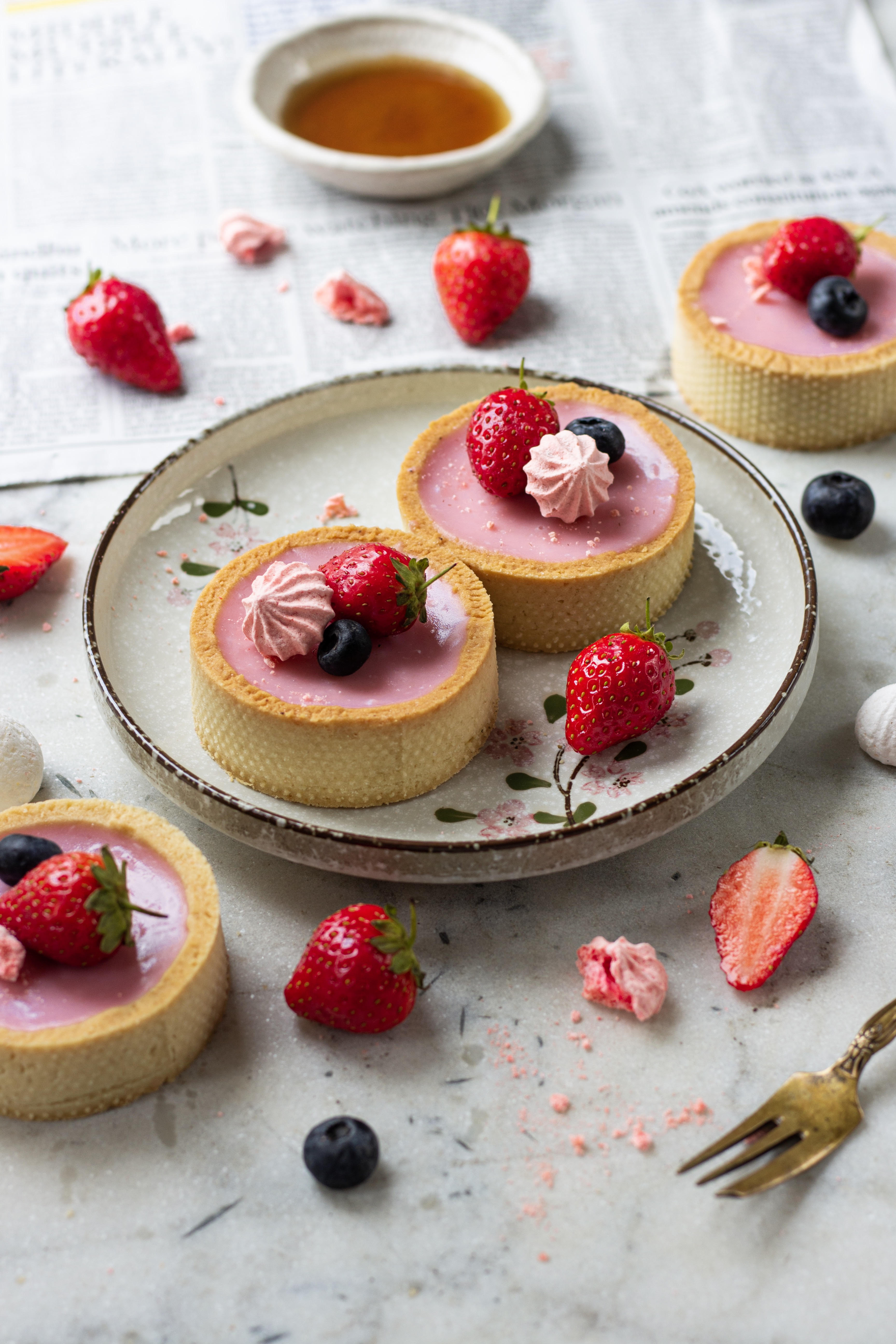 ROSE TART
Ingredients
FOR THE TART
1 ½ cups all-purpose flour
½ cup butter, softened
¼ cup castor sugar
1 egg, lightly beaten
FOR THE FILLING-
1 tablespoon gelatine powder. ( Sprinkle the gelatine over 6 tablespoons cold water in a medium-sized bowl and let stand 5 to 10 minutes. )
1 cup whole milk
1 cup double cream
½ teaspoon rose extract
2 tablespoon granulated sugar
2-3 drops pink gel colour
Instructions
To make the tart, cream the butter and sugar together.
Add the flour and mix well.
Add the egg and beat the dough comes together.
Press the dough down into the tart rings.
Chill the tart rings in the refrigerator for 30 minutes
To make the filling , In a saucepan set over medium heat the milk, cream, and sugar and bring it to a simmer.
Add the gelatine to the mixture and mix well.
Take the pan off heat, add the pink gel colour and set aside.
Pre heat the oven at 180 degrees.
Bake the prepared tarts at 180 degrees for 15-20minutes or only until the edges become golden brown.
Once baked cool the tarts on a wiring rack before pouring the prepared filling.
Pour the filling in the baked tarts and refrigerate over night.
Garnish with fresh strawberries and meringue kisses.
 

It's been so long that I posted a recipe for you guys, I'm sorry for my absence! I'm making all pink desserts to observe breast cancer awareness month. Let's start pinktober with these adorable mini rose tarts! It's a beginner friendly dessert, looks amazing on the plate and of course, tastes delicious! It has a vanilla shortcrust shell and a gelatine set, rose flavoured filling. I like to serve it with fresh strawberries and blueberries, but you could get creative and try out different pairings, a pistachio cream for example, would be great!