'Tis the season for the best desserts, the most decadent, the most delicious, the yummiest. I absolutely love the fall season. Waking up to a cold breeze enveloping my body which makes me hate getting up from the bed, the festive season lingering around us, and whatnot. There is nothing as pleasant as fall! And to kick-start this weather, I have the perfect red velvet brownies recipe for you guys to hog on!
I have been working on this red velvet brownies recipe since time immemorial because I wanted not too heavy but just perfectly decadent red velvet brownies. Moreover, I wanted my brownies to be melting in the mouth without being too heavy. And I think that I have now created one crazy red velvet brownies recipe and I am sure you guys will love it!
Tips for the perfect red velvet brownies
While this recipe is fairly easily, there are certain steps that we can always follow to attain perfect, gooey brownies. Some tips are:
The type of food coloring you will use to obtain the red color will always vary. While some brands' food coloring gives off a strong, pigmented color, some other brands' will not end up satisfying you. In such situations, the amount of food coloring you will put will vary. I would recommend a cautious drop-by-drop method for mixing the food coloring in order to obtain the perfect red color.
After preparing the batter, do not let the batter for these red velvet brownies rest for long as the vinegar will react with the other ingredients and can end up seriously altering your recipe.
Keep a watch on your red velvet brownies when they are in the oven. Do not open the oven time and again to check because the cream cheese mixture on top gets affected and the top may crack.
For more tips on brownies, you can refer to my Top 6 tips for the perfect brownies article!
Ingredients for this recipe
The ingredients in this recipe are fairly straightforward. The recipe uses cream cheese and I get a lot of queries revolving around cream cheese. I would recommend you to start with normal brands like Brittania or even Mooz. They are very easily available in your nearest grocery store, and if not there, you can surely get your hands on some cream cheese in Modern Bazaar stores, Krishna Marche, Food Hall, and even 24×7 stores in Delhi.
For food coloring, most of your typical grocery stores have food coloring. But, I would surely advise you to please choose the right brand because the cheaper food coloring will not give you a very nice and dense red color easily and it is not good for the health either.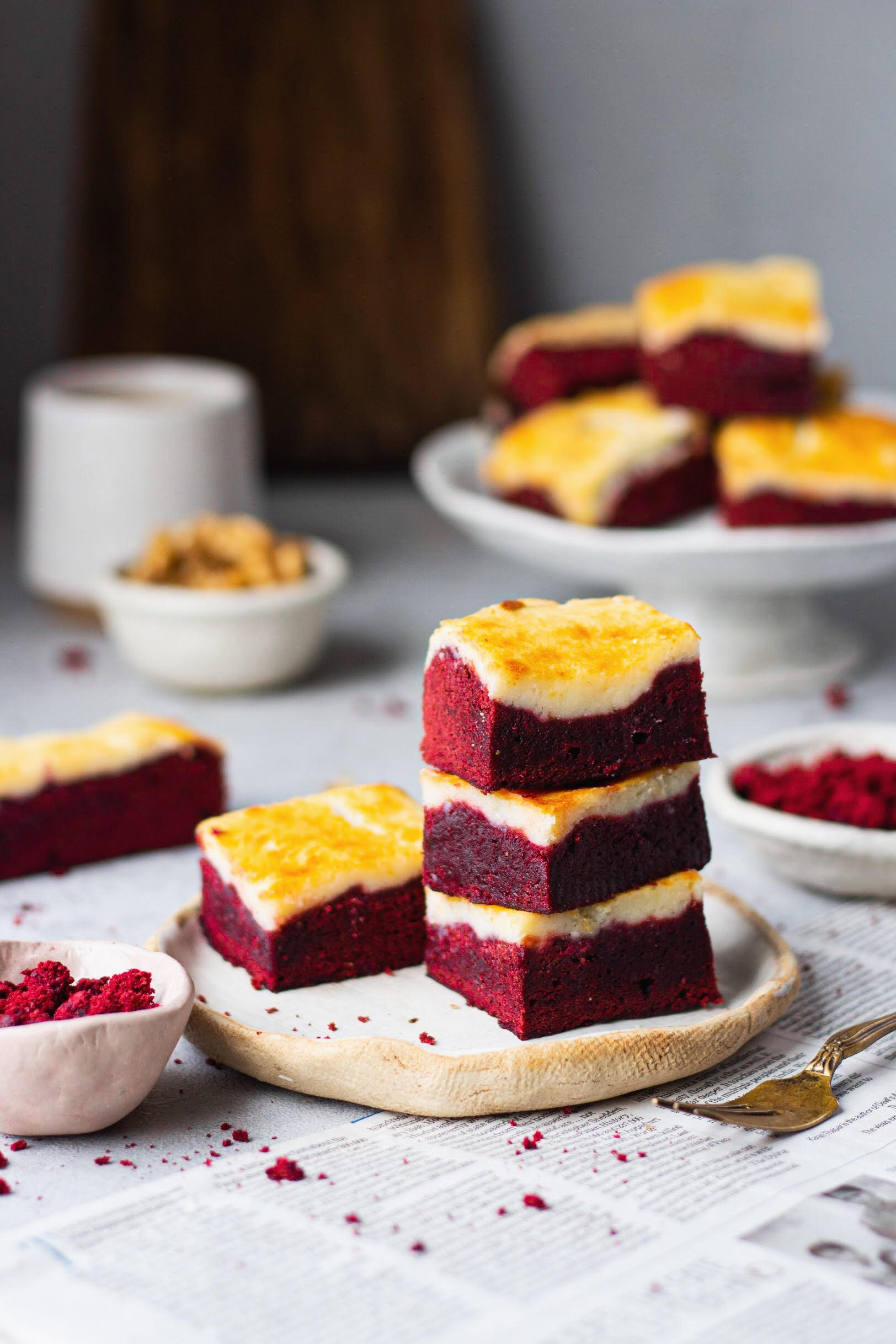 More red velvet recipes from the blog
If you do bake these brownies, don't forget to tag me on Instagram!
Red Velvet Brownies Recipe
Red Velvet Brownies-
Ingredients
For the brownies-
½  cup butter
¾ cup castor sugar
2 eggs
2tsp vanilla extract
1 teaspoon vinegar
2 tablespoon cocoa powder
1 cup flour
1 tablespoon red colour
For the cream cheese filling-
1 cup cream cheese
¼  tablespoons castor sugar
1 egg
Instructions
Preheat the oven at 180 degrees and line a 8 inch square pan with parchment paper.
In a bowl add the butter and castor sugar and mix until pale and fluffy.
Add the eggs one by one and mix well.
Add the vanilla extract and vinegar and mix well
Sift the flour and cocoa powder into the butter mix and mix until well combined.
Add the red colour and mix until the desired colour is achieved.
To make the cream cheese filling, add the cream cheese in a bowl and mix until soft and fluffy.
Add the castor sugar and mix.
Add the egg and mix until everything is well combined.
Pour the batter in the prepared pan and spread evenly, carefully pour the cream cheese filling over the batter.
Bake the brownies at 180 degrees for 35-40 minutes or until it becomes golden brown.