Red Velvet Brownies-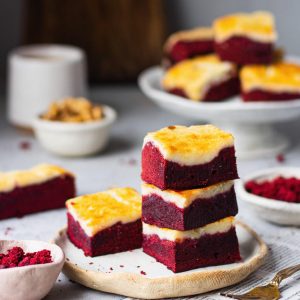 ½  cup butter
¾ cup castor sugar
2 eggs
2tsp vanilla extract
1 teaspoon vinegar
2 tablespoon cocoa powder
1 cup flour
1 tablespoon red colour
1 cup cream cheese
¼  tablespoons castor sugar
1 egg
Preheat the oven at 180 degrees and line a 8 inch square pan with parchment paper.
In a bowl add the butter and castor sugar and mix until pale and fluffy.
Add the eggs one by one and mix well.
Add the vanilla extract and vinegar and mix well
Sift the flour and cocoa powder into the butter mix and mix until well combined.
Add the red colour and mix until the desired colour is achieved.
To make the cream cheese filling, add the cream cheese in a bowl and mix until soft and fluffy.
Add the castor sugar and mix.
Add the egg and mix until everything is well combined.
Pour the batter in the prepared pan and spread evenly, carefully pour the cream cheese filling over the batter.
Bake the brownies at 180 degrees for 35-40 minutes or until it becomes golden brown.