Cheesecake is one dessert that I indulge in quite often because who does not like a good, creamy cheesecake! And do you know what is better than a big old-fashioned cheesecake? It's these eggless blueberry cheesecake cups!
Lemon and blueberry is a match made in heaven and I absolutely love the lemony flavor in these cheesecake cups because it pairs so well with the blueberries. It's simple to make, delicious, and did I mention- it's EGGLESS! A lot of you asked me for an eggless cheesecake recipe and this is the perfect recipe for you.
TIPS FOR MAKING EGGLESS BLUEBERRY CHEESECAKE CUPS IN MUFFIN PAN
These eggless blueberry cheesecake cups are baked in a muffin tray, lined with cupcake liners. There's not much difference in baking a cheesecake in a springform tin vs baking it in a muffin pan. You just have to spoon the crust in the cupcake liners, refrigerate it for a few minutes while you make the cheesecake filling, pour the filling on top of the crust, and bake! Like any cheesecake, these cheesecakes need to be baked in a water bath to avoid cracks on the surface of the cheesecake.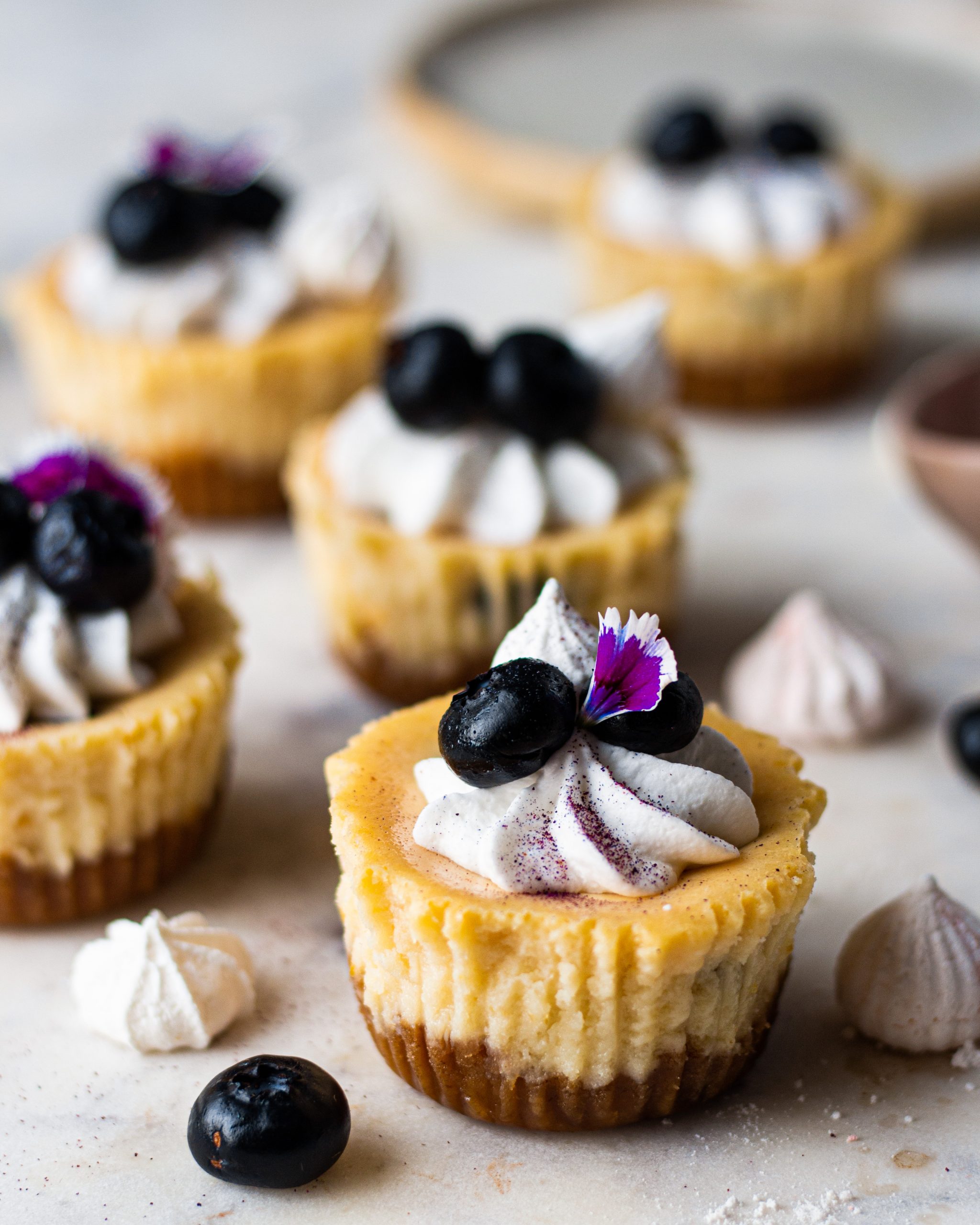 INGREDIENTS FOR MAKING THESE CHEESECAKE CUPS
Only a few ingredients are needed to make a decent cheesecake and the most important of them is cream cheese! I prefer using Delecta and it is always my go-to option for the best quality cheesecake. Since this is an eggless cheesecake, I also add sweetened condensed milk. It also acts as a sweetener for these cheesecakes. You can choose any condensed milk, as long as it is sweetened. Another important ingredient is vanilla! I use vanilla extract by Sprig which enhances the flavor of these eggless blueberry cheesecake cups.
To know more about vanilla and which vanilla to use for your desserts, you can check out my article Vanilla 101.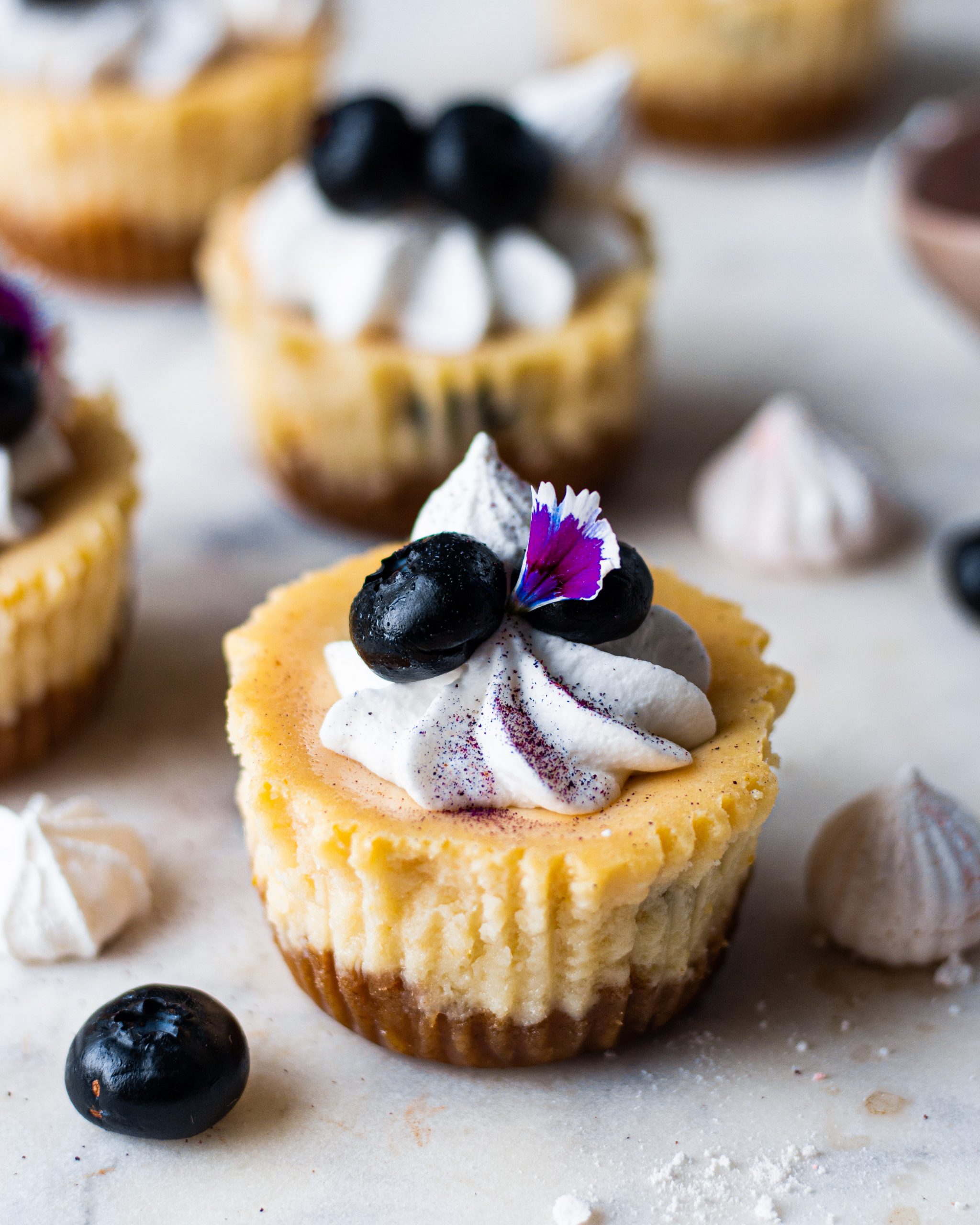 EGGLESS BLUEBERRY CHEESECAKE CUPS RECIPE
Eggless Blueberry Cheesecake Cups
Ingredients
For the base:
1 cup crushed digestive biscuits
¼ cup melted butter
For the filling
¾ cup softened cream cheese
¼ cup heavy cream
½ cup sweetened condensed milk
2 tsp vanilla extract
Lemon zest
¼ tsp lemon juice
Blueberry jam (optional)
Fresh blueberries
Instructions
Line the cupcake pan with cupcake liners.
Take the crushed digestive biscuits in a bowl and add the melted butter to it.
Combine them well and transfer the mixture to the cupcake pan. Press it down to the base of each cupcake mould.
Refrigerate the crust for 10 minutes.
Preheat the oven at 160 degrees celsius.
For the filling, whip up the softened cream cheese with the heavy cream.
Gradually add the sweetened condensed milk, vanilla extract, lemon zest and lemon juice and mix until well combined.
Pour this filling over the cooled crust and gently tap to remove any air bubbles.
Top your mini cheesecakes with blueberry jam.
Place the cup cake tray in a deeper tray filled with hot water upto one inch, to create a water bath. This will ensure that the cheesecake bakes slowly and evenly.
Bake the cheesecake at 160C for 35-40 minutes or until the filing starts to set. The centre might seem wobbly but it will continue to cook as the cheesecake cools.
Once the cheesecake is baked, allow it to come to room temperature.
Refrigerate the cheesecake for at least two hours or preferably overnight before unmolding.
Decorate with some whipped cream and fresh blueberries.
Now that's a really simple recipe, isn't it? If you end up making these cheesecake cups, tag me on 
Instagram
, and don't forget to use #Bakewithshivesh. Happy baking!