​All of us have, since forever, been crazy after those subway cookies. In all honesty, so have I. They are extremely gooey and extremely delicious. I have no idea what is not to like in those heavenly cookies. Now that we are counting weeks over weeks in lockdown, and have practically made everything at home- let's give these cookies a chance! These Double chocolate chunk cookies are chewy, fudgy, gooey, ooze out chocolate, and is blissful for anyone eating it. If you are someone who loves chocolate, you will be able to find everything in this cookie to satisfy your thirst for chocolate. And, if you are not a chocolate lover- like me- even then, these Double chocolate chunk cookies are the most irresistible batch of cookies you'll ever bake!
I love monsoon. Sure, the humidity is super high and I get even lesser time to shoot because of the light deficiency. But, I take this as a good enough excuse to make myself something comforting. These Double chocolate chunk cookies are by far the most comforting cookies I have ever made. Combine these cookies with a cup of coffee or tea and enjoy it next to a window while raining. Did I just describe the perfect evening or what? Haha. In all honesty though, these Double chocolate chunk cookies don't disappoint you at all. There are endless recipes on the internet promising you the beautiful bite of a Subway cookie. But, none of them are as heavenly as this- trust me on this!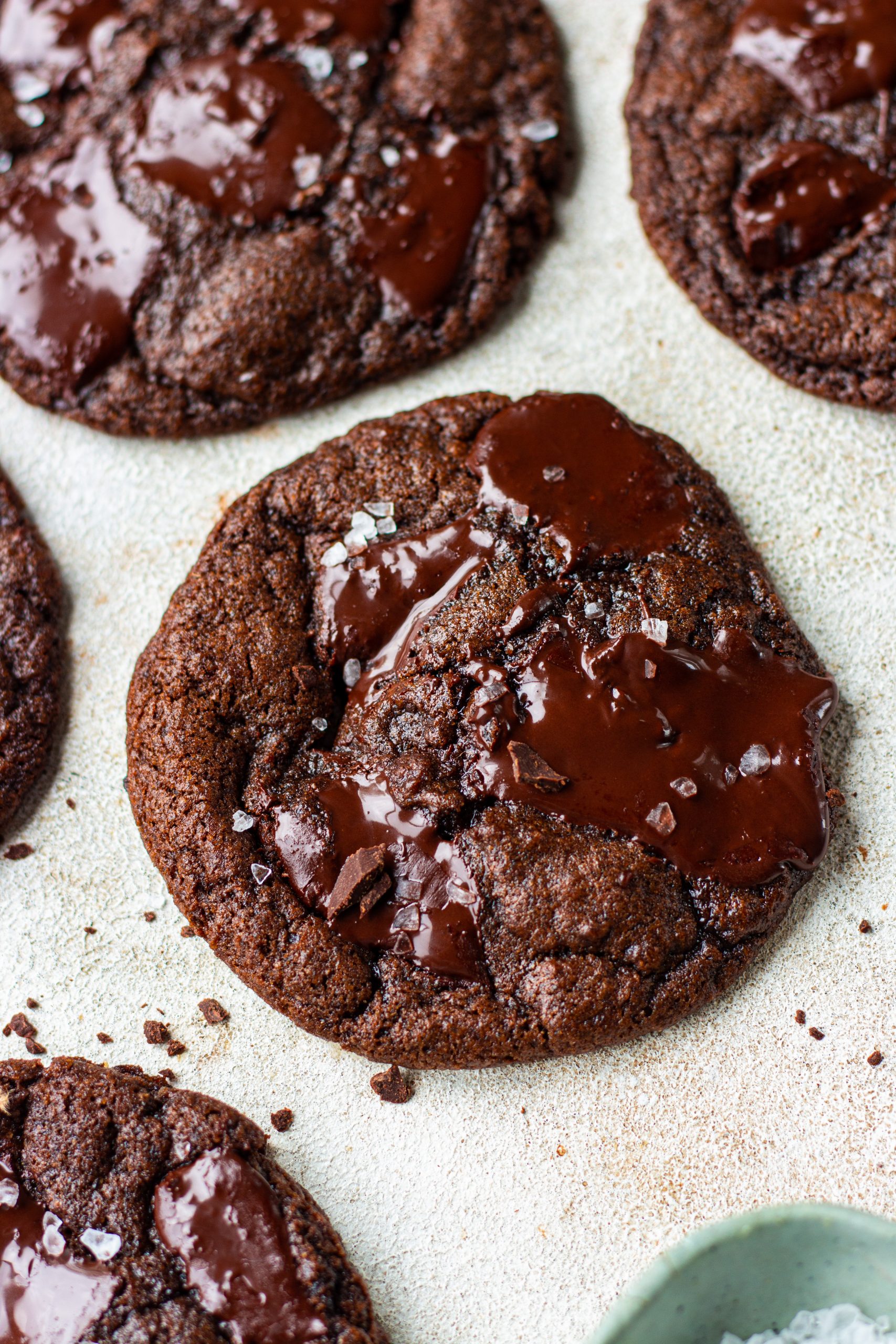 INGREDIENTS USED IN Double chocolate chunk cookies
Baking these Double chocolate chunk cookies is one of the most simple things and they taste amazing! Plus, they make use of everyday ingredients. But there are a few things that I would like to point out.
In all of my cookie recipes, I always add a small portion of cornflour to the dry ingredients. I prefer chewy cookies and cornflour really helps me achieve the same. If you are not a fan of chewy cookies, you can choose to not add cornflour in your Double chocolate chunk cookies.
Another thing I always take care of while baking cookies is use a combination of both, white and brown sugar. Brown sugar has molasses which again enhances the texture of the cookie and makes it a hundred times better than the cookies made with just white sugar.
Instead of using only dark brown sugar, I use packed light brown sugar. I find the flavor of packed light brown sugar to be much better than that of dark brown. Please note, 'packed' light brown sugar means, whenever you're measuring it out, make sure to push down the sugar in your measuring cup and keep on adding till the cup is full! Read more about different types of sugars.
This recipe of Double chocolate chunk cookies does contain one egg. You can easily replace that with one flax egg. This is equal to one tbsp flax powder with three tbsp water. Rest it for 10 minutes and you're done!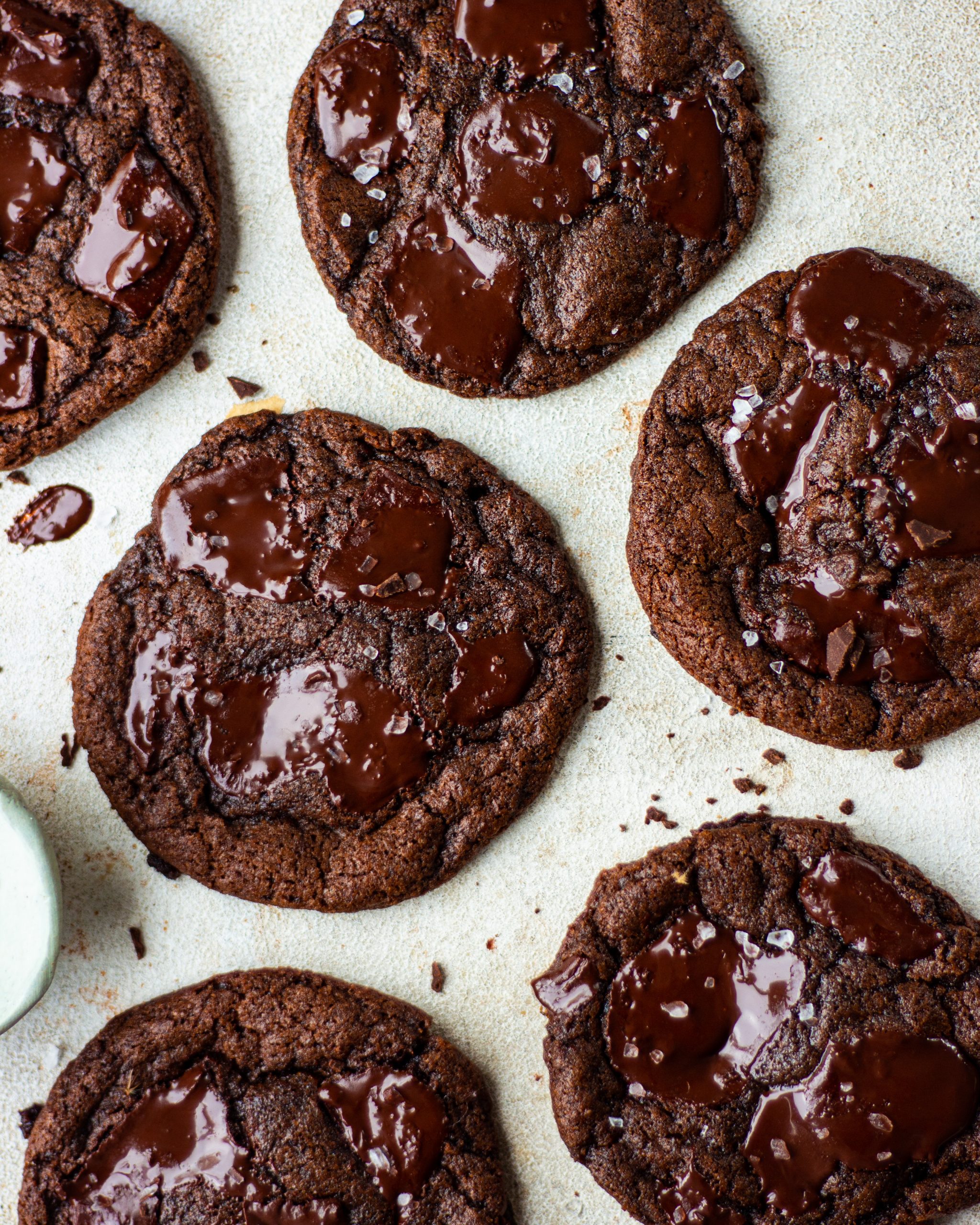 BAKING Double chocolate chunk cookies IN A MICROWAVE
If your microwave has a convection mode, you can also bake these Double chocolate chunk cookies in it! Cookies do not yield disappointing results. They do not have strict guidelines for temperatures and other baking rules. To bake these Double chocolate chunk cookies in the microwave, preheat until 180 degrees Celsius. Place the cookies evenly on your tray, and allow to bake for 15-17 minutes only. Again, microwaves differ, so keep a sharp eye out for the golden edges!
PS- If your microwave does not accept a flat tray, take that round cake tin out and evenly place your cookie dough onto it. You might take a longer time to bake a sufficient batch of cookies, but you will succeed!
TIPS TO GET THE PERFECT cookies
Now, even though cookies are a fairly easy recipe- one could always use some tips. Making cookies is an intricate process and also one that requires some patience. If you need the chewy and delicious outcome, you're going to have to test your patience. Once these Double chocolate chunk cookies become your favourite (and they really will), you will end up loving the process too!
Now, try to keep the following tips in mind to get the perfect and most delicious Walnut Mocha Cookies.
Keep that butter softened. If your butter is not softened, your sugars won't mix. Your sugar and butter mixture is the very base of your Cookies.
To get softened butter, place it in a bowl and pop it in the microwave. Micro in intervals of 10-10 seconds until it is just softened. Be cautious to not melt it. Melted butter gets very different results.
Use castor sugar. Using castor sugar really helps save time and also helps the final results. Sugars come in a lot of varieties, but all over the world, castor sugar is the Bible sugar for desserts.
Do not disturb the cookies while they bake. You know they are done when they gain that beautiful golden-ish color or when the edges turn brown.
For uniform cookies, use an ice-cream scooper to plop the dough onto the tray. If you do not have an ice-cream scooper, use a deep tablespoon to get equal-sized Cookie balls.
Put the dough to rest in the fridge for at least 30-45 minutes before making it. If this step is overlooked, your cookies will spread far too much.
Allow the cookies to cool down before consuming. They're soft and brittle when fresh out of the oven.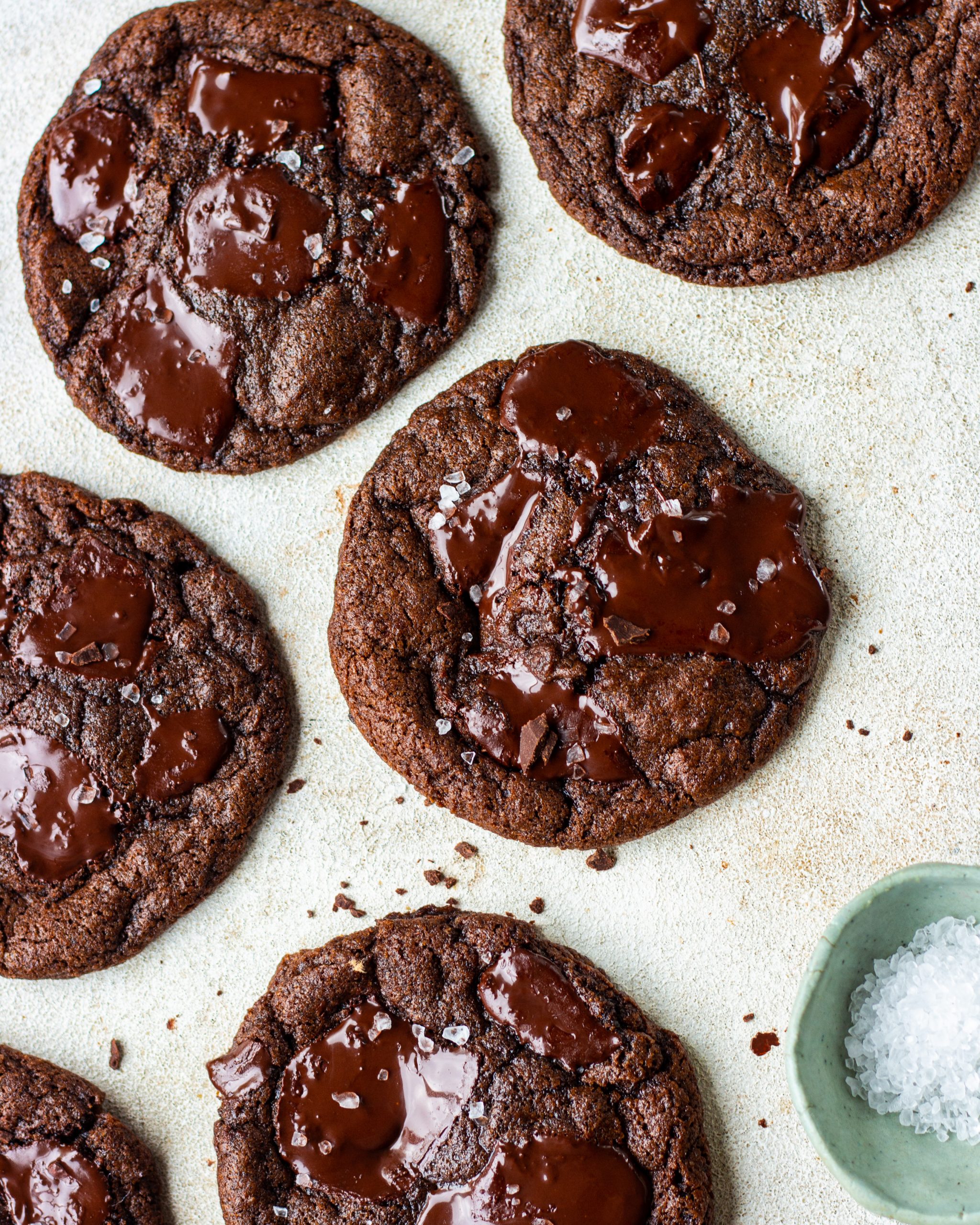 Double chocolate chunk cookies recipe
Double chocolate chunk cookies- subway style
Ingredients
½ cup salted butter, softened
½ cup caster sugar (superfine sugar)
½ cup brown sugar
1 egg/1 flax egg
1 tsp vanilla extract
1 cup flour
½ tsp baking soda
1 tbsp cornflour (optional)
¼ cup cocoa powder
1 tbsp water + 1 tsp coffee powder
Dark chocolate chunks
Instructions
In a bowl, place your softened butter. Add both the sugars. Combine until you cream the mixture until light, fluffy, and pale.
Add in one egg or one flax egg. Add in vanilla and mix.
Mix in flour, cocoa powder, baking soda, corn flour, and combine until your mixture resembles a cookie dough.
Add in the coffee and water mixture and combine well.
Refrigerate for 30 minutes.
Using an icecream scooper, take out equal quantities of cookie and place them on a prepared tray.
Place chocolate chunks on top and bake in a preheated oven at 180 degrees for 10-12 minutes.
If you make these cookies, please don't forget to tag me on
Instagram
.