Baking a good, soft sponge always takes me back to my childhood days because the cake is something I grew up eating. Whenever I'm unsure about what to bake, I go for a simple cake. And this eggless chocolate chip cake is one of those easy, hassle-free recipes which is also a huge crowd-pleaser.
Whether it's a mid-week midnight craving or a lockdown birthday, this cake is the perfect marriage of vanilla and chocolate. And trust me, nobody minds having a slice of cake that's studded with those many chocolate chips! I also make a shiny chocolate glaze to accompany the cake but this cake tastes equally good with a ganache or without any frosting. Do tag me on Instagram if you end up making this cake and don't forget to use #Bakewithshivesh. Happy baking!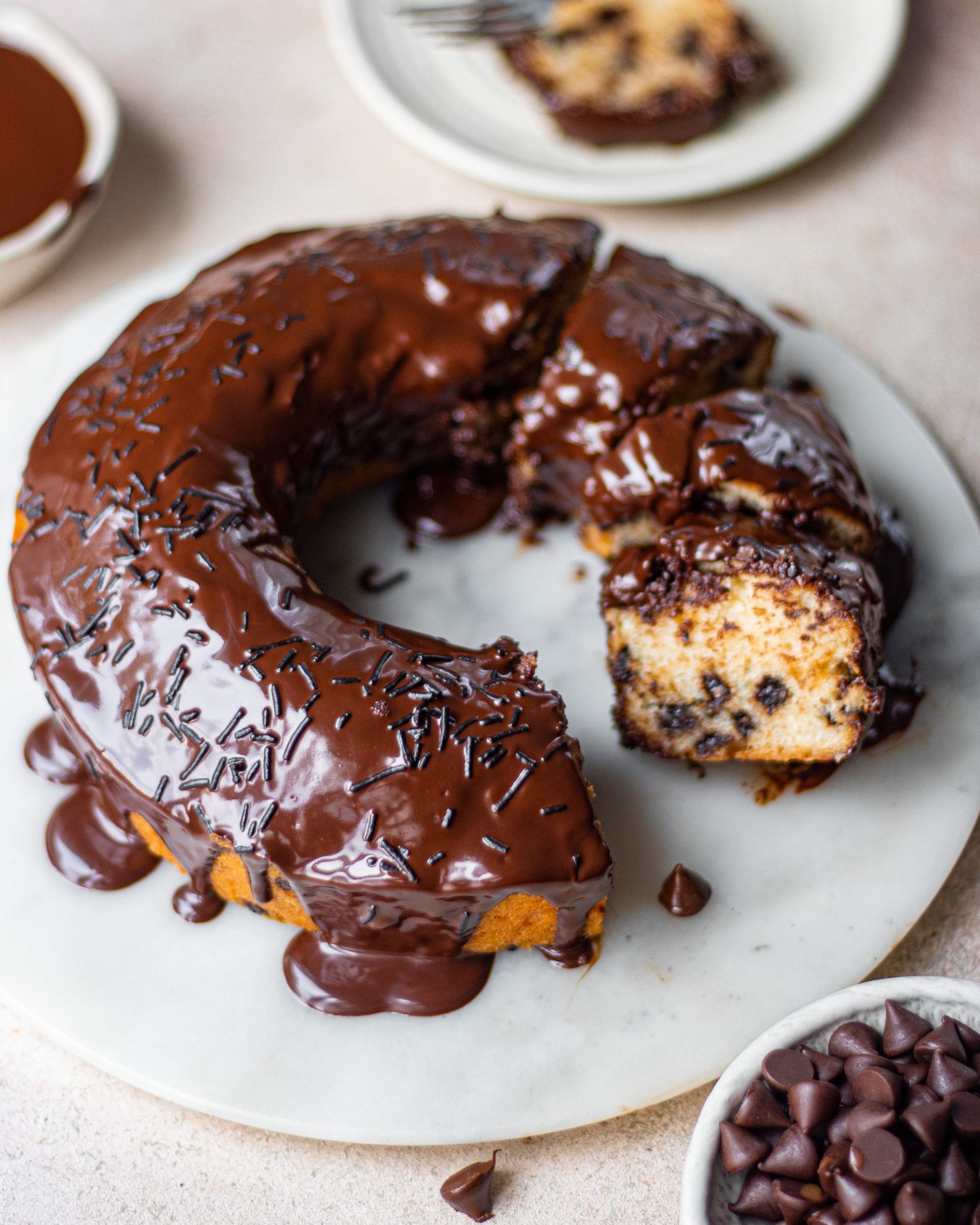 TIPS FOR BAKING EGGLESS CHOCOLATE CHIP CAKE IN BUNDT PAN
I make this eggless chocolate chip in a bundt pan. When making this bundt cake, it's important to grease the bundt pan well and line the bottom with parchment paper. I usually just coat it generously with some oil, and then press the parchment paper down to the bottom.
Make sure you do this step well. There's nothing more heartbreaking than having your eggless chocolate chip cake stick to the bundt pan and break! If you don't have a bundt pan, you can also bake this cake in a round 8-inch pan. This eggless chocolate chip cake can also be made in a cooker or on convection mode in the microwave at 180 degrees celsius. It might just take slightly lesser time to bake, so keep an eye!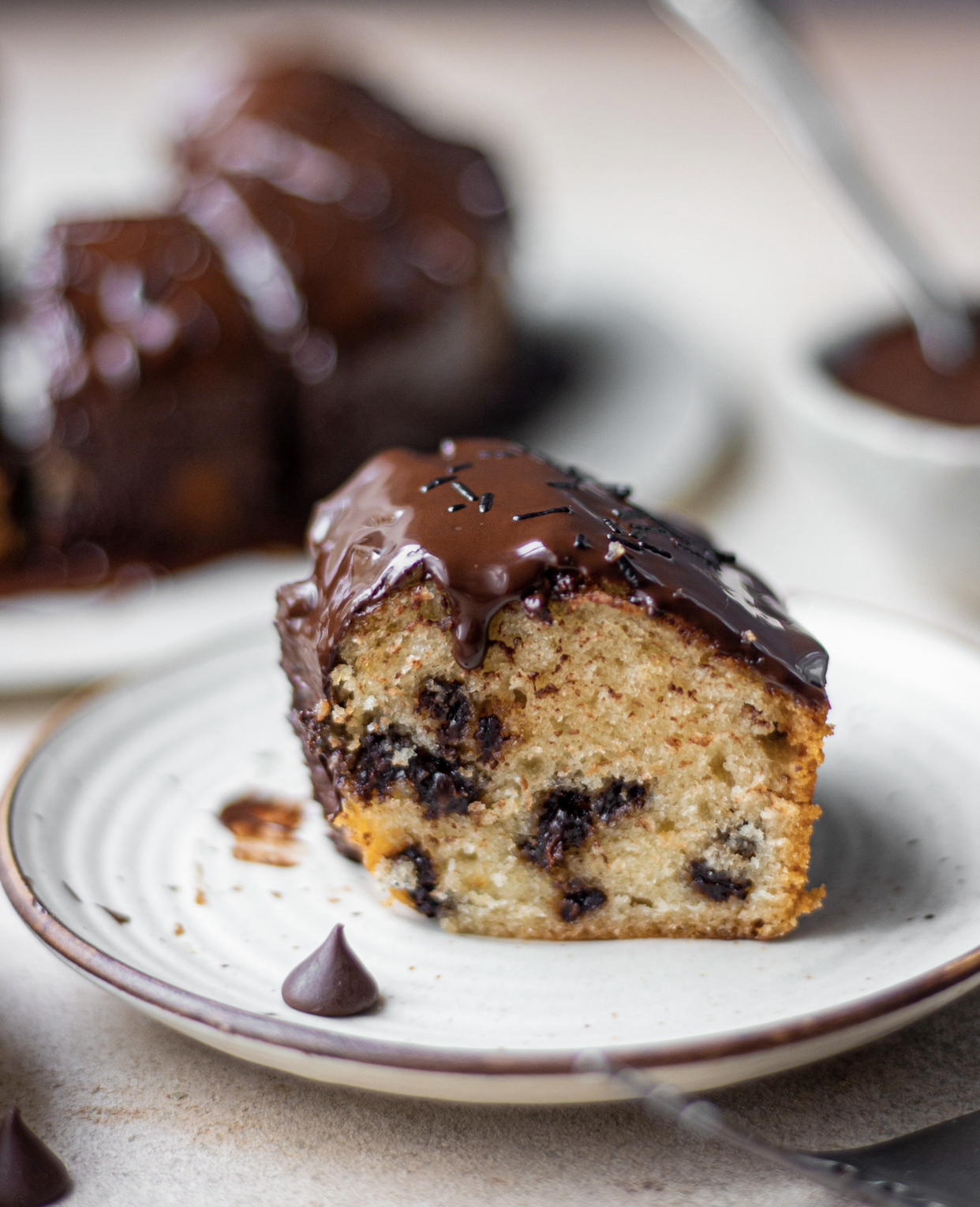 INGREDIENTS NEEDED FOR MAKING THIS CAKE
The base of the cake is my favorite Eggless Vanilla Cake recipe. It is so light, fluffy, and this time, laden with chocolate chips! Since this is an eggless recipe, I use yogurt to substitute the eggs. The yogurt adds moisture to the cake and makes it soft and fluffy. I also recommend using good quality chocolate chips for this recipe as this is what will make the cake stand out! I used chocolate chips from Nestle, which I picked up from my travel abroad. For the shiny chocolate glaze, I use Amul chocolate.
TIPS FOR EGGLESS BAKING
Eggless baking can be a bit tricky but with the right tips and tricks, you'll be able to bake any eggless cake easily-
Don't add all the dry ingredients at once. It's better to combine the dry ingredients first and add it slowly to your wet ingredients.
Always sift your dry ingredients as this aerates the flour and makes your cake lighter.
Fold your dry ingredients into wet ingredients only till everything is well combined. Do not overmix, it'll make your cake dense in texture.
HOW TO MELT CHOCOLATE ON DOUBLE BOILER
This method is more common and traditional, and you might have already noticed a lot of people using it. Fill a saucepan with an inch of water and put it on the boil. Put it on medium heat. Meanwhile, get your glass bowl filled with sliced chocolates and place it carefully on top of the saucepan. The steam from the boiling water in the bottom bowl will gradually heat the glass bowl enough to make your chocolate melt. Nevertheless, remember to keep stirring the melted chocolate in order to make the process quicker and get a satiny texture. Keep it on the stove until all the chocolate melts completely.
MORE EGGLESS RECIPES ON THE BLOG
EGGLESS CHOCOLATE CHIP CAKE RECIPE
Eggless Chocolate Chip Cake
Ingredients
For the Cake
1 cup (285 g) yogurt / dahi
½ teaspoon (3 g) baking soda
1+1/2 cups (180 g) all-purpose flour (maida)
1 teaspoon (4g) baking powder
¾ cup (150 g) caster sugar
½ cup (120 ml) vegetable oil
1 teaspoon (5 ml) vanilla extract
½ cup (90 g) chocolate chips
For the chocolate glaze
2 cup (350 g) dark chocolate (chopped)
1 tablespoon (14g) vegetable oil
Instructions
Pre -heat the oven to 180 degree C and line a bundt cake pan with parchment paper.
In a bowl whisk together flour and baking powder and set a side.
In a separate bowl add the yogurt and sprinkle baking soda over it and set it aside to foam up.
Whisk together castor sugar and oil in a separate bowl until pale and well combined.
Now pour the yogurt mixture to the oil and sugar mixture and mix well.
Add the vanilla extract.
Gently fold in the flour and mix until everything is well combined there are no large flour pockets in the batter. Do not over mix at this stage.
Fold the chocochips in the batter and transfer the batter to the prepared cake pan.
Bake at 180C for 30-35 minutes or only until a skewer inserted in the center comes out clean.
For the chocolate glaze, melt the chocolate slowly over a double boiler.
Once the chocolate has completely melted, add in the oil and mix well.
Pour the glaze on top of the cake. Decorate with some chocolate sprinkles.