A the classic desserts that is known in all parts of the world is a Tiramisu. Originated in Italy, the word Tiramisu actually translates to 'pick me up'. This makes total sense because a tiramisu is a combination of such simple elements and one bite of it is sure to make you forget all your troubles. One of the main elements in this dessert are ladyfingers which are made out of eggs. But I don't want anyone to miss out on making and devouring this dessert and that is why I want to share my recipe for an eggless tiramisu! 
Trust me when I say you need to make this dessert at home. Each and every element of this eggless tiramisu is to die for. I think the best part about making this tiramisu is that we are also making eggless ladyfingers from scratch! The hardest part of making this recipe is controlling yourself from finishing the entire pan, haha! 
Elements of eggless tiramisu
Like I said, there are a few elements involved in making and structuring a tiramisu. Each of these elements has to be made to perfection and to do that you need to keep a few things in mind.
Eggless Ladyfingers : The base
At the base of each tiramisu, you will find a light, spongy biscuit that is made out of the pure goodness of eggs, sugar, and all purpose flour. These biscuits also soak up all the coffee syrup that gives a tiramisu the kick in its flavor. 
But since we are making an eggless tiramisu, we need to make eggless ladyfingers as well. Here, we are going to replace the eggs with some melted butter and milk. Eggless ladyfingers are not as fluffy, but they taste delicious and still have a good sponge. 
Coffee Syrup
I think the coffee syrup really gives a tiramisu the perfect flavor kick. Traditionally, a tiramisu has a syrup that is made from both, espresso and a sweet red wine, Marsala. But adding alcohol is completely optional here and I love the simple coffee flavor in my tiramisu.
Mascarpone Cheese & Cream Mix
In every tiramisu, mascarpone cheese is combined with heavy cream to make it a luscious, smooth, and decadent filling. Mascarpone is actually Italian cream cheese that is made from whole cream. This means that it has a higher fat content than regular American cream cheese and is also much more rich and creamy in taste. If you're wondering where to buy mascarpone from, I'd suggest Modern Bazaar, FoodHall or the INA market. It is also available online. The brand I use is Flanders. 
Cocoa Powder: The topping
To top all of this deliciousness off, dusting cocoa powder on top is traditional. It cuts through all the sweetness of the layers and makes it a perfectly balanced dessert.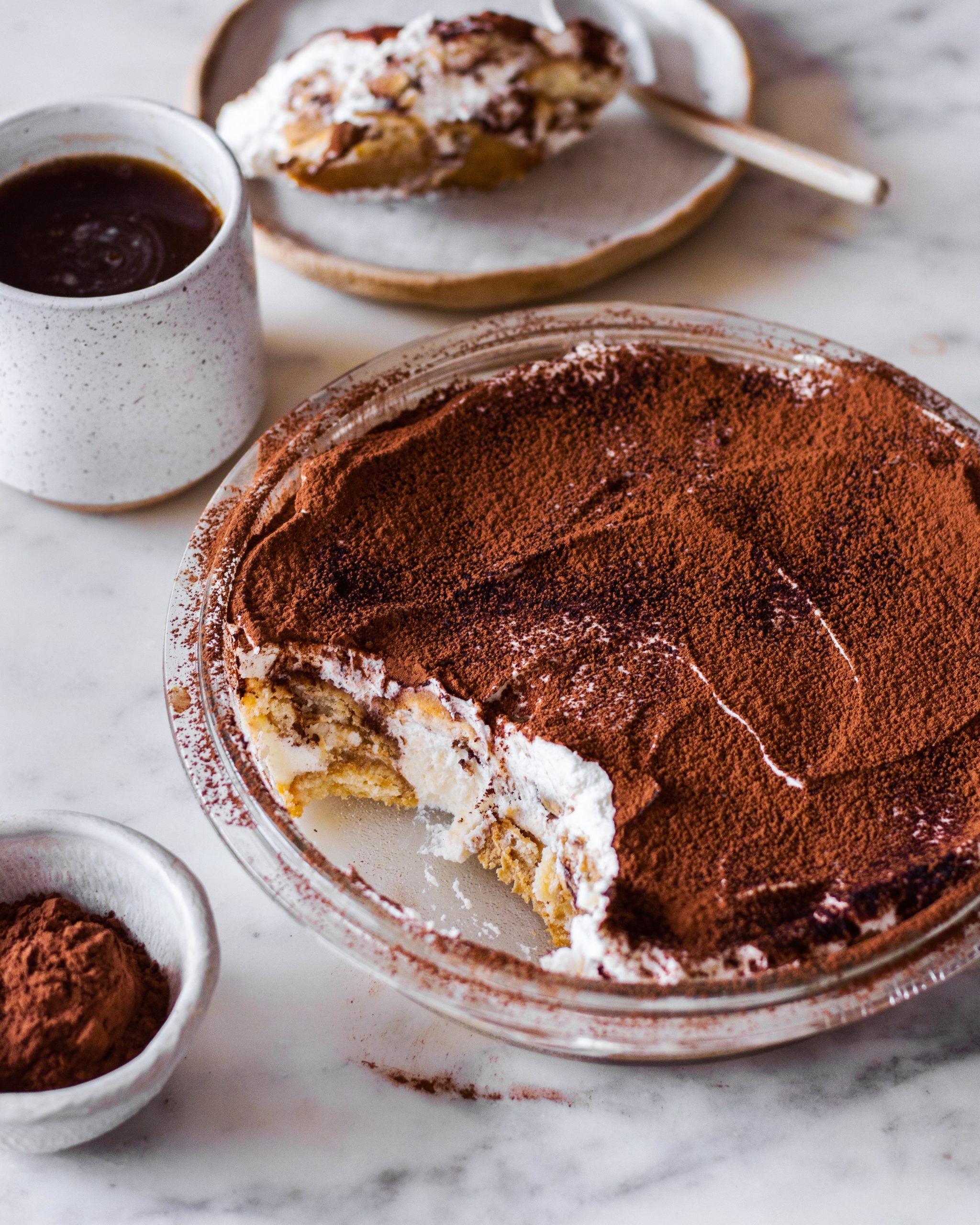 Tips to make the perfect eggless tiramisu
While making ladyfingers, keep in mind the baking time. These light and airy biscuits bake pretty quickly and you need to make sure you don't burn them. 

Always use room temperature mascarpone cheese. This makes the mascarpone soft and helps you make a really smooth filling. If you use cold mascarpone cheese, chances of the filling being lumpy are high. 

Always fold your whipped cream into the mascarpone cream very lightly. We want to make this mixture airy and light so that the eggless tiramisu is not too heavy to eat.

Soak your ladyfingers in the coffee syrup well. But make sure to do this quickly. If you leave the ladyfingers in the coffee syrup for too long, they will become extremely mushy and break and you won't be able to work with them.

Make sure to evenly layer all elements of the tiramisu so that when you cut into it, you can see all the different and distinct layers of deliciousness. 

To get the most flavorful tiramisu, you need to let it rest in the fridge for an hour or so. This not only helps all flavors to merge well together, but it also helps the tiramisu set well.
Eggless tiramisu in a microwave
The only 'baked' part of this dessert are the eggless ladyfingers. If you don't have an oven, you can also make these in your convection microwave! Remember that when using a convection microwave, baking time gets reduced by 25%. For example, if a cake takes 30 mins to bake in an oven, it would take 7.5 mins less in a convection microwave. So set your time accordingly.
Lots more tiramisu recipes on the blog! Check these out if you like. Eid Tiramisu-Three Decadent Layers, Tiramisu without Alcohol, and the 4 Layer Chocolate Cake Tiramisu. 
It's no secret that I love a good tiramisu. I have shared so many easy tiramisu recipes on the blog. But this recipe is my favorite because it also has a lady fingers recipe and that too eggless! If you make this recipe, or any other from my blog, don't forget to share your pictures with me on my Instagram @shivesh17. I love seeing your recreations and what you guys make. Happy baking! 

Eggless tiramisu
Ingredients
Coffee syrup
1 cup water
2 tablespoons coffee powder
Lady finger biscuits
½ cup butter
¼ cup caster sugar
1 tsp vanilla
6 tbsp milk
1 cup all purpose flour
¼ tsp baking powder
Mascarpone filling
1 cup mascarpone cheese, at room temperature
½ cup icing sugar
1 cup whipped cream
Cocoa powder, to dust
Instructions
To make the ladyfingers, pre heat your oven at 170 degree celsius. Then in a bowl add in melted butter, sugar and vanilla. Mix this really well. Add in milk and combine everything together.
In the same bowl, add in all purpose flour and baking powder and bring the ladyfinger dough together.
Transfer this in a piping bag with a round nozzle and pipe out ladyfinger on your baking tray. To even out the edges, dip your finger in water and smooth out the edges lightly.
Now dust dust icing sugar on top and bake them for 10 minutes or till they're golden brown.
Next we make our coffee syrup. In a bowl add in water and coffee powder. Mix this really well and set it aside.
For the mascarpone filling, add softened mascarpone in a bowl and add icing sugar. Combine this really well. Now add in your whipped cream and gently fold it in. Once its all combined, set it aside.
To assemble the tiramisu, soak your ladyfingers in the coffee syrup and place them all over the base of your serving dish. Top this off with a layer of mascarpone cheese mix, spread it evenly and dust cocoa powder on top. Repeat this layering till you're finished with all your elements.
Let it rest in the fridge for 1 hour. Cut in and enjoy!