Tiramisu is such a classic in a bakers repertoire. The crisp coffee flavour combined with the creaminess. This is exactly why my Eid Tiramisu is about, converting the classic tiramisu to this perfectly festive Eid treat. It is eggless, no bake, quick to put together and SO delicious! Eid is celebrated all over the world with such joy and warmth. With whatever is happening to the world, due to the virus celebrating small joys is more important than ever. I also can't imagine how hard it must be to fast for all the people who are fasting. I know how cranky I get when I miss even one meal, so salute to you all. Which is why I bring you the best way to break the fast with this sweet sweet treat and enjoy this beautiful festival with your family.
WHAT IS MY EID TIRAMISU?
This decadent dessert is perfect for the summer, the tiramisu is so cooling and satisfying. Eid tiramisu has 3 layers, coffee soaked Rusk/biscotti, custard and date caramel.
THE LAYERS
Rusk
The base layer is formed with rusks being soaked in coffee.
Custard
This layer is all about the richness and creaminess we are about to add to our Eid Tiramisu. Here, I have used a pre-made custard powder which is eggless. However if you do eat eggs, you can make a pastry cream from scratch using eggs and milk. The silkiness of the custard and texture from the rusk is a match made in heaven. Trust me!
Date caramel- my most favorite component, this really elevates the desserts. The gooey goodness of dates adds such a perfect touch to the Eid Tiramisu. It's sweet, it's sticky, it's perfect!
BASE LAYER
Rusk or its elite alternative biscotti would work absolutely great here. I use rusk that we buy from our local grocery shop. Atta/sooji both would yield the same delicious Eid Tiramisu. As for coffee, I use instant coffee. It's so easy to prepare and accessible to all. My preferred brand is Nescafe. Since we are using instant coffee, we need to increase its strength by cooking it off with water in a pan. Boiling the coffee will make it stronger. However if you are a coffee fanatic an espresso shot, mixed with water here would do wonders.
THE MIDDLE LAYER
Next up is the vanilla custard. This makes our Eid Tiramisu nice and creamy. I have used packaged custard powder which is super easy to prepare. The one that I used is from the brand Weikfield. If you do not have access to custard powder, you can replace it with pastry cream.
THE FINALE
Date caramel, is the caramel of my dreams. You guys know, I love caramel. Making this with dates is just a game changer. I know that dates are a major part of Eid, so I had to include this in this Eid Tiramisu. I have used the regular small sized dates and brown sugar to make this caramel. However if you do use the king of dates, medjool dates you can actually skip on the sugar. I did finish the date caramel off like a regular caramel with butter and cream. Let me tell you, i'm a big fan!
HOW TO MAKE THAT PERFECT EID TIRAMISU
-Soak the rusks for just a few seconds, so you can work with it easily.You don't want the rusks to be drooping or floppy.
-Drizzle over that remaining coffee liquid on the rusks for extra coffee flavour.
-Pre mix the custard powder with a little milk to avoid lumps.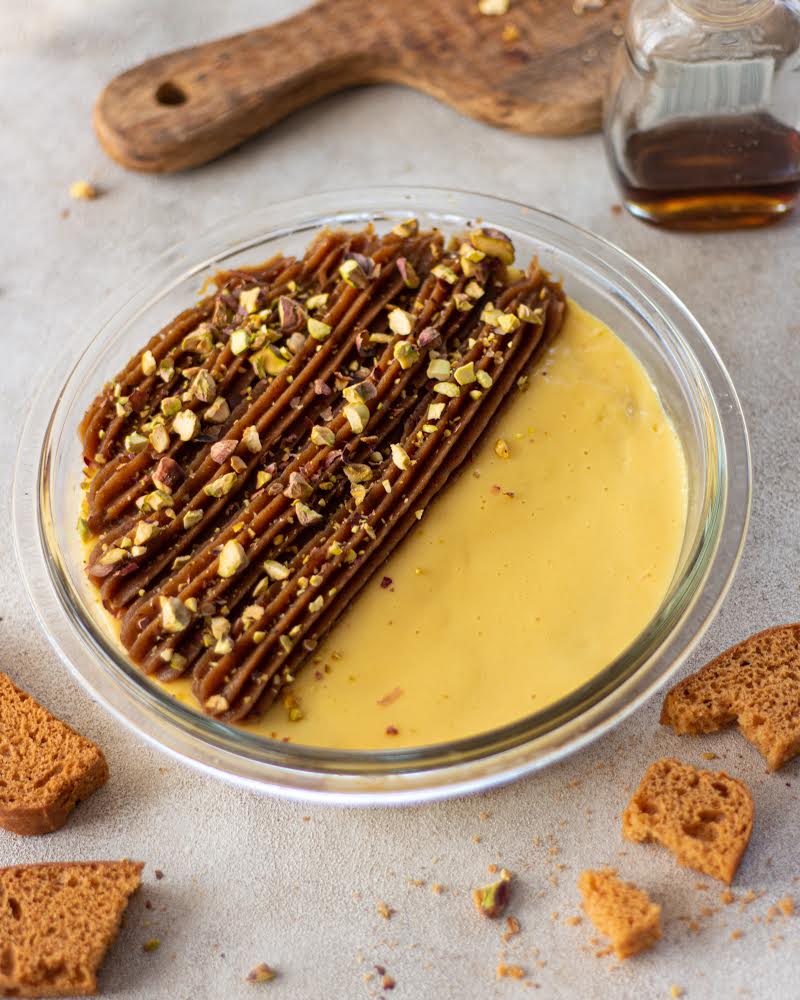 HOW IS THIS DIFFERENT FROM A TRADITIONAL TIRAMISU?
While the structure and the coffee element remains the same. Both versions are quite different. Traditionally tiramisu used lady fingers, but I wanted to use something that is so everyday in our households. Rusk is such a stable in indian households, so creating a dessert with it bought back a lot of childhood memories. The next element in a traditional tiramisu is whipping cream and mascarpone. However for the Eid Tiramisu I used custard powder which again is used in so many households across the country. Finally a traditional tiramisu used a dust of cocoa, but to make the Eid tiramisu festive I had to include something decadent, hence the date caramel and heavy sprinkle of pistachios.
Other recipes from the blog
I love playing around with tiramisu recipes. If you love tiramisu as much as I do, I think you absolutely need to try my 4 layer Tiramisu and my Eggless Tiramisu recipe.
If you make any of these Tiramisu recipes, don't forget to share your pictures with me on my instagram @shivesh17. I also just posted an Oreo Phirni which would also make a great Eid sweet treat! Till then, happy baking!

Eid Tiramisu- three decadent layers
Ingredients
1⁄2 L milk
1⁄4 cup milk
3 tbsp custard powder
4 tbsp powdered sugar
15 pitted dates
1 cup water
1⁄4 cup brown sugar
1⁄4 cup butter
1⁄2 cup cream
8-10 rusk
Coffee syrup- 1 cup hot water + 3-4 tsp coffee powder
Instructions
In a saucepan over medium-high heat, add 1⁄2 L milk and let it come to a boil.
In a small bowl, add the custard powder and 1⁄4 cup of milk and mix well, until completely
smooth.
Now add this mixture to the boiling milk. Mix well, bring to boil again and let it cook until
the custard is thick. Once thickened add the powdered sugar and mix.
Take the custard off the heat and transfer into a bowl. Cover it with cling wrap so it does
not form a skin. Refrigerate it for 30 minutes.
In a saucepan, add the dates and water on a medium heat. Using a wooden spoon, break down the dates and cook until the mixture is thick and paste like. Add the brown sugar stir well.
To the caramel, add cubed butter and mix until well combined and all the butter has melted. Now add the cream and cook until the caramel is thick.
Strain the caramel and separate the date skins.
For the coffee syrup, bring the water to a boil, add the coffee mix and turn off the heat.
Let it cool completely before using.
To assemble, take the rusks and soak it in the coffee syrup for a couple of seconds on
each side. Lay it flat in the dish, pack the rusks tight and cover the whole surface nicely.
Top this with the cooled custard and spread evenly. To top add the date caramel to a
piping bag with a star tip nozzle. Pipe the date caramel on top of the custard. Garnish with pistachios and enjoy!