Eid Tiramisu- three decadent layers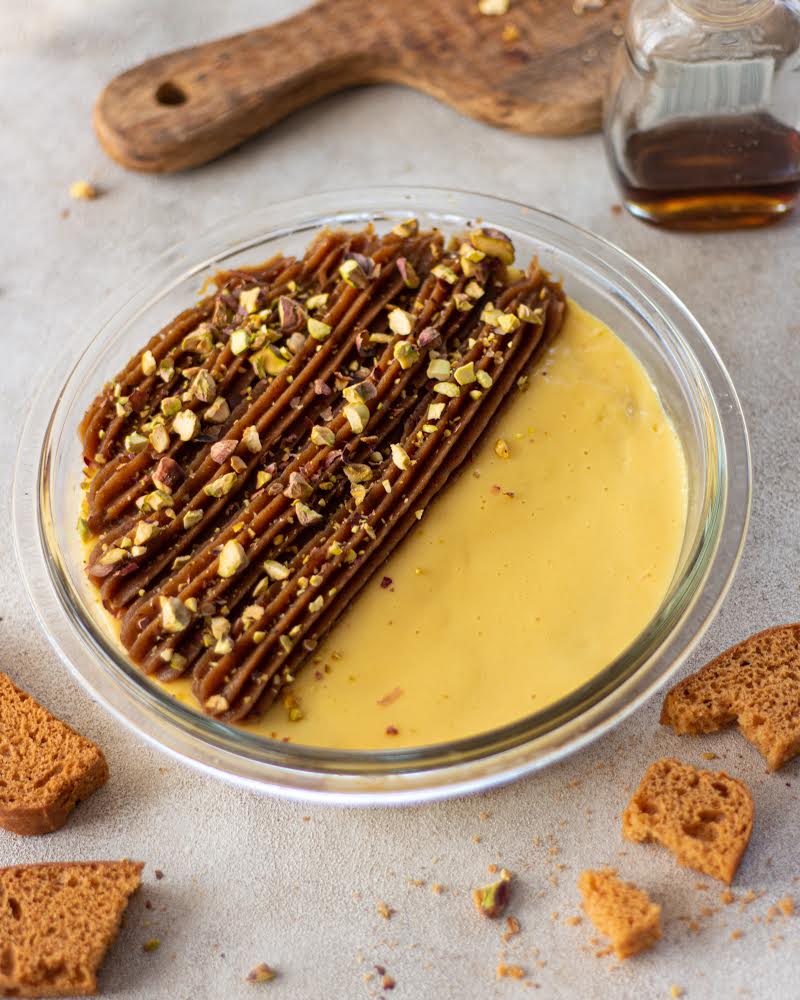 1⁄2 L milk
1⁄4 cup milk
3 tbsp custard powder
4 tbsp powdered sugar
15 pitted dates
1 cup water
1⁄4 cup brown sugar
1⁄4 cup butter
1⁄2 cup cream
8-10 rusk
Coffee syrup- 1 cup hot water + 3-4 tsp coffee powder
In a saucepan over medium-high heat, add 1⁄2 L milk and let it come to a boil.
In a small bowl, add the custard powder and 1⁄4 cup of milk and mix well, until completely
smooth.
Now add this mixture to the boiling milk. Mix well, bring to boil again and let it cook until
the custard is thick. Once thickened add the powdered sugar and mix.
Take the custard off the heat and transfer into a bowl. Cover it with cling wrap so it does
not form a skin. Refrigerate it for 30 minutes.
In a saucepan, add the dates and water on a medium heat. Using a wooden spoon, break down the dates and cook until the mixture is thick and paste like. Add the brown sugar stir well.
To the caramel, add cubed butter and mix until well combined and all the butter has melted. Now add the cream and cook until the caramel is thick.
Strain the caramel and separate the date skins.
For the coffee syrup, bring the water to a boil, add the coffee mix and turn off the heat.
Let it cool completely before using.
To assemble, take the rusks and soak it in the coffee syrup for a couple of seconds on
each side. Lay it flat in the dish, pack the rusks tight and cover the whole surface nicely.
Top this with the cooled custard and spread evenly. To top add the date caramel to a
piping bag with a star tip nozzle. Pipe the date caramel on top of the custard. Garnish with pistachios and enjoy!
Recipe by
Bake with Shivesh
at https://bakewithshivesh.com/eid-tiramisu-three-decadent-layers/