The beautiful festival of Eid is almost here! I know that all you love some Phirni and Sewaiyaan on Eid. However, I am also aware of your obsession with Oreos. So, I took these two elements together and formed this delectable, delicious, decadent Oreo Phirni!
I absolutely loved having this oreo phirni with my family, and they were equally surprised to see how well it came out to be. This recipe is such a basic one too. I have seen that everyone is so busy on festivals, our moms are always in the kitchen- mixing and grinding elements to form beautiful dishes. At this time, I feel, we all could really need an easy recipe like this Oreo Phirni. Especially if you have children at your place, this Oreo Phirni will be gone within minutes- believe me when I say this!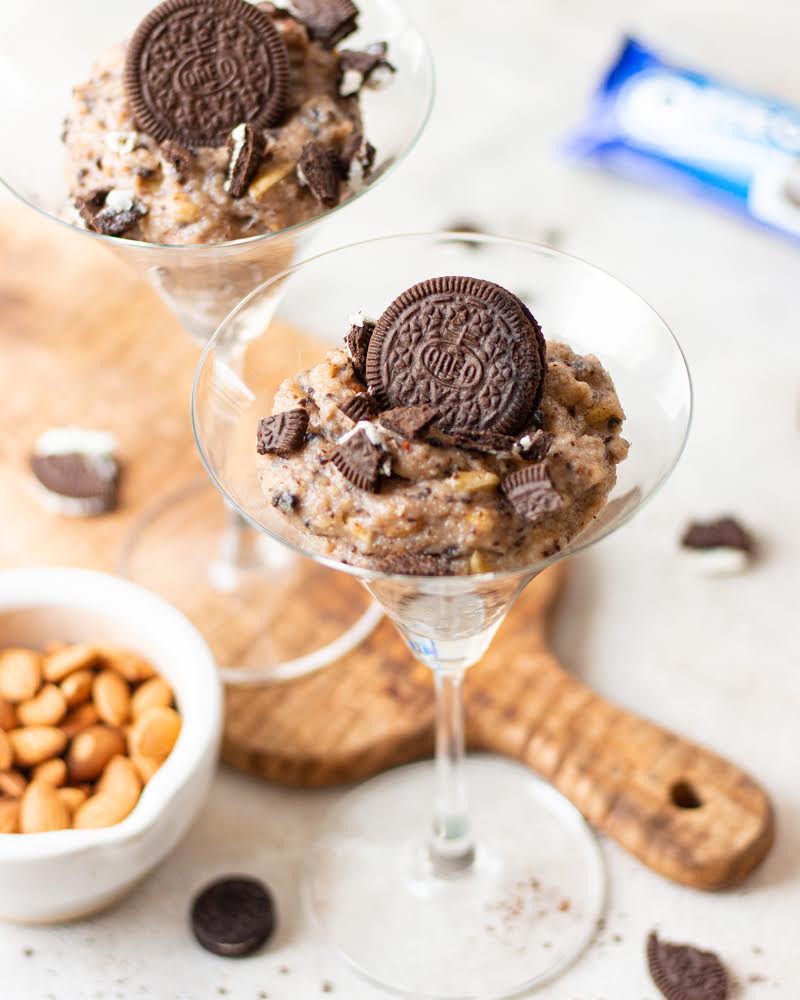 Tips to keep in mind while making this Oreo Phirni
I know if you are new to the kitchen, a recipe like this can be overwhelming. So, what you have to do is keep some basic tips in mind. Like this, you can nail the taste, texture, and the outcome!
The rice
Desserts like Phirni and Kheer use a specific type of rice. While most people don't seem to exercise any limitations on the usage of rice, I read up! I found out that rice varieties like Basmati or Sona Masuri makes the best type of Phirni.
The Milk
You can use any milk- I use Amul toned milk and realised that it works best this way! Remember to use fresh and good quality milk for best results.
The Oreos
Please remember to separate the cream from the biscuits because in this oreo phirni, we are adding in the cream separately. It imparts its own taste and sweetness to this oreo phirni and it tastes heavenly!
The Nuts
Adding in finely chopped nuts really elevates the taste of this ore phirni. The oreos are themselves quite chunky. If you do like chunky nuts, you can go ahead with that too!
Ingredients for this oreo phirni
The rice variety I have already mentioned above. Remember to use good quality rice to really bring the taste of the oreo phirni.
I have used Toned amul milk. For this oreo phirni, you can use full fat milk but it turns out too heavy.
Also, I have used nuts like alminds, cashews, and even raisins. You can add walnuts, pecans, hazelnuts, and what not!
While I have used TRUST brand Caster sugar, you can use powdered sugar too!
Oreo Phirni- Eid Special
Ingredients
⅓ cup ground rice
½ cup milk (to soak rice)
5 cups milk
8-10 oreso with cream removed
¼ cup chopped nuts
¼ cup caster sugar
Oreos for garnishin
Instructions
Add rice to a food processor and blitz until it resembles a sandy texture.
Trasnfer rice to a bowl and soak with ½ cup milk.
In a saucepan over medium heat, add remaining milk and the rice. Bring to a boil.
Stir this mixture in intervals.
Once it reaches boiling point, reduce the heat and add the oreo cream. Allow mixture to get thick.
Add in oreo shell and mix in everything.
Once combines, turn the heat off and allow phirni to cool down a little.