Eggless tiramisu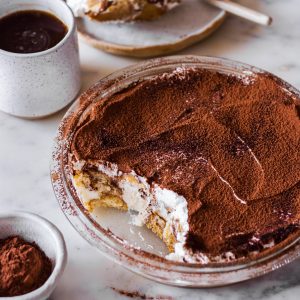 1 cup water
2 tablespoons coffee powder
½ cup butter
¼ cup caster sugar
1 tsp vanilla
6 tbsp milk
1 cup all purpose flour
¼ tsp baking powder
1 cup mascarpone cheese, at room temperature
½ cup icing sugar
1 cup whipped cream
Cocoa powder, to dust
To make the ladyfingers, pre heat your oven at 170 degree celsius. Then in a bowl add in melted butter, sugar and vanilla. Mix this really well. Add in milk and combine everything together.
In the same bowl, add in all purpose flour and baking powder and bring the ladyfinger dough together.
Transfer this in a piping bag with a round nozzle and pipe out ladyfinger on your baking tray. To even out the edges, dip your finger in water and smooth out the edges lightly.
Now dust dust icing sugar on top and bake them for 10 minutes or till they're golden brown.
Next we make our coffee syrup. In a bowl add in water and coffee powder. Mix this really well and set it aside.
For the mascarpone filling, add softened mascarpone in a bowl and add icing sugar. Combine this really well. Now add in your whipped cream and gently fold it in. Once its all combined, set it aside.
To assemble the tiramisu, soak your ladyfingers in the coffee syrup and place them all over the base of your serving dish. Top this off with a layer of mascarpone cheese mix, spread it evenly and dust cocoa powder on top. Repeat this layering till you're finished with all your elements.
Let it rest in the fridge for 1 hour. Cut in and enjoy!