If you've been following me for a while, you'd know that I absolutely love making good tea cakes. The joy of some very simple ingredients coming to life and making something so fluffy and magical feels surreal to me! Teacakes are perfect to accompany your evening cuppa or to simply binge on at night while watching your favorite movie.
And when I think about a good tea cake, this eggless whole-wheat apple cake comes to mind. This delicious cake is made with no refined sugar or refined flour and yet it is so light. Packed with cinnamon and topped with fresh apples, the texture, and flavor of this cake is to die for. After all, an apple a day surely keeps the doctor away!
WHAT IS FLAX EGG?
A flax egg is undoubtedly my favorite substitute for egg in a cake recipe. The gel-type liquid made by combining ground flaxseed with water is what makes a cake as soft and fluffy as an egg does. To make a flax egg for the eggless whole-wheat apple cake, simply blitz 2 tablespoons of flax seeds in a food processor to a powder-like consistency and mix it with 5 tablespoons of water. Let this mixture rest for 10-15 minutes or until it thickens to an egg-like consistency.
To read more about flax eggs, you can check out my article on A-Z of flax egg.
PREPARING APPLES FOR EGGLESS APPLE CAKE
This eggless whole-wheat apple cake is packed with lots of fresh apples and hence, you need to choose the best apples you can, for this recipe. Considering the times we are living in, it's highly important that you clean and wash your apples thoroughly. I like to keep the peel of the apples intact for this recipe but if you want, you can peel it before slicing. After slicing the apples into thin pieces, I toss them in some lemon juice and cinnamon which enhances the flavor and maintains the freshness of the apples.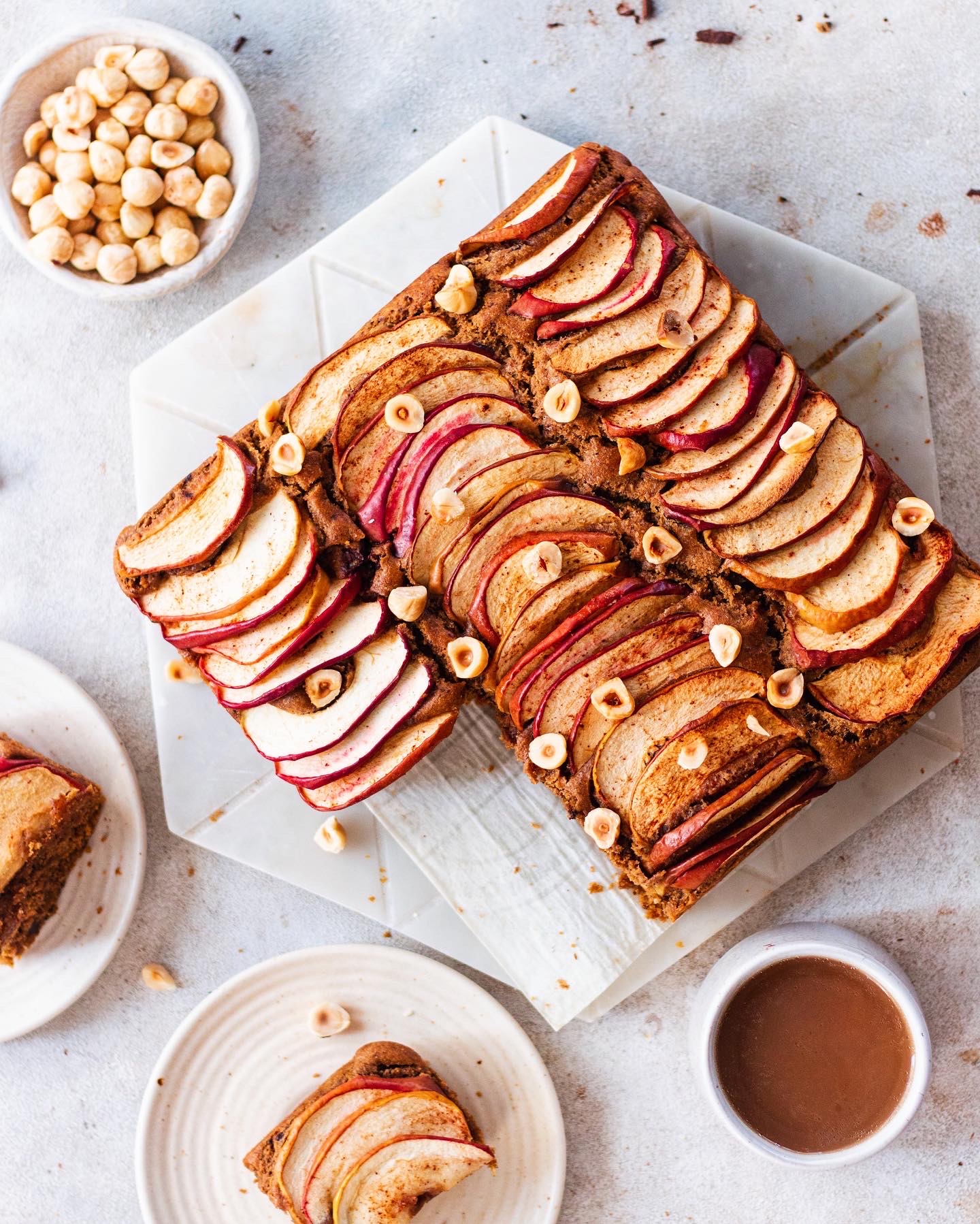 OTHER INGREDIENTS FOR EGGLESS APPLE CAKE
This eggless whole-wheat apple cake can be made easily with the things that are available in your kitchen! I wanted to go for a healthier version, so I opted for whole-wheat flour (atta) and a mix of coconut sugar and jaggery powder for this recipe. If you don't have either of these, you can use 3/4 of normal sugar or brown sugar for the recipe. For oil, I've used neutral-flavored vegetable oil that doesn't have any distinct smell or taste. You can also use olive oil for this recipe. You can also substitute a flax egg with 1 chia egg or 2 regular eggs.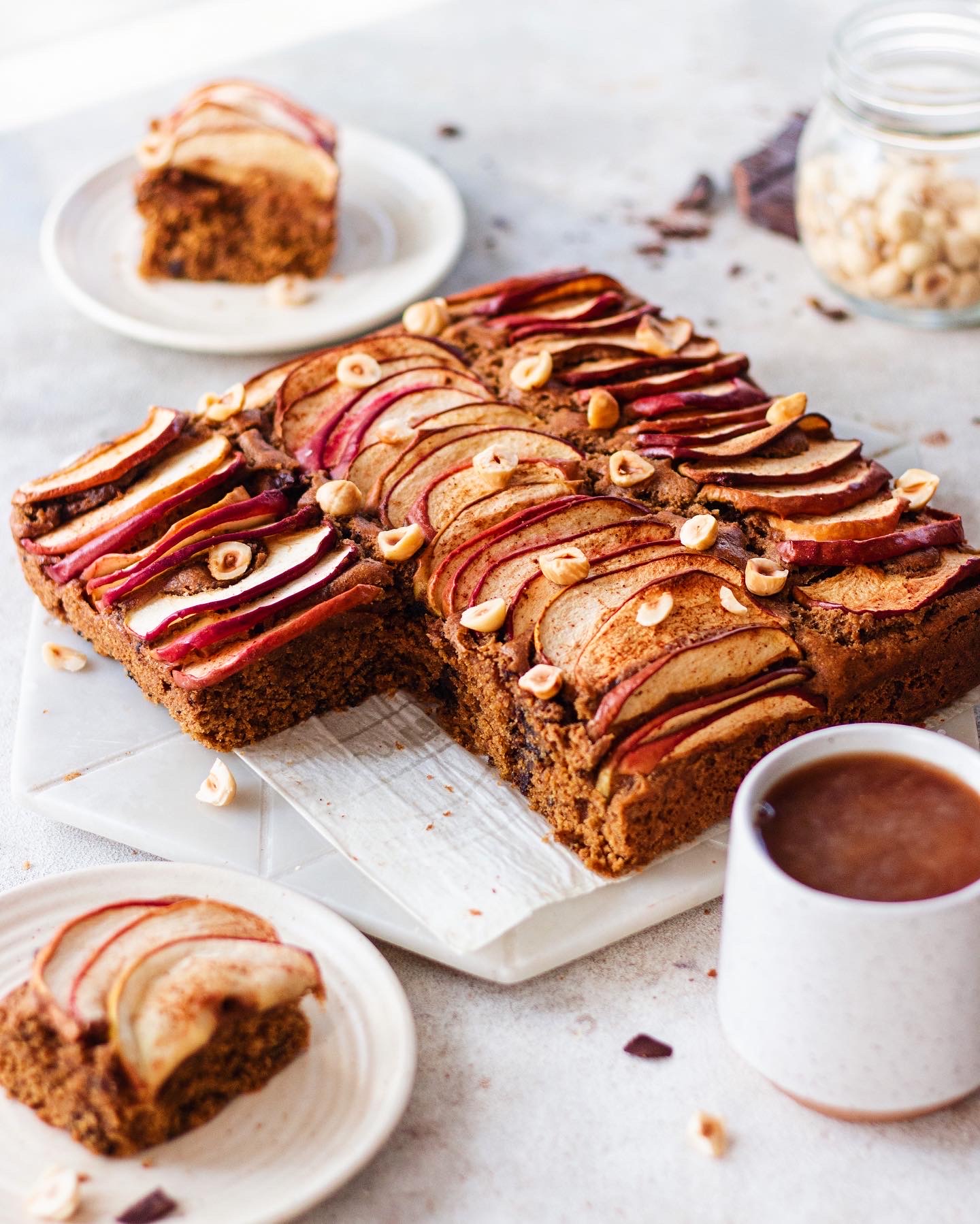 HEALTHY APPLE RECIPES ON THE BLOG
EGGLESS WHOLE-WHEAT APPLE CAKE RECIPE
Eggless Wholewheat Apple Cake
Ingredients
2 cups whole-wheat flour/atta
2 tsp baking powder
½ tsp baking soda
½ tsp cinnamon powder
1 flax egg ( 2 tbsp ground flax seeds + 5 tbsp water) / 2 eggs
½ cup coconut sugar
¼ cup jaggery powder
½ cup vegetable oil
1 cup milk
½ cup Sugar-free Dark Chocolate
Instructions
Pre-heat the oven at 180 degrees celsius.
Sift the whole-wheat flour, baking powder, baking soda and cinnamon powder in a bowl. Set aside.
To make a flax egg, combine the ground flax seeds with water and mix well. Let it sit for 10-15 minutes until it becomes thick.
In a separate bowl, take the sugars and vegetable oil. Using a whisk, mix for 3-4 minutes.
To the sugar-oil mixture, add the flax egg and mix it well on high speed to incorporate air in the batter.
Add half of the dry ingredients to the wet ingredients and using a spatula, fold it in gently.
Add the milk and mix it in.
Finally, add the rest of the dry ingredients and incorporate it well.
Add the chopped dark chocolate and give it a final mix. Transfer it to a 8 x 8 inch pan lined with parchment paper.
Toss some thinly sliced apples in 1 tbsp lemon juice and ½ tsp of cinnamon powder.
Top your apple cake batter with these apples and some toasted hazelnuts.
Bake at 180 degrees celsius for 40-45 minutes or until a skewer inserted comes out clean.
This is hands down the best apple cake. If you happen to make this recipe, tag me on 
Instagram
 and use #Bakewithshivesh. Happy Baking!