You don't need to be a baker to make this Eggless Chocolate Banana Biscuit Pudding recipe because it is a super simple, no fuss dessert recipe that you should definitely make for your dad this Father's day!  I promise he will love it.  
If you are just starting out with making desserts, this chocolate pudding recipe is perfect for your first experience! It has all the beauty that comes from chocolate, bananas, and some coffee dunked biscuits. 
Difference between pudding and custard 
I know that these two terms- puddings and custard can be a little confusing, especially when they are used interchangeably all the time. The reason this happens is because there is no stark difference between the two. A pudding is slightly lighter and not as firm as a custard. If you want a more stable filling that can hold its shape better, a custard would be a better choice. But if you want something that you want to just layer, spoon up, and eat, then I would say pudding is a better fit. 
Ingredients for any pudding recipe
Initially, puddings were popular as both, sweet and savory dishes. But now we associate pudding directly with being a sweet dish. Puddings will always have milk and sugar as its base along with some thickening agent. These thickening agents are what help give the pudding its structure and consistency. 
The most common thickening agent is eggs. Since we are making an eggless pudding, I used cornstarch. A lot of people wonder whether cornstarch and cornflour are the same thing, and the answer is yes. Another common thickening agent is gelatine. This can be a little tricky to find in your local stores and that is why I am choosing not to use it. Cornflour is easily available and it works beautifully in all desserts. 
In addition to the base and the thickening agents, you will add a flavoring. The most popular flavors out there are chocolate pudding and banana pudding. You can really add whatever you want once you have your pudding base ready.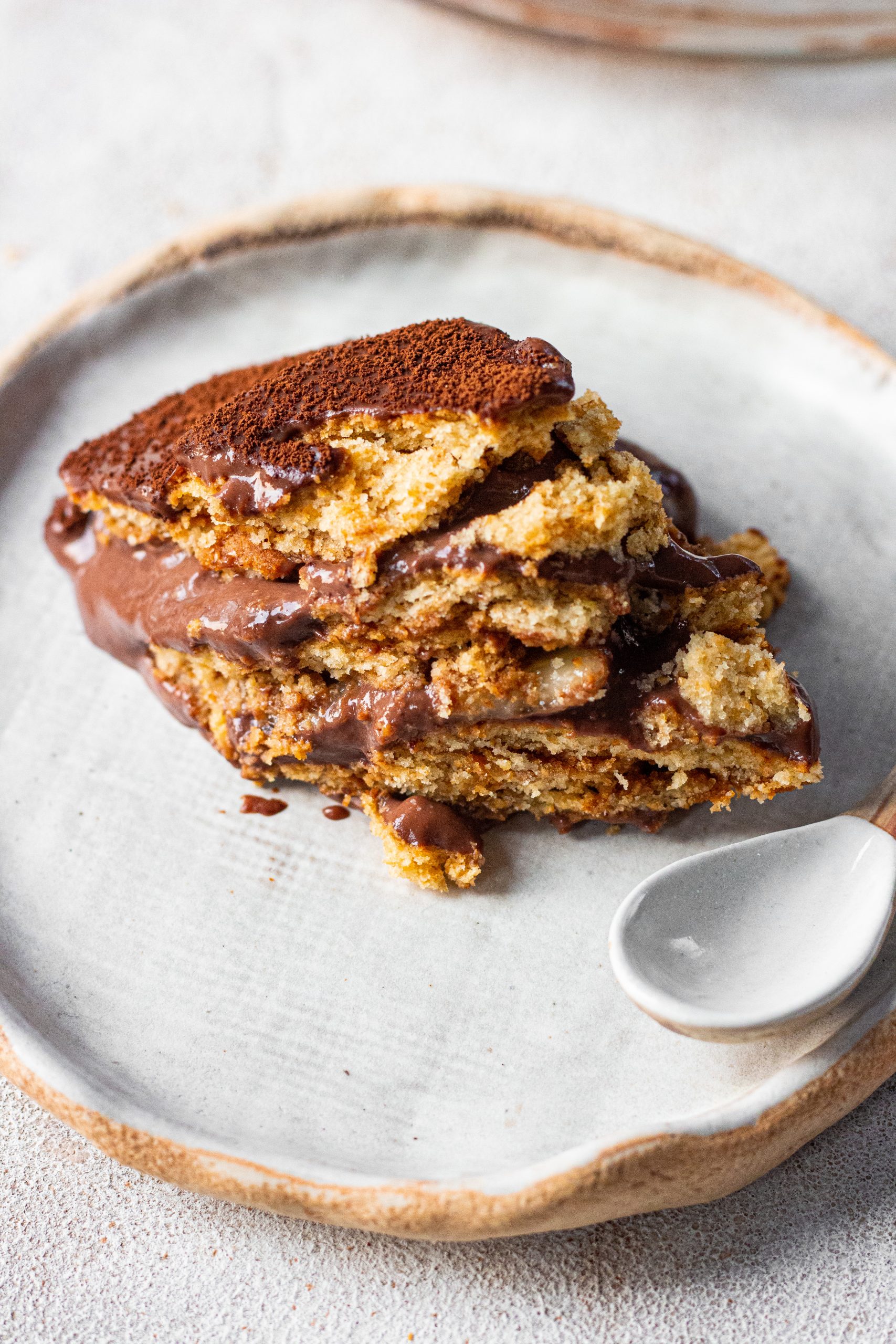 What is the ideal texture of a pudding?
A pudding is supposed to be extremely smooth and creamy. This is why it becomes important for you to make sure there are no lumps in your mixture while you are cooking the pudding base. 
Each bite into a pudding should give you a clean, silky, and smooth spoonful of deliciousness. Ready made pudding mixes are so common these days but I am telling you, making pudding from scratch is ten times better and involves almost the same effort. 
Pudding recipe variations
Now there are a gazillion pudding recipes out there which has also led to creation of different kinds of pudding. 
Biscuit pudding 
My personal favorite is a biscuit pudding and that is why I am sharing my recipe for this Eggless Chocolate Banana Biscuit Pudding. A biscuit pudding basically means one that will have layers of biscuits and pudding. You can use any biscuit you have or want to use. Soaking them in desired flavor syrup is always a good idea. It adds a great amount of flavor. For this pudding, I soaked some digestive biscuits in a coffee syrup.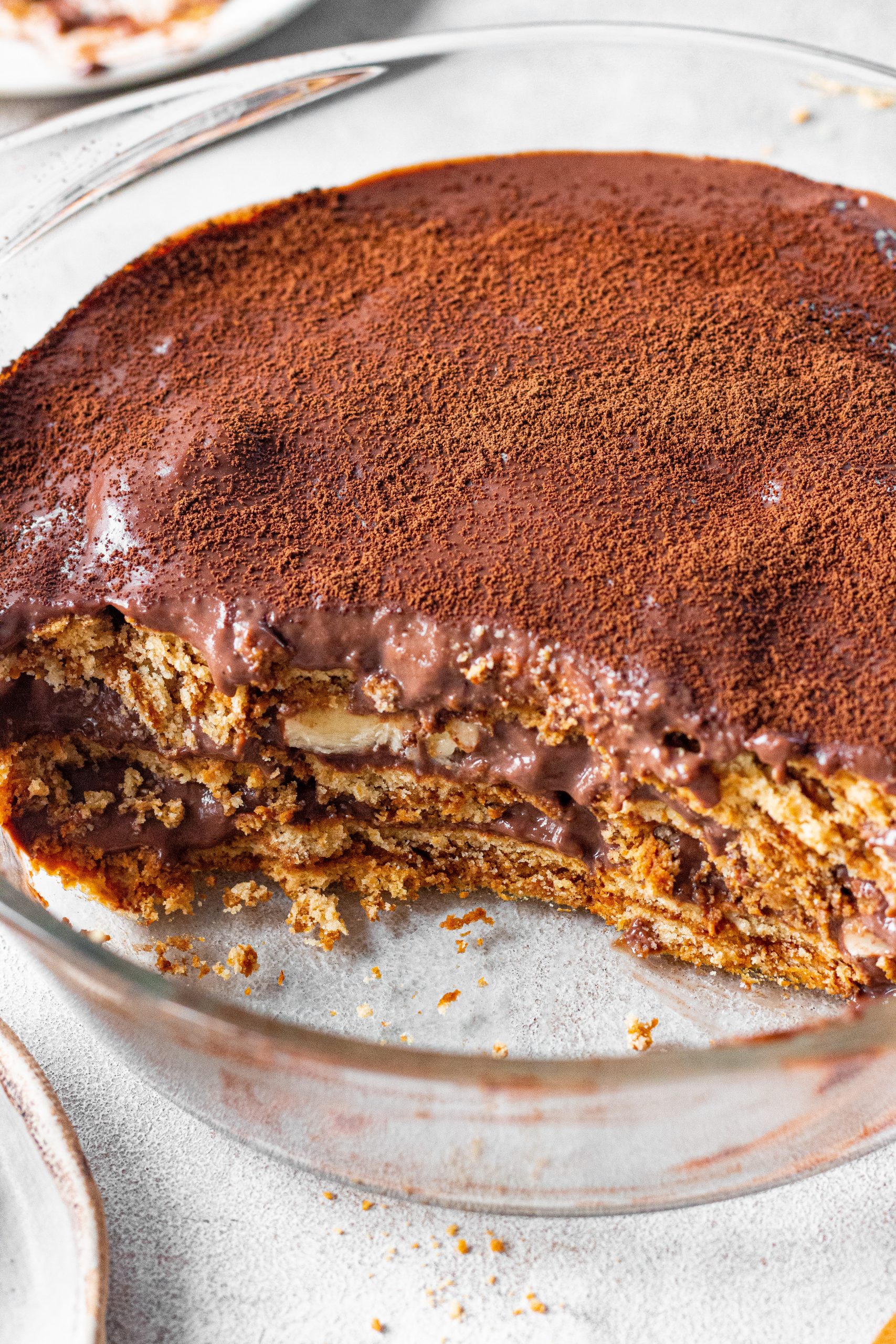 Bread pudding 
Bread pudding is actually made with stale bread and milk or cream, generally containing eggs, a form of fat such as oil, butter, and a variety of other ingredients. I came up with a very similar pudding recipe once but instead of stale bread, I used croissants and boy was it one of the best decisions ever! You can check out the full croissant pudding recipe on my website and I promise you, you will fall head over heels for it! 
Apart from some decadent dessert pudding recipes, breakfast puddings are also famous all around the world. I should know, since chia seed pudding is one of my absolute favorite breakfasts and I eat it almost everyday! 
Of course breakfast puddings are slightly different but they still have a milk base, whether it be animal milk or plant based milk. And there is also a healthy thickening agent, chia seeds, for example. If you want to try some breakfast pudding recipes, you can see some of my favorite from my blog! Eggless Sago Mango Pudding, Chia Seed Pudding with Almond Milk Option, and my personal favorite, Mango Chia Seed Pudding. 
Tips to keep in mind while making pudding 
Making pudding requires you to cook your milk with a thickening agent. I have used cornflour in my recipe. It is very important to make sure to mix in the cornflour really well so that there are no lumps in your milk mixture. 

While adding cocoa powder into the mixture, you need to again be careful to mix it in really well. Cocoa powder whenever added into liquid always makes some lumps. If you want a smooth pudding, make sure to mix in cocoa powder really well. 

While cooking down the pudding mixture, make sure to cover it with cling wrap, touching the surface of the pudding so that no film can form over it. 

In order to get the best flavor, it is important to soak in the biscuits in the coffee mixture well. 

Once your pudding has been layered, ideally you should let it rest for 6-8 hours to ensure the best flavors and look. But if you cannot wait for so long, letting it set in the refrigerator for a few hours will also do. 
I hope you make this for your dad on father's day and give him one of the best treats ever! And when you do, don't forget to share images with me on my Instagram @shivesh17.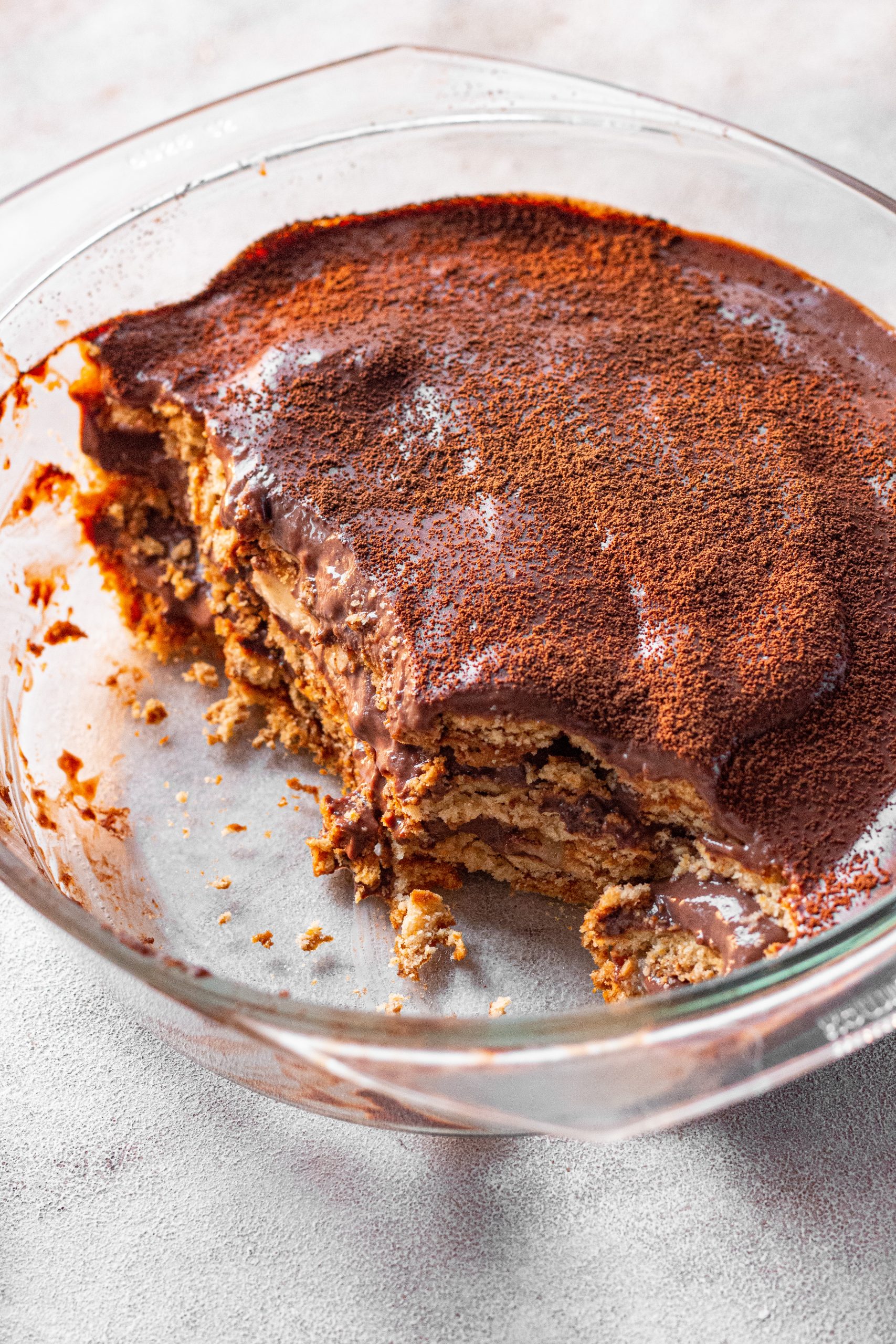 Eggless Chocolate-Banana Biscuit Pudding Recipe
Ingredients
Pudding base
4 cups + 1 cup milk
4 tbsp corn flour
½ cup cocoa powder
½ cup powdered sugar
Coffee Syrup
1 cup water
2 tbsp coffee powder
1 tsp vanilla extract
For Layering
2 bananas, sliced
30 biscuits of your choice
Instructions
In a saucepan add 4 cups of milk and bring it to a simmer.
In a bowl add ½ cup of milk and mix in cornflour in it. Make sure there are no cornflour lumps.
Bring this mixture to a boil, till it becomes thick in consistency.
Once nicely mixed in, add this mixture to the saucepan.
Take a separate small bowl and add the last remaining ½ cup of milk in it and very nicely mix in the cocoa powder. Again, make sure there are no lumps and then add this chocolate mixture in the saucepan as well. Add in powdered sugar and mix well
Once your milk and chocolate mixture has gotten thick, transfer it to a bowl, cover it with plastic wrap and let it cool down completely. Set this aside.
To make your coffee syrup, add water in a bowl and mix it in with coffee powder and vanilla.
To assemble the chocolate-banana pudding, first soak in your biscuits in the coffee syrup and spread them all over the base of your serving dish.
Top the biscuit layer with cooled pudding mixture. Spread this evenly and then layer it with sliced bananas.
Repeat this process till your serving dish is full.
Refrigerate the pudding for a few hours before serving.
Enjoy!