Eggless Chocolate-Banana Biscuit Pudding Recipe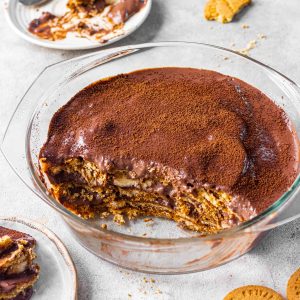 4 cups + 1 cup milk
4 tbsp corn flour
½ cup cocoa powder
½ cup powdered sugar
1 cup water
2 tbsp coffee powder
1 tsp vanilla extract
2 bananas, sliced
30 biscuits of your choice
In a saucepan add 4 cups of milk and bring it to a simmer.
In a bowl add ½ cup of milk and mix in cornflour in it. Make sure there are no cornflour lumps.
Bring this mixture to a boil, till it becomes thick in consistency.
Once nicely mixed in, add this mixture to the saucepan.
Take a separate small bowl and add the last remaining ½ cup of milk in it and very nicely mix in the cocoa powder. Again, make sure there are no lumps and then add this chocolate mixture in the saucepan as well. Add in powdered sugar and mix well
Once your milk and chocolate mixture has gotten thick, transfer it to a bowl, cover it with plastic wrap and let it cool down completely. Set this aside.
To make your coffee syrup, add water in a bowl and mix it in with coffee powder and vanilla.
To assemble the chocolate-banana pudding, first soak in your biscuits in the coffee syrup and spread them all over the base of your serving dish.
Top the biscuit layer with cooled pudding mixture. Spread this evenly and then layer it with sliced bananas.
Repeat this process till your serving dish is full.
Refrigerate the pudding for a few hours before serving.
Enjoy!
Recipe by
Bake with Shivesh
at https://bakewithshivesh.com/eggless-chocolate-banana-biscuit-pudding-recipe/