I love eating and I can eat at any time of the day but I always end up skipping my breakfast. Now, there are two reasons for that. First, I'm always running late for college. Second, I feel sick the entire day if I eat anything heavy in the morning. But, I have discovered the perfect breakfast recipe and I don't think I'll be skipping breakfast ever now, all thanks to this recipe of Chia Seed pudding!
If you end up preparing this delicious chia seed pudding, do not forget to upload it on Instagram with the hashtag- #bakewithshivesh, and also tag me!
Why this overnight chia breakfast pudding
I discovered chia seeds recently and can't stop obsessing over them now. I put them in my cakes and in my jams. Chia seeds are among the healthiest foods on the planet. They are loaded with nutrients that can have important benefits for your body and brain.
I call this recipe of chia seed pudding the perfect breakfast recipe not only because it has chia seeds, which are packed with health benefits but also because it has everything that you should be having for breakfast- fruits, milk and seeds, and nuts. It is light but filling and also super yum. I don't always post healthy recipes like this chia seed pudding but when I do, I make sure it is tasty too! I'm sure you're convinced by now that this chia seed pudding is absolutely amazing but there is more! You have to make this at night and let it rest overnight. This basically means that when you wake up in the morning, your breakfast is absolutely ready.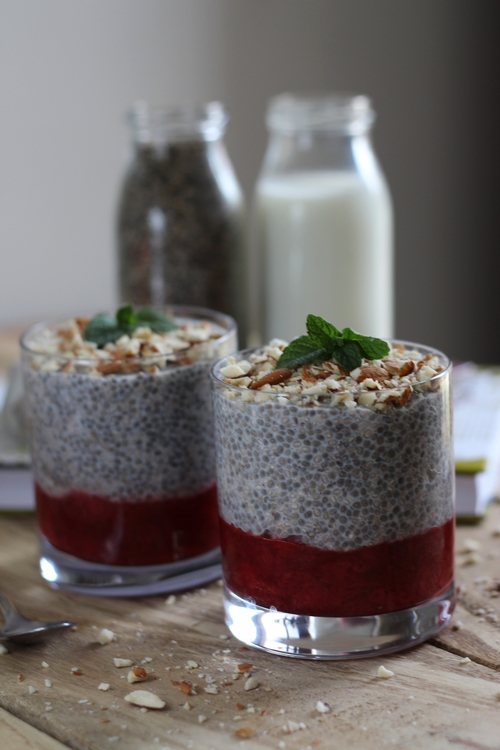 Benefits of Chia Seeds
Chia seeds are pumped up with antioxidants which fight diseases like cancer and also aging.
They lower your body's vulnerability to heart diseases.
They are high in many bone nutrients and contain higher calcium than most dairy products. Therefore, if you happen to be lactose-intolerant, Chia seeds should be your go-to ingredient in every dish you prepare.
Ingredients of this vegan chia seed pudding
You might probably be thinking about the availability of chia seeds in your regular grocery store. Don't worry about that. Nowadays, chia seeds are available in almost every other shop and hence, you won't have a problem finding them. I use strawberries for this recipe but you can use any berries that you like. You can also use the milk of your choice. Even though I have used whole milk, almond milk is equally excellent and you'll have your chia seed pudding with almond milk which certainly becomes more healthy and nutritious.
More Chia recipes for breakfast
If you are loving the idea of this chia seed pudding as breakfast, you need to check out the following recipes:
Chia Seed Pudding Recipe
CHIA SEED PUDDING
Ingredients
1 cup milk
¼th cup chia seeds
1 tbsp honey
1 cup fresh/frozen strawberries
½ cup water
½ tsp corn flour (optional)
¼th cup crushed almonds
mint, to garnish
Instructions
In a glass jar, combine milk, honey and chia seeds. Whisk well.
Let the jar rest in the fridge overnight.
To make the strawberry filling, combine strawberries and water in a saucepan set over medium heat. Add cornflour and mix vigorously.
While mashing the strawberries, let the filling cook until the mixture becomes thick and coats the back of a spoon.
Pour the filling to the bottom of a serving glass. Let it rest in the fridge.
In the morning, spoon the chia seed filling on the strawberry filling.
Cover with crushed almond and garnish with fresh mint leaves.