CHIA SEED PUDDING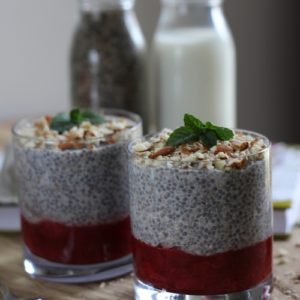 1 cup milk
¼th cup chia seeds
1 tbsp honey
1 cup fresh/frozen strawberries
½ cup water
½ tsp corn flour (optional)
¼th cup crushed almonds
mint, to garnish
In a glass jar, combine milk, honey and chia seeds. Whisk well.
Let the jar rest in the fridge overnight.
To make the strawberry filling, combine strawberries and water in a saucepan set over medium heat. Add cornflour and mix vigorously.
While mashing the strawberries, let the filling cook until the mixture becomes thick and coats the back of a spoon.
Pour the filling to the bottom of a serving glass. Let it rest in the fridge.
In the morning, spoon the chia seed filling on the strawberry filling.
Cover with crushed almond and garnish with fresh mint leaves.