Did you know that one of the top reasons why most cakes fail is because of the wrong usage of baking pans? Baking pans and tins now come in a multitude of sizes, shapes, variants, prices, and more. Admittedly, it is a tough task to pick out the right one. So, today, we are going to discuss all about the top five basic baking pans. This guide is for beginners but I have personally seen even professionals looking for guidance on this particular subject. So, here you go!
These basic baking pans should be a staple in your pantry and they yield the best results. To help you out, even more, I am going to talk about the best brands for the same. Please note that Amazon does have a lot of options for baking pans too. But, always be careful about the sizes and dimensions as they can be a little deceptive! Trust me when I say this, I wish someone would have helped me out with this kind of a guide when I was starting out. God knows I would have saved up a good amount, haha!
Types of baking pans and tins
Now, there is an uncountable amount of tins and pans available. Different sizes and different shapes serve a different purpose. The first distinction I am going to focus on is the distinction based on the shape and what their primary purpose is.
BAKING PANS- DISTINCTION BASED ON SHAPES
There is no end to the types of shapes of baking tins. But, for now, let's get it down to the very basics.
1. The Circle (Round Cake Pan)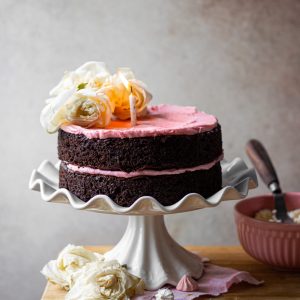 The most common type of baking pan is a circular tin. They serve the purpose of making round desserts, obviously the most common being cakes. Round tins are really preferred all over the world because they help in a very evenly distributed amount of heat. This factor allows your cake to cook thoroughly and faster too. Hence, they are time-saving as well! Plus, when it comes to decoration, you do not have to fret over perfect corners like you have to when it comes to square or rectangle cakes. Round baking tins also come in varieties of heights. You can purchase a deeper round tin and get multiple cake layers from it!
If you are a beginner, you are looking at a 6 inch or a 7 inch round baking tin.
2. The square baking pans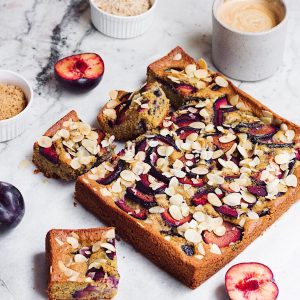 Most commonly used for brownies, a square tin is a must-have baking tin. You can also use them to make some chocolate fudge or some no-bake bars. Being equal from all sides, they allow you to have well-proportioned quantities of anything you are using them for. I like to use them when I am looking for a different way to design my cakes. Like in this gluten-free plum cake- I loved how the square baking pan transformed its look!
The ideal size if you are a beginner is either 8X8 inches or 9X9 inches.
3. The Rectangular Pan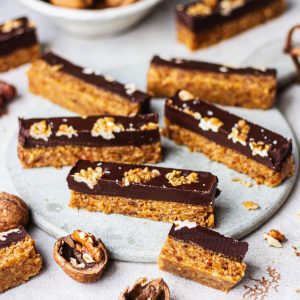 The only difference between a rectangular tin and a square tin is the dimension. They end up serving a similar purpose. Hence, if you are just starting out as a beginner baker and you're on a budget, instead of in either a rectangular tin or a square baking pan. Then, as you advance, you can experiment with them! I loved making these Date and Walnut Bars in a rectangular tin because they gave me a very nice cut to the final bars. You can also use rectangular baking pans for making sheet cakes or swiss rolls! That is where they come super handy!
4. The Bundt Cake Pan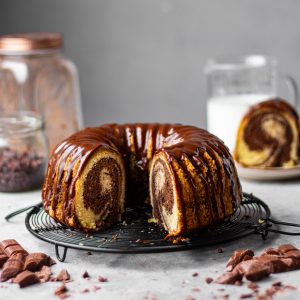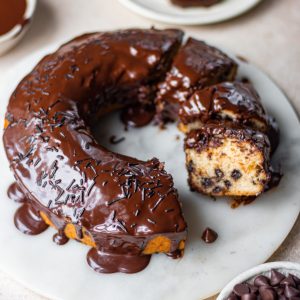 The only reason to own or invest in a Bundt cake pan is for how beautiful they make your desserts, haha! Bundt cake pans have a protruding center. This means that your cake will have a hole in the middle. Depending upon the type of bundt cake pan you choose- with a wider protruding middle or with a different edge design, all bundt cake tins differ in the final cake design. I have shown a comparison here which will help you out!
5. The Loaf Tin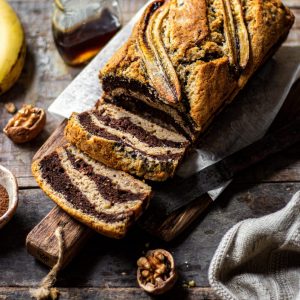 Goes without saying, the loaf tin allows you to have a cake that resembles a bread loaf. Ideal for some delicious banana bread and obviously, for breads and even babka, a loaf tin is a definite have if you are starting out as a beginner!
For all your tea cakes and trials- in which you might be testing a recipe out, a small baking tin like a loaf tin will come too handy!
The ideal size should be somewhere around 26 x 13.5 x 6.5 cm or any loaf baking tin that yields 150 Grams.
5. The Muffin Tin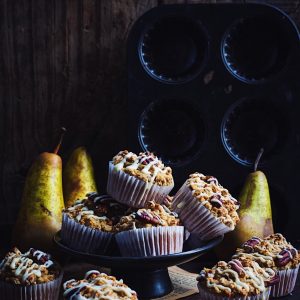 A basic muffin tin has about six to eight dents for your muffins! Do not think that a muffin tin is only limited to producing muffins and cupcakes. From mini cakes to cheesecake cups and even to no-bake bites, a muffin tin is really useful! If you are a beginner, your best bet is to start with a small muffin tin with 6 dents. Please also make sure that you are getting some muffin liners too. The best ones are white or golden- this is my personal opinion!
5. The Tart Tin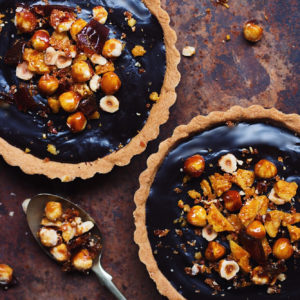 Tart tins are of course for tarts and pies. I would recommend using a tart tin with a removable base so it is easy to de-mold your tarts. Like cakes, you can not reverse it onto a plate and I would not recommend this either- haha.
BAKING PANS- DISTINCTION BASED ON MATERIAL
You would not believe the various baking tin material available in the market today. We are going to limit this article to the topmost common ones- aluminum baking tin, non-stick baking tins, silicone tins, and glass dishes.
1. Aluminum baking pans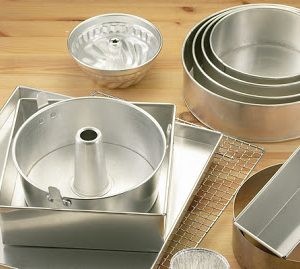 The most commonly used baking tin material (at least in India) is aluminum. It's economical, super-duper durable, and very easy to use. Since it is not a non-stick material, greasing the tin very well is extremely necessary. Because of its metallic nature, it also conducts heat very well and allows even heating and baking of your dessert. If you are a beginner looking to invest in a baking tin- aluminum baking tin is an excellent choice! Look for a medium weight tin so it goes on for even longer! It is most commonly used even by professionals!
You can get Aluminium tins online on a number of platforms. Going ahead with Amazon rating is always a good choice as there is no specific brand for such tins. If you have a big budget, you can try USA Pan Bakeware.
2. Non-stick baking pans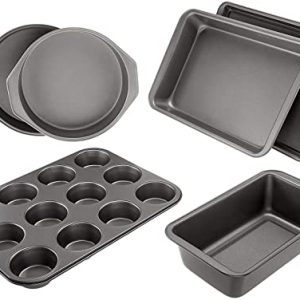 Non-stick cake pans are also a good option! You will mostly see non-stick baking pans coming along with your new microwave or new oven/OTG. They are usually seen to have a grey or black coating on the inside. Even non-stick baking tins require some greasing before you pour in your batter. The release is comparatively better than aluminum. When purchasing this, please keep in mind that they will be considerably more expensive than an aluminum baking tin and a low-grade non-stick baking pan will be the worst investment.
Why I would not recommend a non-stick baking tin to a beginner is because they require extra care. This is something most beginners are not very aware of. Because these tins have a non-stick coating that can come off very easily too, it's best if beginners go for an aluminum tin to start with.
On Amazon, there is a huge variety of such tins. Try out Syga, Femora, or Bulfyss.
3. Silicone Baking Pans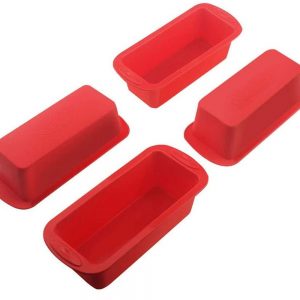 Silicone-based bakeware has completely changed the face of the baking industry. While silicone spatulas are a compulsory staple in most kitchens and bakery, silicone baking molds are not that preferred. If you are into entremets and other frozen desserts, silicone will come handy. But, not always. I personally am not a fan either. The material is good- it sometimes requires absolutely no greasing and silicone molds help in easy unmolding too. But since they are not excellent conductors of heat and sometimes, they tend to really disappoint. They are good for desserts that do not require baking- like fudge, granola bars, and more!
Amazon has a very nice variety of silicone molds. You can try the brand known as 'Bulfyss'. The reviews of the same are excellent!
4. Glass Baking Pans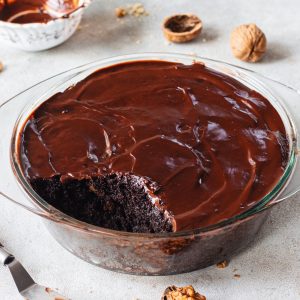 Glass baking tins are awfully famous and really really helpful when it comes to baking pies and also for no-bake desserts! But, baking in a glass dish is a little dicey, to say the least. Glass does not conduct heat as well as metallic or steel baking tins. This common fact has to be kept in mind especially when you are baking in a microwave. Since the heat is not coming from below and only from above, desserts like brownies can not be baked in a glass dish. In general, it is best to be safe rather than sorry and the best shot is to avoid glass dishes when it comes to baking.
In case you need glass baking dishes for no-bake desserts, Borosil has an unbeatable variety!
Removable Base Baking pans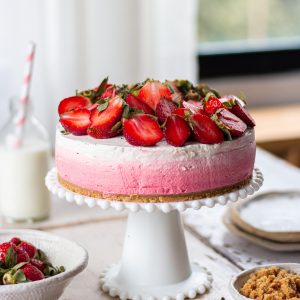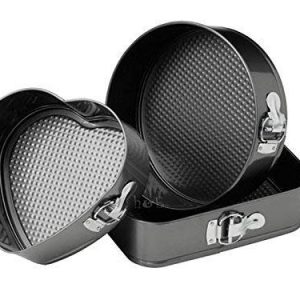 I have baked an innumerous amount of cheesecakes and mousses in removable tins and I believe for these desserts, they are the best. Some removable base baking tins have a lever on the side of the tin which helps to adjust, release, and freeze your base. Others just have a removable base which you can easily push a little to release your dessert. It makes the release of any dessert you bake in it a super easy process. I personally stick to baking in aluminum baking tins.
I hope you liked this article and found it informative. If any of these tips came handy, please visit me on my Instagram and Youtube pages to know more!