Last week, I shared the recipe for these great red velvet cookies and it was so overwhelming to see so many of you make them. I, however, made a huge batch of these cookies and had some leftover. And that got me thinking, what do you do with leftover red velvet cookies? You make some thick and creamy red velvet milkshake!
There's absolutely no problem that a good glass of milkshake cannot solve. It reminds me of those old childhood days when a glass of chocolate milkshake used to be my go-to drink. And now, it's this delicious and sinful milkshake!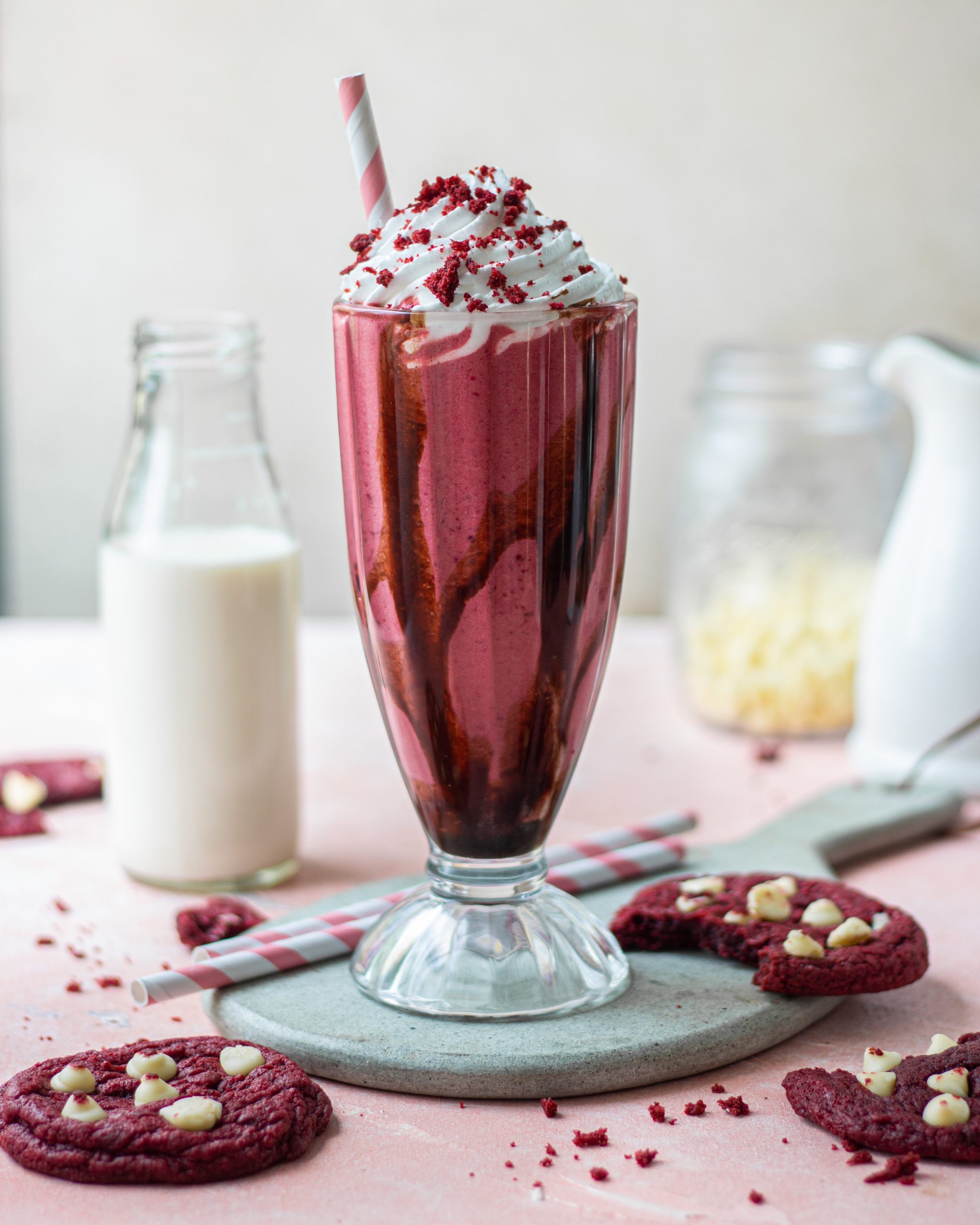 INGREDIENTS NEEDED FOR RED VELVET MILKSHAKE
The best part about making a milkshake is that it requires the most minimal ingredients and you end up with a tummy-filling treat. This red velvet milkshake calls for some basic ingredients like milk, vanilla ice cream, whipped cream, and of course, some nice red velvet cookies. If you haven't made the cookies yet, can find the recipe for my red velvet cookies. The recipe is eggless, easy, and comes together beautifully. For whipping cream, I recommend using a cream with a fat content of more than 36% as it whips up easily. I use Rich's whipping cream for my recipes.
You can also take your milkshake to a new level by keeping the milk chilled and ready to be blended. It's also necessary that the consistency of the ice cream is soft so that it glides on a spoon easily. I recommend not using ice in your milkshake as it melts and it'll make your red velvet milkshake thinner. You can always use more milk if you want a thinner milkshake.
CAN I MAKE MILKSHAKE WITHOUT A BLENDER?
Unfortunately, it'll be hard to make this milkshake without a blender or a food processor. Since this recipe involves the cookies to be blended with the milk and ice cream, a hand blender won't be able to do the job. So I'll recommend you to make this milkshake only in a food processor or blender for good results.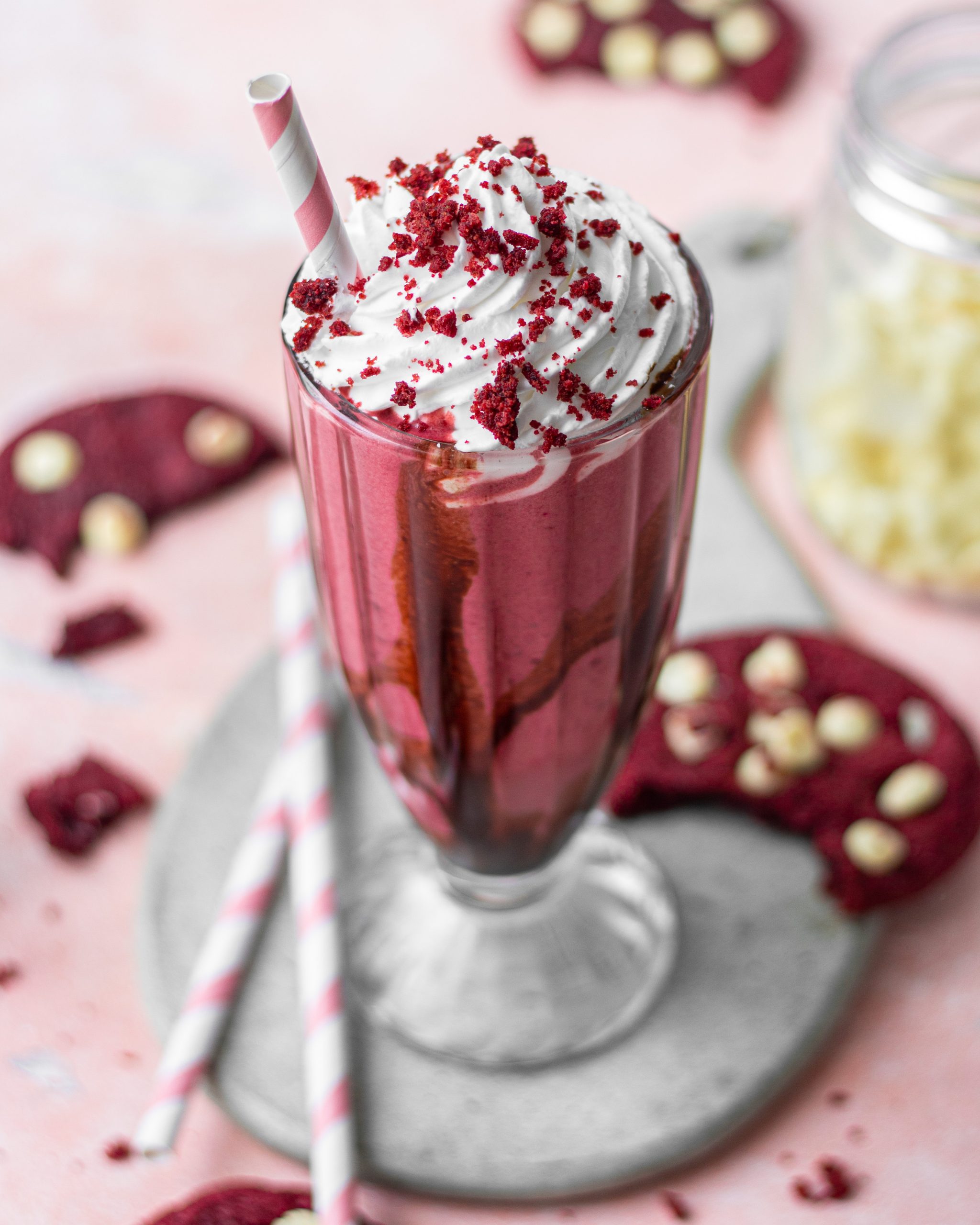 STORING RED VELVET MILKSHAKE
Who doesn't want to just grab a glass of milkshake kept handy before going out! I definitely do but I would still advise you to consume the milkshake as soon as you make it because this red velvet milkshake is all about its creaminess. You can still keep it in the fridge in an airtight tumbler but remember, the ice cream will melt and the milkshake will lose its consistency.
OTHER RED VELVET RECIPES ON THE BLOG
RED VELVET MILKSHAKE RECIPE
Red Velvet Milkshake- with 5 ingredients!
Ingredients
2 Red Velvet Cookies
3 scoops Vanilla Ice Cream
¼ cup milk
Chocolate Drizzle (optional)
Whipped cream (to top)
Instructions
In a blender, add in cookies, ice cream and milk.
Blitz all of this together till you reach a creamy and smooth milkshake consistency. Add more milk if you'd like the milkshake to be more fluid.
Take your serving glass and drizzle down melted chocolate on the inside rim of the glass.
Pour in the milkshake and pipe whipped cream on top. Enjoy!
If you end up making this delectable milkshake, don't forget to tag me on 
Instagram
and use #BakewithShivesh. Happy Baking!