There's something absolutely magical about a slice of moist, rich red velvet cake and what's better than a slice of this cake in the form of a COOKIE! Yes, you heard it right. I made a red velvet cake recently and everyone loved it! So for this common love of red velvet, I came up with this recipe of Eggless Red Velvet Cookies. These cookies are simple, chewy, and absolutely delicious!
I've heard people saying that red velvet doesn't have any flavor. Well, that's not true! Red velvet is a cross between vanilla and chocolate and trust me, once you try your hand on these eggless red velvet cookies, you'll know what true red velvet is and you'll fall in love with it!
INGREDIENTS USED IN EGGLESS RED VELVET COOKIES
These eggless red velvet cookies call for very easily available, pantry ingredients that you'll definitely have in your kitchen! The basic ingredients are the same as needed for any cookie recipe- flour, two types of sugars and since these are eggless, we go for milk mixed with some vinegar. When you put vinegar in milk, it curdles and acts as a perfect substitute for an egg. If you don't have vinegar, you can also use lemon juice. Since a red velvet cookie is a cross between vanilla and chocolate, these cookies need some cocoa powder and vanilla extract. In cookies, sugar plays a very big role. So let's understand why we're using both caster and brown sugar for this recipe-
CASTER SUGAR
The job of caster sugar to make the cookie flat and crisp. It attracts and absorbs the liquid in the recipe, leading to a nice, crisp texture. Cookies that are made with only white sugar are lighter in color, dense and less chewy.
BROWN SUGAR
Since brown sugar has molasses, it makes the cookies very moist and chewy. This is why, these eggless red velvet recipe calls for a balance between both the sugars.
Apart from the basic ingredients, I recommend you to use gel food coloring instead of the cheap ones available in grocery stores. Those are not only bad for your health but it takes a lot of color to get to the shade that you might want. I also top these cookies with the best quality white chocolate chips that I can get my hands on.
Initially, I thought of filling these cookies with a luscious cream cheese frosting but they came out so well without them that I fell in love with their simplicity!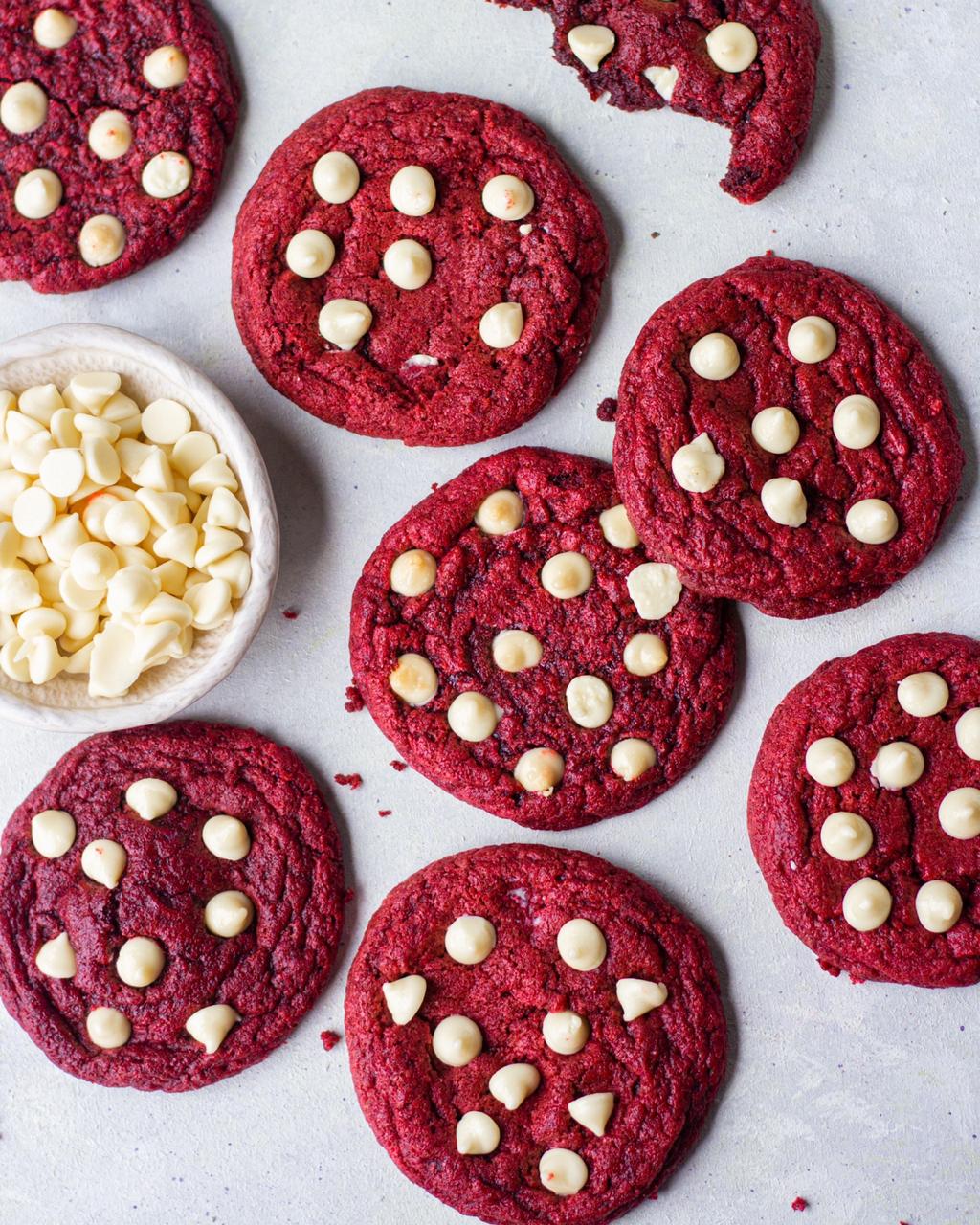 HOW TO NAIL THESE EGGLESS RED VELVET COOKIES
It is very important to let the dough of this eggless red velvet cookie chill in the fridge for at least 30 minutes before you can pop them into the oven. I know it is very tempting to simply skip this step but it is very important if you want your cookies to come out well-baked.
Do not over bake the cookies. Bake them for only 12-15 minutes only. In addition to this, allow the cookies to rest on the baking tray for 10 minutes after you have taken them out of the oven.
These cookies use white chocolate chips. You can also use cream cheese frosting to top the cookies and take it up a notch!
BUSTING YOUR RED VELVET MYTHS
Very often, I've heard people say that all red velvet desserts are the hardest desserts to nail because of the variety of ingredients it incorporates and the intense preparation they require. But let me tell you, it's actually the other way round! With the right amount of dedication and the perfect spoonfuls of some determination and patience, nailing these eggless red velvet cookies is going to be extremely easy!
To solve your doubts and queries about baking cookies, I have an entire blog post dedicate to Baking your Cookies right which will surely help you out of your cookie misery!
CAN THESE EGGLESS RED VELVET COOKIES BE MADE IN THE MICROWAVE?
I make these eggless red velet cookies in my OTG oven but if you don't have an oven, you can also make it in the convection mode of your microwave. Because cookies are very low maintenance, you'll get almost the same results like you would, with an OTG!
Preheat your microwave on convection mode until 180 degrees Celsius. Place the cookies evenly on your tray, and allow to bake for 15-17 minutes only. Again, microwaves differ, so keep a sharp eye out for the golden edges!
PS- If your microwave does not accept a flat tray, take that round cake tin out and evenly place your cookie dough onto it. You might take a longer time to bake a sufficient batch of cookies, but you will succeed!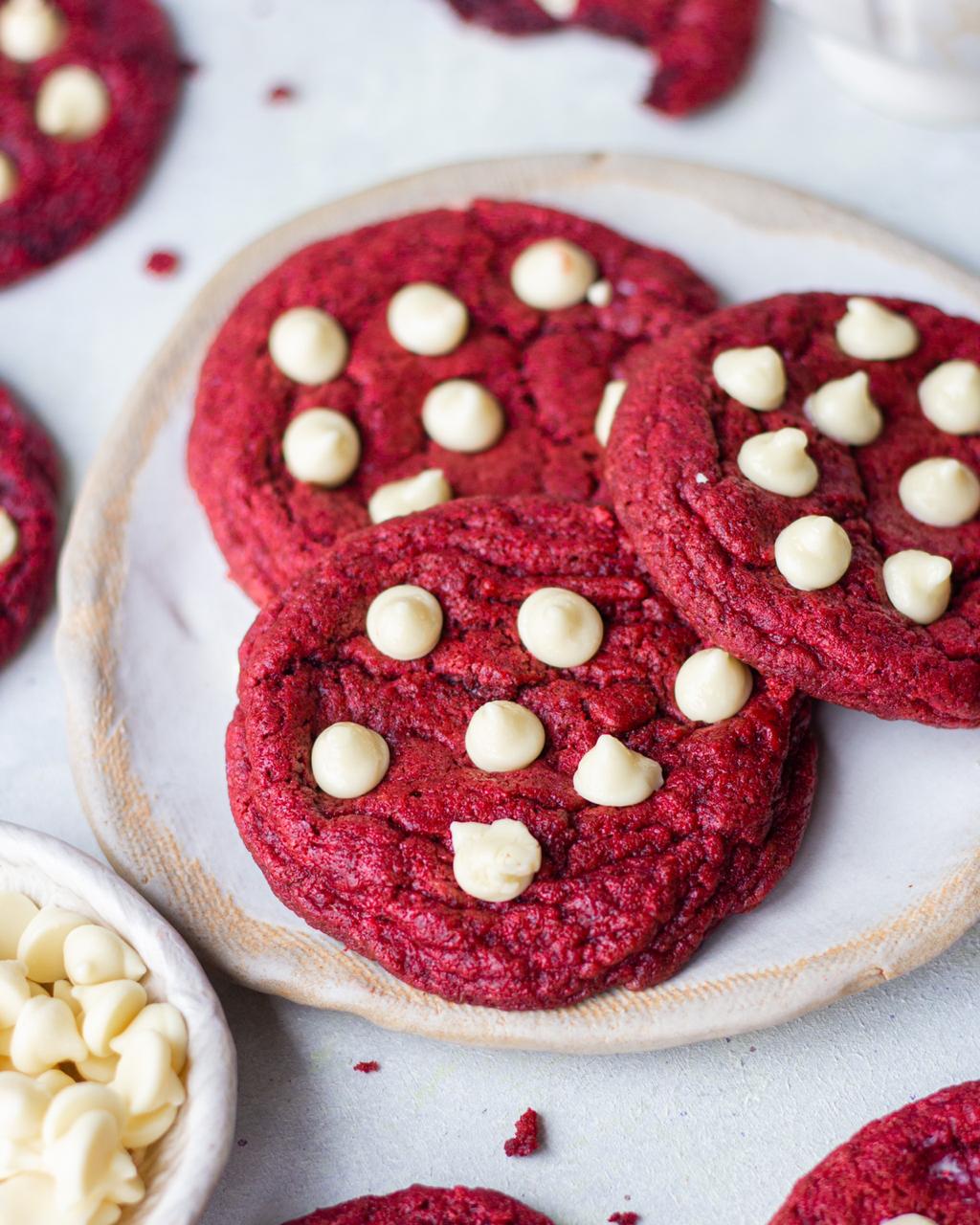 OTHER COOKIE RECIPES ON THE BLOG
EGGLESS RED VELVET COOKIE RECIPE
EGGLESS RED VELVET COOKIES
Ingredients
1+1/4 cup (160g) all purpose flour / maida
2 tablespoons (30g) cocoa powder
½ teaspoon baking soda
½ cup (113g) softened butter
½ cup (100g) light brown sugar
½ cup (115g) caster sugar
1 teaspoon vanilla extract
1 tablespoon red food color
3 tablespoons milk
1 teaspoon vinegar
½ cup (80g) white chocolate chips
Instructions
In a clean bowl, combine the flour, cocoa powder and baking soda. Set aside.
In a separate bowl, beat the butter with the sugars till nice and fluffy.
Add the vanilla extract and food coloring.
Add in the dry ingredients and mix well.
In another bowl, take the milk and add vinegar to it. Let it curdle for 5-10 minutes.
Add this milk into your cookie dough mixture and combine everything.
Refrigerate the dough for 30 minutes.
Preheat the oven at 180 degrees celsius for 15-20 minutes.
Line your baking tray with a silicon mat/parchment paper.
Scoop out your cookie dough and place the balls on the baking tray.
Bake for 12 minutes. Take the tray out, and top it up with white chocolate chips.
Bake for another 5 minutes.
This is the perfect recipe to make on weekends or when you have your favorite friends over at home. If you happen to make this recipe, don't forget to tag me on 
Instagram
and use #Bakewithshivesh. Happy baking!