I am a 'sweet for any meal' kind of a person. I sleep extra well when I know that the breakfast next day will be a sweet sweet treat. These eggless oat waffles are something that I can change with my mood everyday. It is such a simple staple recipe to have in your books, that doesn't fail to impress me ever! The waffles turned out to be super fluffy and crisp at the same time. The best part is that the recipe is so basic and malleable that you can change the flavours in so many different ways. Currently I am loving dousing mine in maple syrup and topping it with bananas.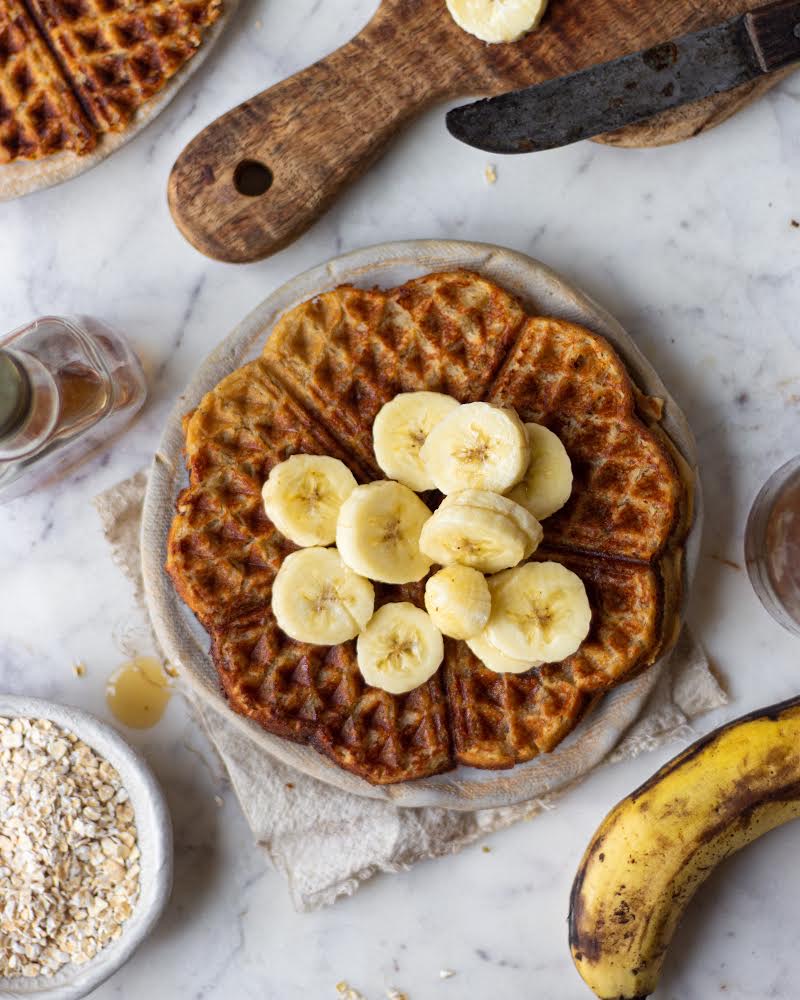 Having these waffles for breakfast makes me think that I am on a vacation somewhere eating a lazy day breakfast at an American diner. Aaah, the thought of a relaxing vacation and good food sounds like a dream to me. That is literally all we can do at the moment, dream of a vacation… OR run to your kitchen and grab the ingredients for this uber easy recipe and treat yourself right now!
How to make your waffles right every time?
It is very important for me to know that my waffles are fluffy but also crisp at the same time. Nobody likes a soggy waffle or waffles that are dry and hard. So to find that balance I am going to share my tips and tricks with you so that you get your waffles right every single time.
Buttermilk
For these eggless oat waffles instead of just using plain milk, I have used homemade buttermilk as an egg substitute. You can buy premade buttermilk and use that instead. But making it at home is so easy and I like knowing that I am using fresh ingredients in my kitchen! So the trick to 'splitting' the milk here is that we use an acid. I am using lemon juice here and adding it to my milk. The acid in the lemon juice will come in contact with fats of the milk and form small baby curds. The key is to let this mixture sit undisturbed so that enough time is given to the acid to perform its action. Another alternative to using lemon juice is white vinegar. And yes! Using milk that is at room temperature will definitely curdle better and faster. 
Oat flour
Oat flour has slowly become such a staple in my kitchen. I used to be uncertain about where to use it or what recipes will the oat flour compliment. But let me tell you this, oat flour is so great in absolutely everything. I am so stunned by the nuttiness and the grounding taste it lends to all my desserts. 
Instead of using store bought oat flour for these eggless oat waffles, I love grinding up rolled oats in my high speed blender until its powdery, works like magic! Preparing oat flour at home is easy and super cost effective. If you are in love with oat flour too or you are new to baking with oats, my Gluten Free Brownies will make the transition so much easier for you. I love these gluten free brownies more than my regular brownie recipe too! 
Tips to get your waffles right every single time!
Resting your batter
I know when whipping up such delicious desserts anyone can get impatient and would indulge in rushing the project. But if you want to make the most perfect, fluffy yet crisp waffles. You would wanna give your batter a little rest. I recommend doing that for at least 7-10 minutes.resting your batter would ensure that all the ingredients have the time to get along and the leavening agents can react with other ingredients. This is a crucial step and 100% should not be skipped. Plus it's a short wait, brew yourself a nice cup of coffee, give it a looksie out the window and boom its waffle time!!
Adding hot water
Adding hot water to our eggless oat waffle batter will help us get the perfect batter consistency. It also makes the batter be lump free and super smooth.
Grease the waffle maker
Generously grease the waffle maker with either cooking spray or cooking oil. Make sure to brush all the indents so that nothing sticks and the waffles lift off easily. Check this waffle recipe without waffle maker. 
Don't overfill your waffle mould
Only add the batter to the center of the waffle maker, a couple of scoops does the job. Overfill your waffle mould and you will end up with a massive mess of overflowing batter and raw waffles. 
Waffles are so versatile as the batter is made with a few simple ingredients you can really up your game with the topping that you choose. My staple toppings for these eggless oat waffles are maple and banana but there are so many others that would taste amazing!
You can do blueberries and whipped cream, nutella and strawberries, cream-honey and pistachios.. Ahh thinking about these flavour combinations are making me so hungry now!!
I love seeing all your creations so I hope you will try these recipes and if you do, do not forget to share your images with me on Instagram and tag @shivesh17. Happy baking!

Eggless oat waffles - breakfast recipe!
Ingredients
1.5 cups Milk
2 tbsp Lemon juice
6 tbsp Melted butter
1 tsp Vanilla extract
¼ cup Sugar
2 cups Oat flour
1 tsp Baking powder
½ cup Hot water
Instructions
In a small bowl add the milk and lemon juice, stir and set aside for 5-7 minutes and allow to curdle.
Once curdled add the milk-lemon juice mixture into a large bowl, add melted butter and vanilla. Using whisk mix until nicely incorporated.
To the wet ingredients add oat flour and baking powder. Using a spatula mix this well.
Add hot water to the right batter consistency, whisk this until a smooth batter is achieved. Let the batter rest for 10 minutes.
Grease the waffle maker with oil, using an ice cream scoop, transfer 2-3 scoop-fuls of the batter in the middle and close the waffle maker. Allow the waffles to cook, open the waffle maker and carefully lift the hot waffle out onto a plate.
Dress your waffle with banana and a generous drizzle of maple and dig right in!