I bake so many different kinds of desserts day in and out. Specially during the lockdown I expanded my horizon and baked so many different things that I never thought I would. But when it comes down to a dessert that would comfort me and be my go to, it has to be a nice, fluffy, fudgy chocolate cake. With so many chocolate cake recipes out there already, I thought I would share one with a twist today. Something that I would usually never make. So I decided that  I am going to be making an eggless gluten free chocolate cake. It is the best of both worlds. And to make it even more decadent I am topping it off with a beautiful rose buttercream that you will love 100%
I personally do not know one person who can say NO to a chocolate cake. And I am pretty glad I don't know such people cause that's just the kind of negativity I do not need! Haha! But if you know someone who shys away from eating desserts, you can easily convince them to eat this gluten free cake and come over to the dessert lovers side.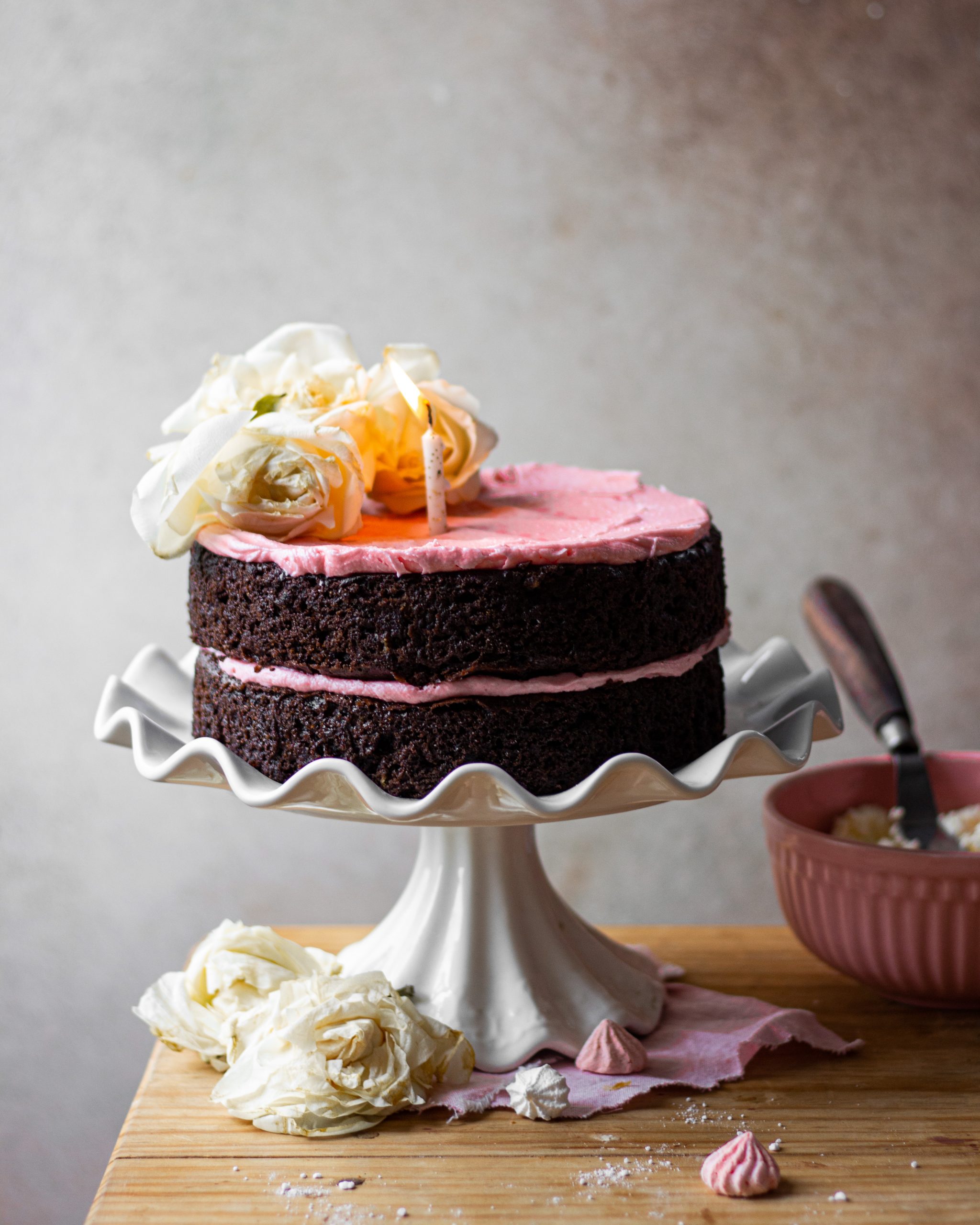 What makes this chocolate cake gluten free?
I do most of my baking using all purpose flour. It is cheap, readily available but it isn't gluten free. To make my gluten free chocolate cake, I have used jowar flour. Jowar, also commonly called sorghum. It is one of the  grains belonging to the millet family, that has been around for centuries. It has been very commonly used in the Indian household. Jowar flour is gluten free which means it lacks elasticity, but works beautifully in baking recipes as we have other binders like oil, sugar and yoghurt. 
Adding jowar flour to our gluten free chocolate cake makes it amazingly nutty and rich. Jowar is a great source of B vitamins, protein and antioxidants. I mean if my chocolate is giving me all that goodness, how can I say no! Right?? I usually get my jowar flour from a local miller, but you can easily buy it super markets or online.
Ingredients for the gluten free chocolate cake
Yoghurt 
Since our gluten free chocolate cake is also eggless I am using yoghurt to mimic the fat content and richness that the eggs provide. I love using homemade yoghurt. And if the yoghurt at home is a little too liquidy, not to worry straining it through a cheese cloth and letting it sit for a couple of hours does the trick. However if you are in a rush and can not wait to make and devour this chocolatey goodness, you can also use store bought greek yoghurt. I have a detailed blog post/ youtube video on egg substitutes, that you can find HERE.
Cocoa 
This is the sole ingredient that will swing the flavours in our cake to the chocolatey side. So DO NOT compromise on the quality of the cocoa powder that you use in this gluten free chocolate cake. I always prefer using an unsweetened cocoa powder, that is rich and uber chocolatey. Couple of brands that I shuffle between are Hershey's and Weikfield. 
Vegetable oil
Now a lot of people get really confused on the oil front when it comes to using oils in their baked goods. My secret to getting my oil based cakes tasting absolutely delicious is that I always look for an oil with the most neutral taste. If you are a newbie in the baking world and you do not know the taste of different oils, that's ok! My smelling trick always works amazingly, so you basically get a good sniff of the oils in your kitchen and determine which oil has the most neutral, non pungent smell. Sunflower oil works great while baking and you can not taste it at all in your baked goods. I would definitely stay away from oils like mustard and peanut cause they can heavily affect the taste of your desserts. 
Taking the gluten free chocolate cake up a notch!
Ahh! I absolutely loveee the fact that I listened to my instincts and made a rose buttercream frosting to go with our chocolate cake. Now I do not know what it is but eating anything rose flavoured reminds me of the UK and my time in London. It is such an english flavour and I love adopting that in my desserts. And it makes complete sense for me to love it, cause so many Indian sweets are also flavoured with kewra water i.e. rose water. 
So I just whipped up my basic buttercream frosting recipe, added rose water and some pink food coloring. And oh my god! It was so perfect to be paired with our gluten free chocolate cake! The richness of the chocolate cake, earthiness of the jowar flour, a match made not in heaven but in my kitchen. Haha!
And to make sure you all get your buttercream absolutely right every single time, I made a detailed video on how to make the perfect buttercream frosting.
Now when you do end making and loving this recipe (I know you will), I have experimented and paired jowar in different desserts already. My jowar crepes and healthy plum cake make it to my top of the gluten free dessert list.  And when you do recreate them don't forget to share pictures with me on my Instagram @shivesh17. Until then happy baking!

Eggless Gluten Free Chocolate Cake with Rose Buttercream
Ingredients
1½ cups jowar flour
¾ cup cocoa powder
A pinch of salt
1 teaspoon baking powder
½ teaspoon baking soda
¾ cup vegetable oil
1½ cups caster sugar
½ cup yogurt
½ teaspoon vanilla extract
¾ cup milk
For rose buttercream
½ cup softened butter
1 cup icing sugar (sifted)
1tsp rose extract
2-3 drops of pink food colouring
Instructions
In a large bowl, sift through the jowar flour, cocoa powder, baking powder, baking soda and salt. Set this aside.
In a separate bowl, combine sugar and oil. Using a whisk mix this really well, until it is light and fluffy.
Into the sugar and oil mixture. Add the yoghurt and vanilla extract. Combine this well as well.
Fold half of the dry mix that was set aside earlier, fold in gently using a spatula.
Add the milk to the batter and combine it well. Finally add the leftover dry mix and mix until no large flour pockets remain.
Transfer the batter into two 6' inch round pans which are greased and lined with parchment.
Bake the cakes @180C for 35-40 minutes or until a skewer inserted comes out clean.
To prepare the frosting, in a large bowl add the softened butter and beat it on high speed using an electric whisk. Beat until light and fluffy. Add in the rose extract and food colour and beat again to combine.
Sift in the icing sugar, initially mixing in with a spatula and finishing it off with the electric whisk.
Once the cakes have cooled down completely, spread the frosting and layer the cakes. enjoy!