I am clearly making and eating a lot of crepes these days. For my YouTube channel, we made eggless Ragi crepes with homemade ricotta cheese. Today's experiment is gluten free jowar crepes with mangoes, which I absolutely loved. I usually make crepes with refined flour but I was pleasantly surprised to see that these crepes made with jowar/ sorghum flour were equally delish!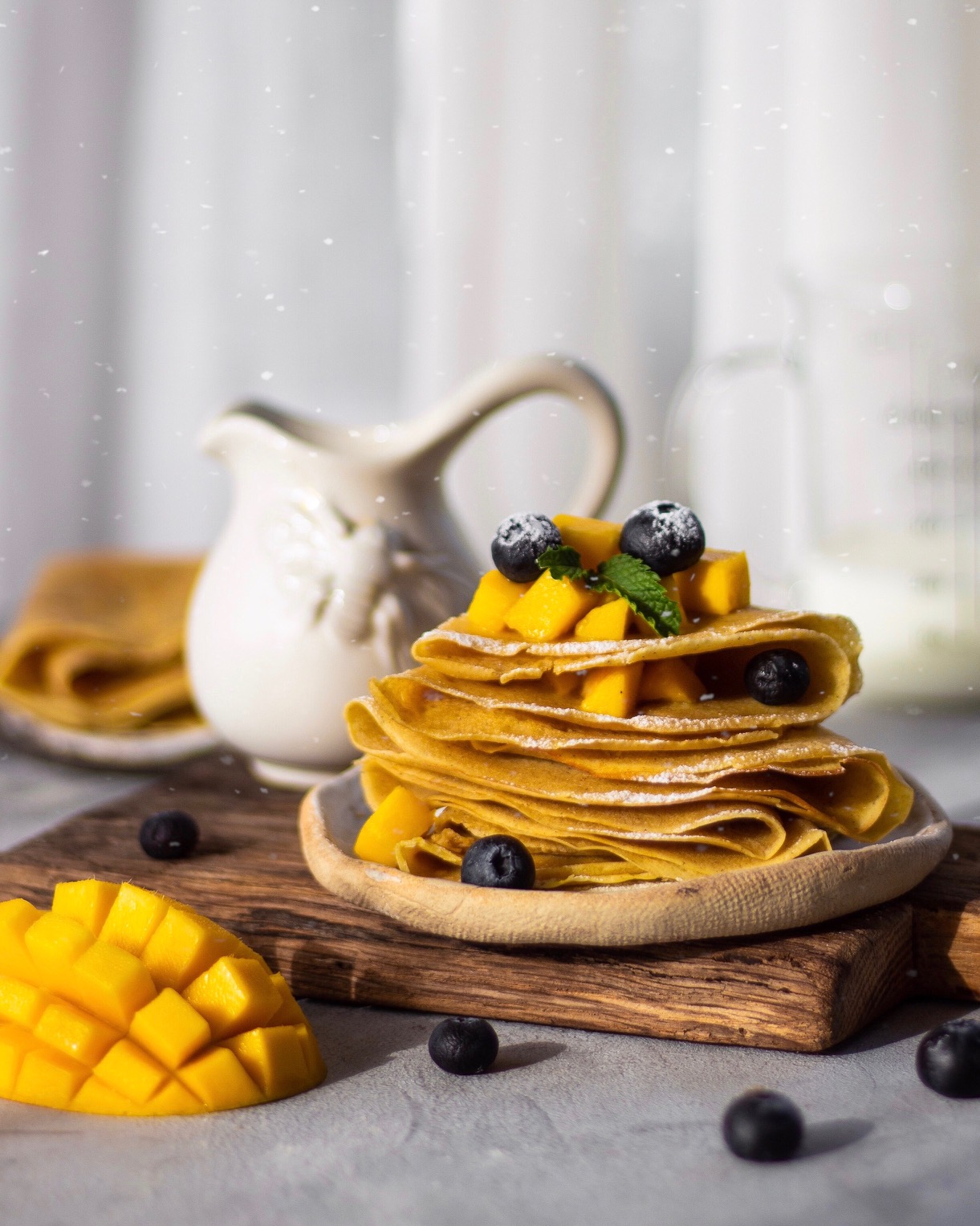 To make these crepes you only need a very few staple ingredients like sugar, milk, butter, etc. I'm sure you already have these ingredients sitting on your kitchen shelf , so all you have to do now is to pull them out and get cooking.
HEALTHY GLUTEN FREE JOWAR CREPES
These gluten free Jowar crepes are a healthier option as compared to the maida version. These crepes make for  perfect sweet breakfast that is gluten-free and healthier. My crepes look extra yellow because I also added 2 tablespoons of protein powder which was mango flavored. If you want to pack your crepes with protein, you can also add two tablespoons of protein powder with your dry ingredients. And there you have it- a healthy dessert that is filling, delicious and also gluten free.
If you want to
If you make these gluten free jowar cupcakes at home, don't forget to share a picture with me on  my instagram using #BakeWithShivesh. Happy eating!

Jowar Crepes With Mangoes
Ingredients
1 cup jowar flour (Sorghum flour)
a pinch of salt
2 tablespoons caster sugar
2 eggs
1 + ¼ cup milk
2 tablespoons melted butter
1 teaspoon vanilla extract
¼ cup diced mangoes, to top
¼ cup blueberries, to top
Instructions
In a large bowl, combine flour, salt and sugar
In a separate bowl, mix eggs, milk, butter and vanilla. Beat well to ensure everything is well combined.
While mixing, slowly add the wet ingredients to the dry ingredients. Beat until the batter is smooth and lump free.
Let the batter rest in the fridge for 15-20 minutes.
Brush a non-stick pan with a little butter and heat it on a stove with low heat.
Use a ladle to pour ¼ cup mixture into the pan. Cook until the edges become golden brown and then flip to cook the other side.
Repeat until the batter is finished. Top the crepes with fresh mangoes and blueberries