As you guys may have noticed, I have recently launched my Youtube Channel- Bake with Shivesh and it is already four videos old, haha! Today, I am uploading another very fun video with a very close friend of mine- Amrita and she has brought about a very special recipe of these ragi crepes with ricotta cheese which are super-duper nutritious and go amazingly well with juicy mangoes! Amrita practices Ayurveda and tries to bring elements from the field into her cooking which makes her recipes very healthy and light.
These beautiful ragi crepes with ricotta cheese do not even take a full thirty minutes to prepare and make which make them all the pleasing and fun to prepare! I do understand that not everybody wishes to go this healthy and everyone has their inhibitions about using Ragi flour. But, trust me when I say this, I am not someone who would agree to make something that does not appeal to my sweet tooth and these ragi crepes with ricotta cheese offer so much in one plate! They are healthy, filled with nutrition, amazing for the summer season, and heavenly!
Benefits of Ragi
These ragi crepes with ricotta cheese are full of energy and will surely get you going on a summer morning when the sun is high and the ability of the body to move forward is low. Ragi does not only help weight loss but also controls diabetes and cholesterol. Ingesting ragi also helps with your digestion and controls the aging of the skin.
Tips for getting the best ragi crepes with ricotta cheese
Now, these ragi crepes with ricotta cheese might seem way too easy and indeed, they are, but one can always do with some quick tips to remember before going ahead and flipping these!
Please use a non-stick pan, one that you or your mother might be using for dosas or pancakes. Also, pour ghee on the pan before pouring the batter. These crepes will stick instantly if you choose to avoid either of the aforementioned.
Do not pour the batter on to a cold pan. Add a generous amount of ghee to the pan, let it warm up a little, and then pour your batter.
Let the milk simmer and come to a boil while prepping it for the ricotta cheese. After adding the lemon, make sure the milk ends up curdling but not so much that it burns on the bottom.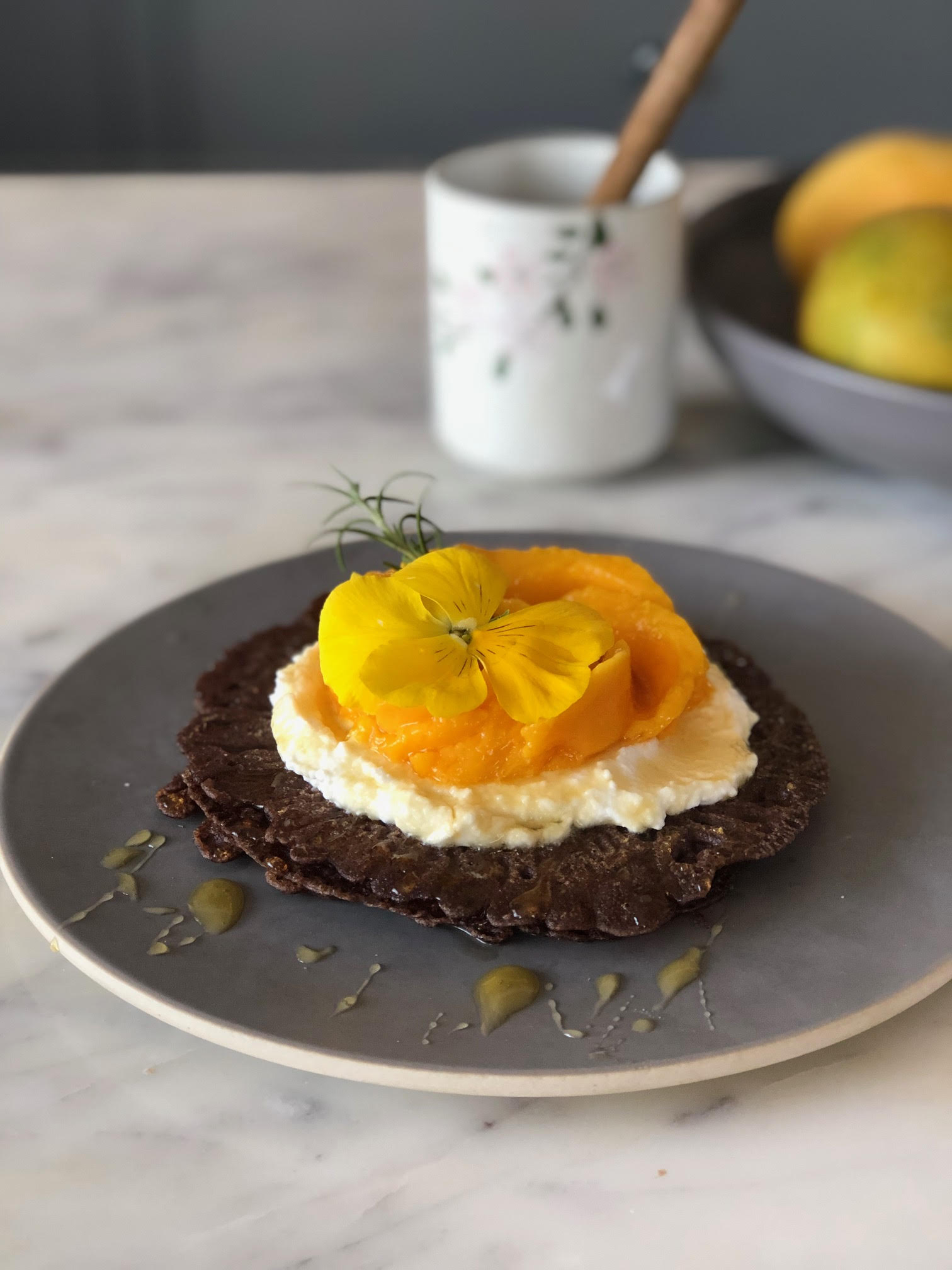 More healthy recipes from the blog
Ragi crepes with ricotta cheese recipe
Ragi Crepes with Home-made Ricotta Cheese
Ingredients
For the Crepes:
1 cup ragi flour
1 tsp jaggery
Pinch of rock salt
¼ cup of milk
½cup of water
Pinch of baking powder
2 tbsp ghee
For the ricotta:
1 liter of Milk
Juice of 2 lemons
Instructions
In a bowl, add the flour, jaggery, rock salt, and baking powder.
Add water and then add milk.
Let the mixture rest for a while.
In a thick bottomed vessel, pour one liter of milk and allow it to come to a boil.
To the boiling milk, add the juice of two lemons.
The milk will curdle. Allow it to remain on medium flame for a little more time.
Using a sieve, drain out the water and add the curdled milk in a bowl.
Using a hand blender, blend the curdled milk into a smooth texture which is your ricotta cheese. Allow your ricotta to cool down.
For making the crepes, add 2 tbsp of ghee onto your non-stick pan. Using a pancake ladle, pour your crepe batter onto your pan. The batter will instantly form bubbles on its surface. Flip it when one side seems cooked.
Serve your crepes with ricotta cheese, mangoes, and honey!