It is my birthday today and I am so glad to be posting this recipe of my birthday cake which is a beautiful chocolate chip cake with chocolate cream cheese frosting.
I get asked a lot if I bake a birthday cake for myself on my birthday, to which the answer is- yes, I do, haha! But, this birthday is extra special because I am fortunate enough to celebrate it in Italy with my close friend and I am in love with this country!
Now, a birthday cake is a special one; it needs to be delicious (of course), but it also needs to be pretty and easy. This is exactly what my birthday cake is. This chocolate chip cake with cream cheese frosting is the easiest recipe you'll find on the website and it is so birthday worthy with the beautiful frosting and the sprinkles, I am sure you guys will love it!
To make this beautiful birthday cake perfectly, you can also visit my Youtube channel where you will find the recipe for this chocolate chip cake!
Ingredients for Chocolate Chip Birthday Cake
There is absolutely nothing complex with this decadent chocolate chip birthday cake. It is the most basic recipe of a chocolate chip cake and uses ingredients that are literally available anywhere and everywhere!
If you have doubts about where you can find your chocolate chips, let me tell you that they are easily available at any bakery nowadays. If not, you can always order them from online grocery stores which are increasingly becoming super convenient!

Tips for the perfect Birthday Cake
Like I said before, birthday cakes are certainly super special and they need and deserve the decoration. While I have simply gone ahead with the sprinkles, you can decorate however you like- with more chocolate chips, butterscotch balls, wafers, cookie crumbs, silver chocolate balls, fruits, nuts, and what not!
Moreover, while I have used a chocolate cream cheese frosting for this birthday cake, you can also go along with vanilla buttercream frosting or even dark chocolate ganache!
One important thing to remember is that when you are placing another level of your cake, do not forget to layer the top of the lower layer generously with whatever frosting you're going ahead with. This ensures that your cake looks pretty but also tastes nice and stands tall.
Since this is a very simple recipe, you need not worry about the ingredients. Just please follow the recipe well and consult the youtube video for doubts!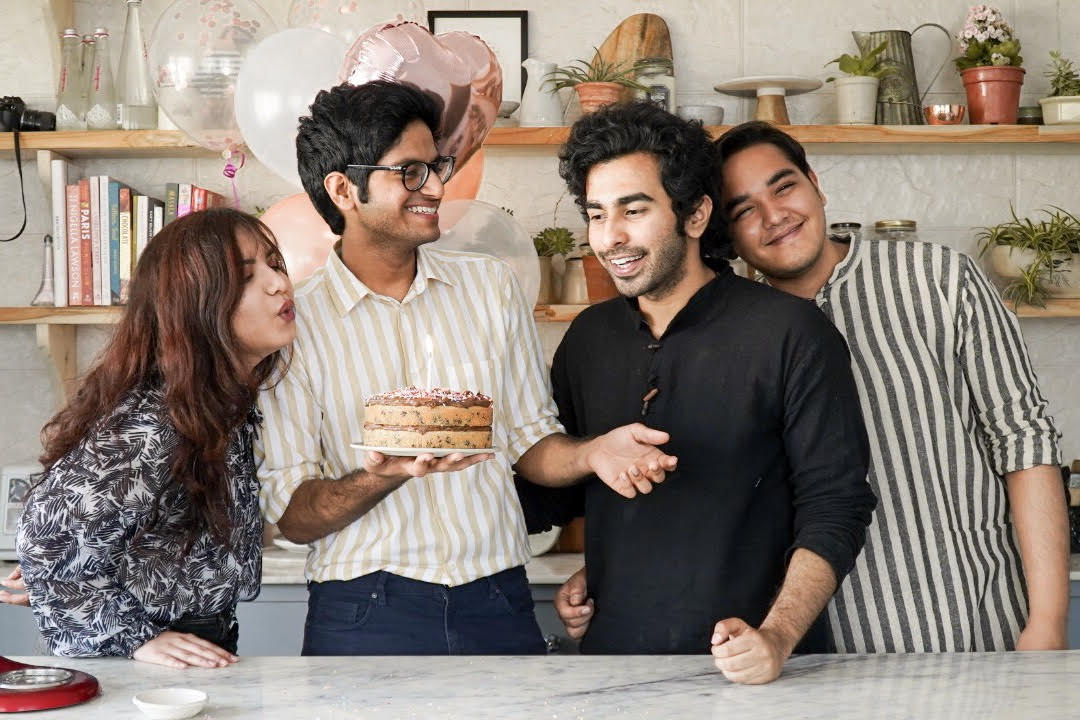 Recipe for Chocolate Chip Birthday Cake
Birthday Cake- Chocolate Chip Cake
Ingredients
Chocolate chip cake recipe-
2 cups all-purpose flour
2 teaspoons baking powder
¾ cup vegetable oil
1 cup castor sugar
1 teaspoon pure vanilla extract
2 eggs
½ cup milk
1 cup of chocolate chips
Chocolate cream cheese Frosting-
1 cup cream cheese, softened
½ cup unsalted butter, softened
2 cups icing sugar
½ cup cocoa powder
Instructions
Pre-heat the oven to 180C. Line two 8″ round cake pan with parchment paper.
In a bowl, whisk together flour and baking powder.
In a separate bowl, beat vegetable oil and castor sugar. Beat in the vanilla.
Add eggs, one at a time and beat well after each addition. Mix in the milk.
Using a spatula, gently fold in the dry ingredients into the wet ingredients. Mix only until well combined. Fold in the chocolate chips.
Pour the batter into the prepared cake pans. Bake at 180C for 40-45 minutes or until a skewer inserted into the center comes out clean.
For the frosting, beat the butter and cream cheese until the mixture is light and fluffy.
While the mixture is still running, add the sugar in parts. Beat until the frosting is smooth and fluffy.
Gradually add the cocoa powder.
Generously top the cupcakes with frosting once they have cooled completely.