I had lost all hopes of having a decent birthday when the lockdown extension was announced. The thought of not going out, not seeing my friends, and not enjoying a meal at my favourite restaurant would completely devastate me! BUT I was completely wrong. I celebrated my birthday with my family; bonding and enjoying every single moment. There might never come a time again, when we are not as distracted as we are in daily life. So, this quarantine has been a blessing in disguise, for me to realize the importance of being just with myself and my lovely family. Now I of course had to bake my own birthday and my sister's cake, since we are twins. So, I baked a carrot cake. Actually, I baked the best carrot cake in the world.
Now, of course I know that a carrot cake is not your traditional birthday cake. But who set the rules anyway? Plus, this is not your average carrot cake. This happens to be the best carrot cake in the world. I guarantee this. I love carrots, and I'm sure you will enjoy this cake as much as I did! And of course since there were two birthdays I had to double up the cake right? This led to me making a two tiered carrot cake, which made the celebration even bigger! This has to be my favourite carrot cake recipe and the best carrot cake in the world too. Hehe.
Not to forget, thank you so so much everyone. Your wishes yesterday absolutely overwhelmed me. This recipe of the delicious and truly the best carrot cake is dedicated to all of you lovely humans!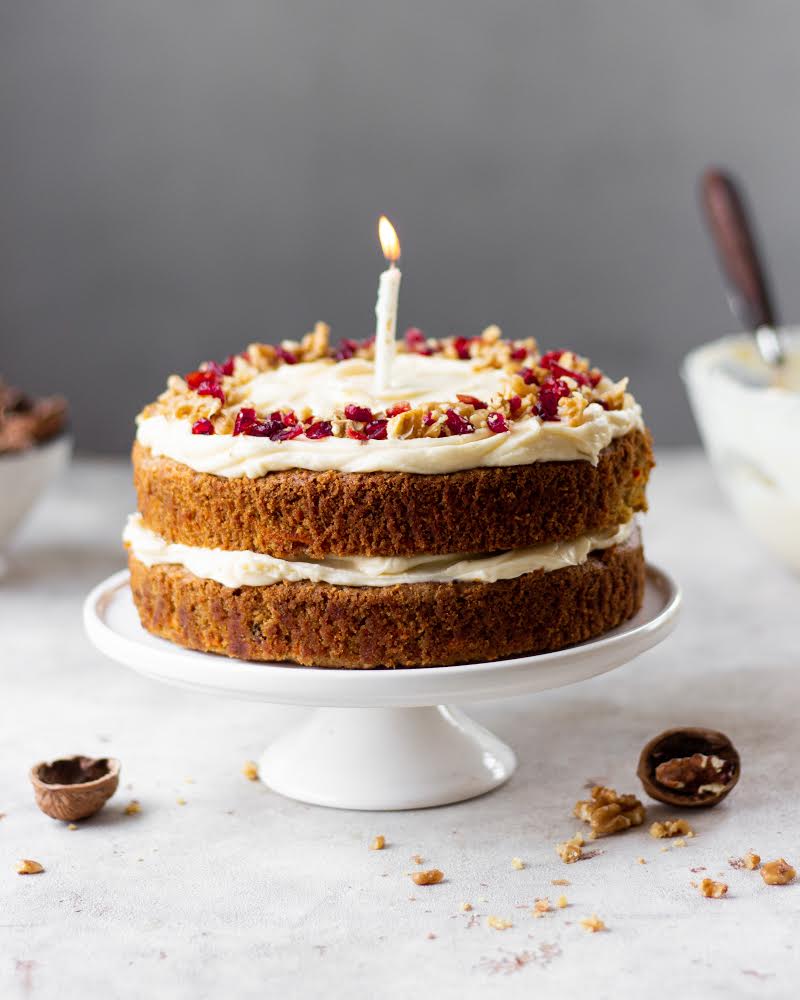 USING CARROTS IN YOUR CAKE
I have time and again reminded all of you that your fruits and ingredients need to be 100% clean and fresh before you go ahead and use them in your desserts.
For this carrot cake, you need to properly grate your carrots. Further, even though you might be an ardent lover of carrots, big carrot pieces will not taste good and will make the batter lumpy. Big pieces will undeniably take more time to cook and may only be partially cooked even though this best carrot cake is fully baked.
Lastly, we do not squeeze the water out of the carrots for the best carrot cake. The cake, in general, does not have a lot of liquids like milk or water. What gives it a good consistency are the carrots and the water constituted in them.
More Carrot Recipes For You To Try:
TIPS FOR THE PERFECT CREAM CHEESE FROSTING for the best carrot cake
This cake has a yum filling of cream cheese. I am not even joking about this, cream cheese is my weakness. Be it cupcakes or not-too-sweet cakes, be it parties or birthdays, any dessert topped with this cream cheese frosting is nothing less than heaven on a plate!
Tips for baking a smooth and delicious cream cheese frosting:
It is best if all your ingredients are at room temperature only
Use softened butter only in order to avoid lumps
Do not use low-quality cream cheese or any cream cheese with high water content. They will make your frosting really runny. You can easily get Britannia or Mooz cream cheese from your nearby grocery store.
For this best carrot cake, I have used the following recipe:
1 cup butter, 2 cups cream cheese, and 2.5 cups icing sugar. Just blitz it all up with a hand blender and you're good to go!
If you make it, please tag me on Instagram too!
INGREDIENTS FOR THE BEST CARROT CAKE in the world
This recipe of the best carrot cake has a smooth and delicious cream cheese frosting. The frosting balances with the cake's flavor automatically and in a uniform manner. Click here for the cream cheese frosting recipe I used to top the best carrot cake!
WHOLE WHEAT FLOUR, is readily available to us. It is also the healthier flour choice, since it is processed less. The whole wheat flour also adds a depth of flavour in our carrot cake.
SUGAR, here I have added both white and brown sugar. The brown sugar compliments the carrots so much. It gives our carrot cake a very caramel-y taste. However you can definitely just do one kind of sugar, whether it be brown or white.
EGGS, always make sure the eggs that you use are at room temperature. In Fact all of your baking ingredients should usually be at the same temperature.
CRUNCHY AND CHEWY BITS, texture is such a major thing for me. Different textures add so much more to your dessert. The lovely crunch I'm using walnuts here, they compliment the carrot so well. For the chewy goodness, I'm using dried cranberries.
However, you can replace walnuts with almonds and cranberries with raisins. You can also omit these altogether if that is what floats your boat.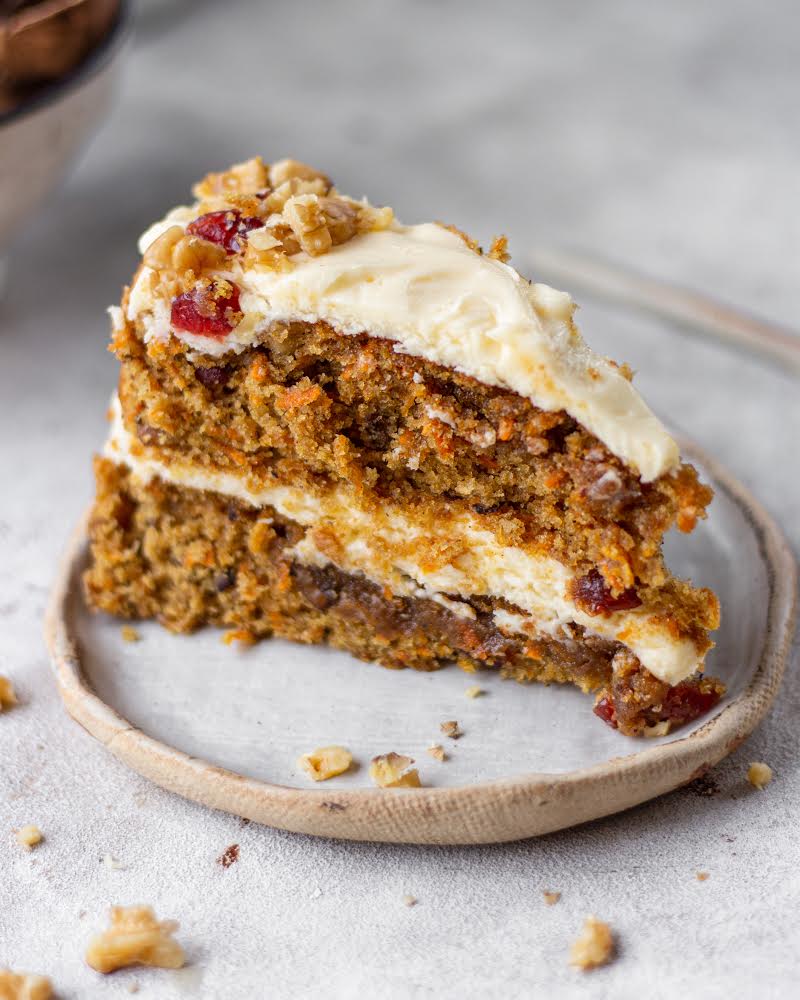 Making this best carrot cake recipe as a double-tiered cake
I DO NOT believe in making just one cake and cutting it in half. That for me is just too messy. It's like a crime site, crumbs falling everywhere, an uneven lopsided cake. Too much mess!
The way I do it is by baking the cake in two different cake tins. The batter of the best carrot  cake can bake separately. If you retain their shapes, they can be layered easily!
The quantities mentioned below, will make 2 of these best carrot cakes. However if you aren't in the mood to be as extra as i was for my birthday, you can half this recipe. Haha! What can i say? I wanted the frills for my birthday!

Best carrot cake in the world!
Ingredients
2 cup whole-wheat flour
1 tsp baking soda
2 tsp baking powder
2 tsp cinnamon powder
1 cup + 4 tbsp vegetable oil
1 cup castor sugar
1 cup brown sugar
4 eggs
2 tsp vanilla extract
3 cup grated carrots
1⁄4 cup crushed walnuts + more to decorate 1⁄4 cup dried cranberries
Zest of 1 orange
Instructions
Preheat the oven to 180 degrees and line two 8-inch round cake pans with
parchment paper.
Whisk together the flour, baking soda, baking powder, zest of an orange and
cinnamon powder.
In a separate bowl, beat the vegetable oil, the sugars, eggs, and vanilla for 5-6
minutes
Fold in the dry ingredients into the wet without over-mixing, followed by the grated
carrots ,cranberries and walnuts.
Transfer the batter into the cake pans and bake for 30-35 minutes or until a skewer
inserted into the centre comes out clean. When baked, let the cake cool down.
After the cake has sufficiently cooled down, frost with cream cheese frosting on top of the first cake. Layer it with the second cake, add more frosting and decorate with walnuts.