I have been told that carrots in cakes are preposterous, confusing, and even scary to some. For the same reason, I am going to introduce all of you to the best carrot cake in the world. Trust my hype and trust my recipe. This Whole wheat carrot cake is delicious, heart-warming, and it feels you with so many emotions in the first bite that you will be thanking me endlessly for the recipe.
I understand that most of you might not be able to digest the idea of a whole wheat cake and a carrot cake but this whole wheat carrot cake is super special to me because it is from my first ever book- Bake with Shivesh and it has only earned everyone's love.  Many people still come up to me with doubts and strange expressions, haha. But, honestly- it just doesn't get better or healthier than this.
Using Carrots in your cake
I have time and again reminded all of you that your fruits and ingredients need to be 100% clean and fresh before you go ahead and use them in your desserts.
For this whole wheat carrot cake, you need to properly grate your carrots. Further, even though you might be an ardent lover of carrots, big carrot pieces will not taste good and will make the batter lumpy. Further, big pieces will take more time to cook and may only be partially cooked even though your cake is fully baked.
Lastly, we do not squeeze the water out of the carrots for this whole wheat carrot cake. The cake, in general, does not have a lot of liquids like milk or water. What gives it a good consistency are the carrots and the water constituted by them.
Ingredients in this whole wheat cake
This whole wheat carrot cake is the easiest and the most delectable carrot cake recipe you'll ever be able to find- you really need to trust me with this. It has nothing that you won't have in your baking cabinet already. Furthermore, this cake has a smooth and delicious cream cheese frosting which balances with the cake's flavor automatically and in a uniform manner.
Top the delicious cake with cream cheese frosting and serve warm!
For more tips on how to get this cake right, you can refer to the baking tips on the blog!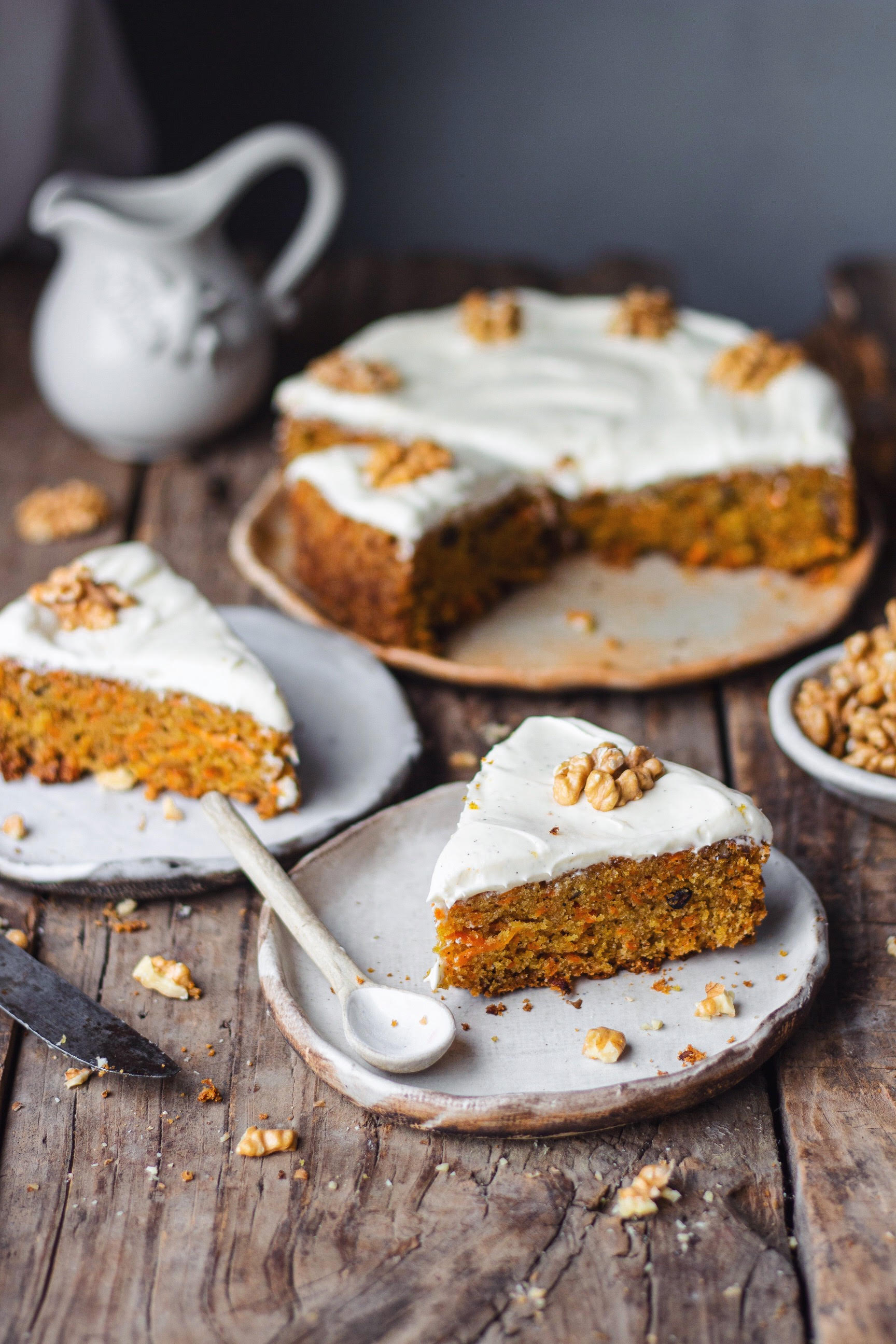 Whole-wheat carrot cake recipe
Whole Wheat Carrot Cake
Ingredients
1 cup whole-wheat flour
½ tsp baking soda
1 tsp baking powder
1 tsp cinnamon powder
½ cup + 2 tbsp vegetable oil
1 cup castor sugar
2 eggs
1 tsp vanilla extract
1+1/2 cup grated carrots
½ cup crushed walnuts+ more for topping
Instructions
Preheat the oven to 180 degrees and line an 8-inch round cake pan with parchment paper
Whisk together the flour, baking soda, baking powder, and cinnamon powder
In a separate bowl, beat the vegetable oil, sugar, eggs, and vanilla for 5-6 minutes
Fold in the dry ingredients into the wet without over-mixing, followed by the grated carrots and walnuts
Transfer the batter into the cake pan and bake for 30-35 minutes or until a skewer inserted into the centre comes out clean. When baked, let the cake cool down.
After the cake has sufficiently cooled down, frost with cream cheese frosting and decorate with walnuts.