You guysss, it is getting hotter and hotter by the day which means summers are almost here! My most favorite thing about this super hot season is lots and lots of Mangoes! I get so excited every time the king of fruits is in season. I love making mango desserts and the first one that I am sharing this week is a Mango Kulfi Ice cream.
I love the fact that I have a great vegetable vendor around my house because I always get the new produce as soon as possible and it is always the best quality! The mangoes that we got at our home recently are so sweet and so perfect. I knew Mango kulfi ice cream was the perfect way to go for a summer dessert.
This Mango Kulfi ice cream is so creamy, so fruity, and oh so delicious! We are all still in a lockdown and I am very aware that all of us can get our hands on a limited number of ingredients only. This is why this recipe calls just for 4 ingredients and that too, all easily available.
This is the best time to make some mango kulfi ice cream for yourself and for your family. It is perfect to combat the hot weather and the flavors are as in season as they can be!

Is there a difference between mango ice cream and mango kulfi?
Technically speaking, a Kulfi is like an Indian take on ice cream. Usually, ice creams are made with eggs, whereas kulfi has a milk base which means that it is made with milk and milk solids.
Ice creams always require ice cream machines and churning period whereas kulfi is all about using the reduction cooking method. The milk used in making kulfi is reduced down to half its amount and then set.
The most basic and traditional kulfi flavors include nuts, cardamom and saffron. But now there are so many possibilities! You can make a Kulfi of any flavor you like. The world is your oyster.
Find more icecreams on the blog here. If you do make any, please tag me on my Instagram too!
Ingredients required for mango kulfi ice cream
In this lockdown I have only been sharing recipes that require ingredients that are readily available for everyone. This recipe is so basic that I am confident you all will be able to re create the mango kulfi ice cream at home. To make this kulfi all you need is full fat milk, milk powder, sugar, and fresh mangoes. That's it! The most basic and lockdown friendly ingredients.
Keep in mind that I have added four tablespoons of sugar in my recipe. The amount of sugar that you add will definitely depend on the sweetness of the mangoes. If you think that your mangoes are perfectly sweet then please feel free to not add any sugar into this recipe at all!
I used normal castor sugar but if you want, you can use granulated sugar or brown sugar. But if you use brown sugar, the color of the mango puree might change slightly and not remain bright yellow.
The milk that I used for this recipe is full fat milk. This is very important and slightly more detailed. We'll get back to this later.
Another ingredient I used is milk powder. Milk powder is crucial for the texture of your mango kulfi ice cream. It is what will make the kulfi more rich, and more creamy. Adding milk powder always gives a better and richer mouth feel. Also, pro tip: If you ever see 'evaporated milk' mentioned in a recipe, do not get worried. Evaporated milk is nothing but milk powder.
Also, if you don't have milk powder at home, you can replace it with cornflour or custard powder. These will also add as perfect thickening agents.
Fresh mangoes are the ingredient you just cannot miss for this recipe! The juiciness and sweetness of fresh mangoes is to die for. But if you have frozen mango chunks, they can also be used because ultimately we will be making a puree out of the mango chunks.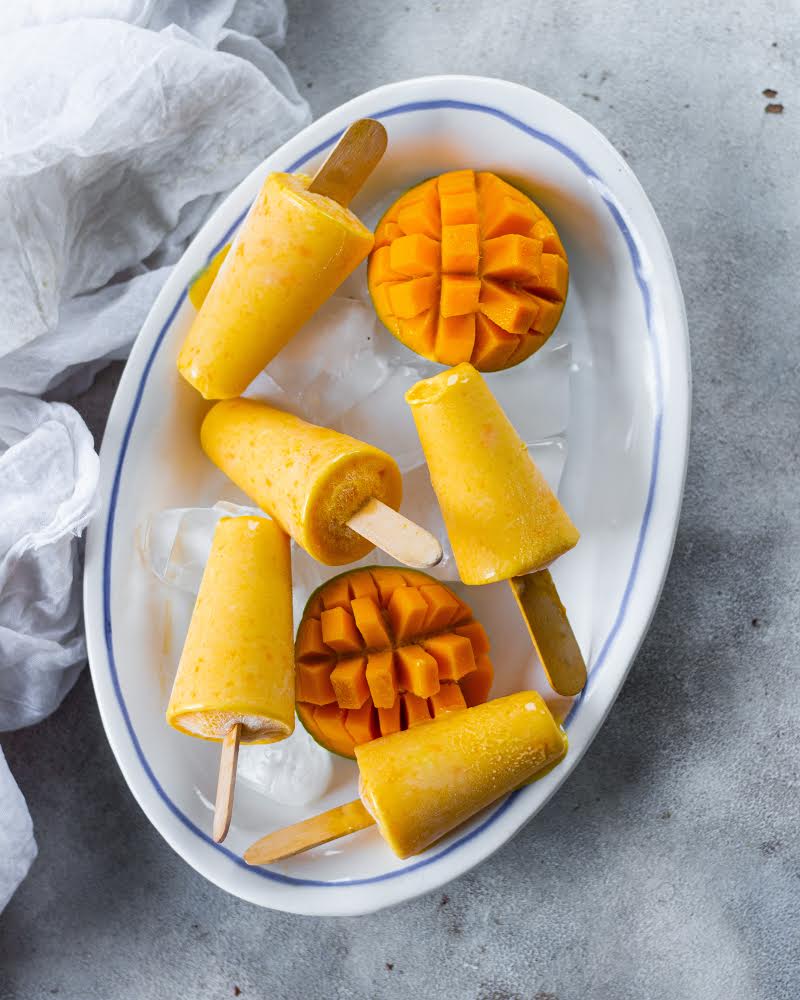 Why is full fat milk necessary for mango kulfi ice cream?
Any kulfi ice cream has to be creamy, smooth, rich, and just melt in your mouth, doesn't it? Can you imagine eating an icy and hard kulfi? No? Me neither! This is why it is extremely important to use full fat milk while making mango kulfi ice cream and nothing else. Milk mainly has two things: fats and sugars.
Full fat milk has 3.5% milk fat whereas low-fat has around 1%. The fat in the milk contributes to the creaminess and the rich mouth feel. So if you choose to replace full fat milk with low fat milk or skim milk, please know that the mango kulfi ice cream will not have the exact same beautiful texture.
Components of the Mango Kulfi Ice cream
It is very easy to make the mango kulfi ice cream and it comes together through some very easy steps and components. The first component is the reduced full fat milk. It is important to reduce down milk and boil the mixture.
Then we have a milk and milk powder mixture. This mixture will contribute to the thickness of the kulfi mix and make it super creamy. The last component is the mango puree which is nothing but mango chunks and some sugar.
Honestly, you can use these components and processes to make any kulfi you like! If not mango then use any other fruit and use its chunks to make a puree.
Recipe for Mango Kulfi at home
Mango Kulfi Recipe
Ingredients
Ingredients:
4 cups full fat milk + ⅓ cup extra
4 tbsp milk powder
4 tbsp sugar
1 cup mango purée (4-5 small mangoes)
Instructions
In a heavy bottom pan with high sides, add in 4 cups of full fat milk. Let this mixture come to a boil. Meanwhile, work on other components..
In an electric grinder mixer, add in mango chunks and sugar. Blitz this till it reaches puree consistency. Set this aside
In a small bowl, mix ⅓ cup of remaining milk with milk powder and combine the two. Once the milk has come to a boil, add this mix into the boiling milk, stirring continuously. Now reduce the heat and let the milk simmer till it is reduced down to half its quantity.
Once the milk has reduced down, transfer it into a clean bowl and let it cool down completely. Once cooled, mix in the mango puree.
Pour the mango kulfi mix into kulfi moulds or any other moulds that you might want to use. Cover the mould with foil and stick in ice cream sticks
Refrigerate for 8 hours or overnight for best results!