You read it absolutely right- we are doing a Lockdown Orange Cake today! Why this name?That's because this cake is dairy-free, eggless, and refined sugar free too! It's healthy, it's fun, it's easy-breezy. This cake is everything you need to quench your dessert hunger!
Everyone loves a good orange cake- I am sure! Of course, there are more orange cake recipes on the blog but this recipe is a special one because I curated this especially because of the ongoing situation. We are all tied down and forced to spend days at home. I am not this person and I have the toughest time staying put at home for a long time. It's almost going to be one full month at home. Doesn't get crazier, no? It would have seriously been worse for me if I was not getting myself up to my studio everyday to bake some treats for you all. I have actually started doing one recipe per day, and my productivity is at an all time high! This process is something that I am utterly enjoying. I have not baked everything completely on my own since months because I have been blessed with some amazing kitchen chefs. But, now I don't have any option. And, I have started doing each and everything on my own! I even record so many videos for you guys. This Lockdown Orange Cake is just another beautiful cake in my quarantine baking list.
If you are a beginner baker and you are Baking this Lockdown Orange Cake
Now, I know soooo many of you have started baking because now you have the time to do so! It's amazing- the amount of mentions I get each and every day. What is more amazing is the fact that so many of these mentions have desserts baked by super beginners. I am so happy to have a platform that makes so many people happy. Makes me feel like I am truly blessed. But, if you are a beginner baker, I do acknowledge the fact that you might be having somewhat of a hard time. Don't worry. Not only do I have an entire article dedicated to Baking tips for beginners, I also have a video on it! Plus, my team has also jotted down some tips to help you address baking as a relaxing activity and not one that stresses you! This article talks about improving your baking skills during quarantine. Plus, there are a lot of new videos and recipes on the blog. You can check them here. This Lockdown Orange Cake also has a youtube video which you can find linked above!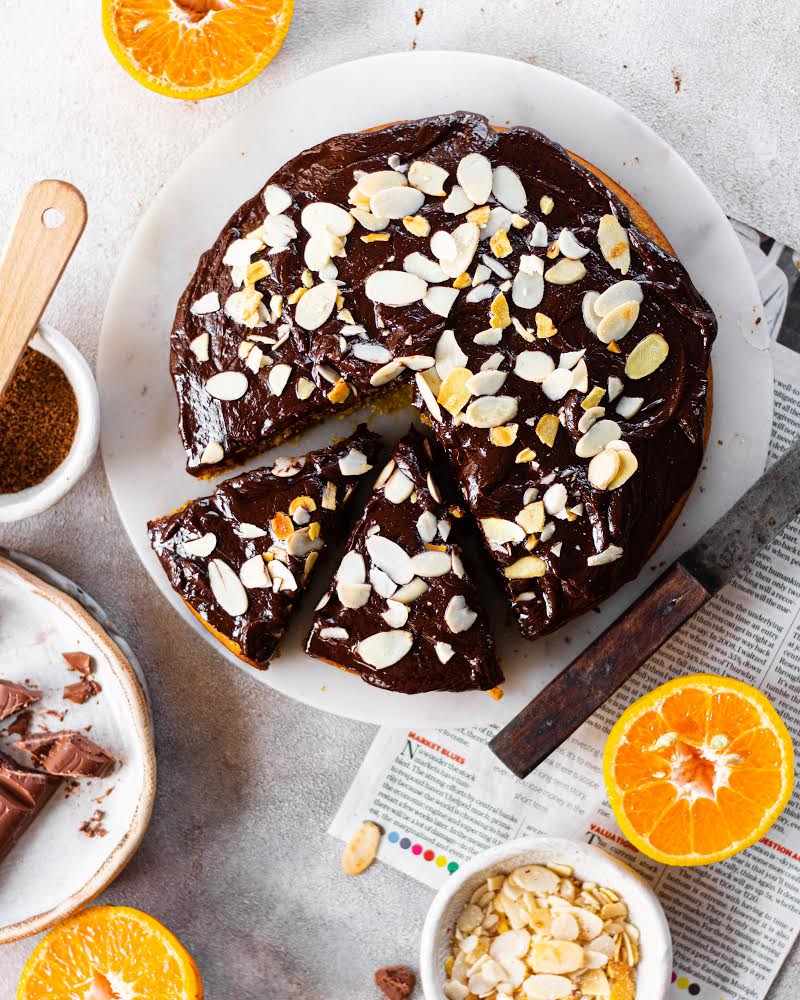 Ingredients for this Lockdown Orange Cake
Like I said, this cake is called the Lockdown Orange Cake because I am 100% sure you have all the ingredients already available.
However, if you are confused with some of the ingredients for this Lockdown Orange Cake, please refer to the description below!
The Flour
I have used all-purpose flour or Maida to make this yum Lockdown Orange Cake. I am sure you will have some maida at your place. If you wish to make some wheat cakes, find them here.
The leavening
I have used a combination of baking powder and baking soda for this Lockdown Orange Cake. They actually help to sufficiently replace the egg and aid the cake to rise. Not only this, the reactions of baking soda and baking powder really help the Lockdown Orange Cake to have some good structure!
The Orange flavour
The flavour of delicious and tangy oranges come from the fresh orange juice, of course. But- if you miss out on the orange zest, you will end up with a rather mildly orange cake. Then, it will turn into a vanilla cake with a tinge of orange. You will end up missing out on some real orange goodness if you miss out on the zest in the batter of this Lockdown Orange Cake. Also, I have used fresh orange juice but market ones also help!
The sweetness
I have actually given three different types of sweeteners you can use in this Lockdown Orange Cake. They are powdered jaggery, brown sugar, and white sugar. While I have skipped white sugar to make this cake healthier, you do you! The best sugar to use is caster sugar, if you are using white sugar. However, if you do not have that, you can stick to using powdered sugar!
The liquids
Vegetable oil and hot water are the only ingredients that remain. We use lukewarm water and not boiling hot water in this Lockdown Orange Cake. This warm water reacts with your maida and allows to activate the gluten. This gives structure and flavour to the Lockdown Orange Cake, and also the moistness! Use a non-flavoured vegetable oil in this Lockdown Orange Cake for best results!
Recipe of this lockdown orange cake
Lockdown Orange Cake- dairy free & eggless!
Ingredients
2 cups all purpose flour
1 tsp baking powder
1 tsp baking soda
zest of one orange
1 cup powdered jaggery/ brown sugar/ white sugar
½ cup fresh orange juice
½ cup vegetable oil
¾ cup hot water
For the ganache (dairy-free)
½ cup cream
½ cup chocolate
Instructions
Pre-heat your oven to 180 degrees.
In a mixing bowl, mix your vegetable oil and jaggery/white sugar/brown sugar really well.
To this, add orange juice and hot water. Mix properly with a whisk until well combined.
Sift in the all purpose flour, baking powder, and baking soda.
Lastly, add the zest of a fresh orange into your batter.
Mix the dry ingredients and wet ingredients only until incorporated. Don't over-beat.
Bake for 30-40 mins until a skewer inserted comes out clean.
For the ganache, mix both cream and chocolate and melt well in the microwave.
Top the ganache on a cooled cake.
Enjoy!