To start off with baking, I think that one must own a particular set of baking tools, without which, baking seems like rocket science. But, we all know the truth, don't we? Baking is an art- and a pretty easy one. Yes, it requires techniques and discipline but there is nothing that some basic baking tools can't whip up for you. Moreover, the following baking tools are not overly expensive, they're actually very affordable and to start off with baking or to make sure that your desserts are turning out the way you want them to, you really need to have these in your kitchen. Don't be misguided and think that the same tools might not help you elsewhere. The same baking tools you use for your cake might come in handy for you when you're making your favorite pasta or curry!
I know that most of you may have the idea that my kitchen is equipped with the best of the equipment from different corners of the world. But this is not true. I actually have the most basic baking tools and I have rounded them up to make my baking easy. Furthermore, they're not from all around the globe- some I have bought from the closest market to my home. Moreover, trust me on this, most recipes require the simplest of tools which are inexpensive, durable, and very versatile.
Importance of Baking Tools
I read somewhere that "​a well-equipped cooking environment is the cook's best friend either it be the home or restaurant. When you have the right ​baking tools​, you feel at ease and stay focus on preparing the ​dessert." ​And this is so true. One of the problems you might feel during baking is a break in continuity which is caused by confusions regarding measurements or because of the time that goes into shuffling through your drawers to figure out the right equipment that will help you combine your recipe. But, exactly how easy will your life become if you have everything right in front of you- from the measured ingredients to the right tools for whipping up your dessert. I think baking only gets tougher for those who make it like that. If you have the right tools and the right motivation, you're pretty much sorted!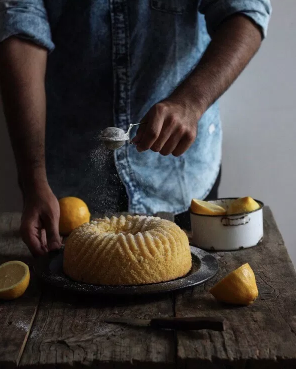 Top 5 baking tools
1. Measuring cups and spoons
Most recipes on the internet will most certainly ask you to measure cupfuls or spoonfuls of ingredients. Rather than scuffling through your drawers and figuring out which spoon could possibly be your tablespoon or which cup is adequate enough for your recipe, just go ahead and invest in measuring cups and spoons. You can also find them online. Most companies sell entire sets of cups and spoons together. You can also find an endless variety in terms of colors, material (plastic/metal), and designs! Again, these baking tools are super handy and extremely versatile.
2. Silicone Spatulas
Trust my expertise when I say this, silicone spatulas are God's biggest gift to the baking and the baking tools industry. Available at literally any utensil store or a supermarket, silicone spatulas make your baking and cooking ten times easier and unimaginably convenient. Their foldable character allows you to mix the batter thoroughly and they can go to spots and corners that your normal metal spatula can't even tough. Not only this, they are highly heat resistant and can help you endlessly while making ganaches or pralines. They're extremely durable and a good silicone spatula will last you years without getting spoilt. The silicone material also particularly helps you in ensuring that not even a drop of your food is being wasted. One can also get these baking tools online in a variety of shapes, colors, and designs!
3. Baking Tins/Moulds
Evidently, these baking tools are the most necessary, basic, and fundamental ones. I have seen most people also using glass bowls for baking and I have no objection to that, but investing in basic baking tools such as baking pans or moulds will really cost you almost nothing but will get results like nothing else. Most recipes use a nine-inch round baking tin, so you could easily go for that. There are also silicone molds which are increasingly becoming famous for baking. There are certain advantages that these moulds have over aluminium or metal tins such as no sticking of the batter, the convenience of usage, durability, and so on. But I use the good old metal tin because I am conventional like that, haha! You can find these tins or moulds online or in a basic utensil store. Eventually, one can also play around with shapes of these tins, from stars to hearts, and whatnot.
4. Whisks
Whisks have, since time immemorial, been regarded as the primary and cardinal baking tools and I agree to this. All kinds of spatulas and spoons will only help you get the batter together. However, nothing will aid you like a whisk when it comes to combining the ingredients properly and getting the exact consistency that a recipe asks for. They're by far the most inexpensive baking tools in the list but one that I will be reaching for over and over again. For starters, you can go ahead with a medium sized whisk- one that is comfortable for your hand grip and also gets the work done. Again, you can find these at your basic utensil store or the supermarket. But, you can also find them online in a variety of colors and sizes. If you're lucky, you might also end up on an amazing deal!
5. Mixing Bowls
You read it right- baking has specific types of mixing bowls which will help you better than the normal plastic bowls you might be using for your batters or dough. It is very to find mixing bowls in any store or online. If you wouldn't want to go ahead with this investment, you can simply buy a couple of different sized glass bowls that will also come in handy. Again, baking tools might be important but they're never more important than your desire and hard work for baking any dessert.
For more interesting tips you can always visit the tips, tricks, and hacks section on the blog! And now that I have a Youtube channel– which is more than a month old, you can always visit it and learn more about baking!