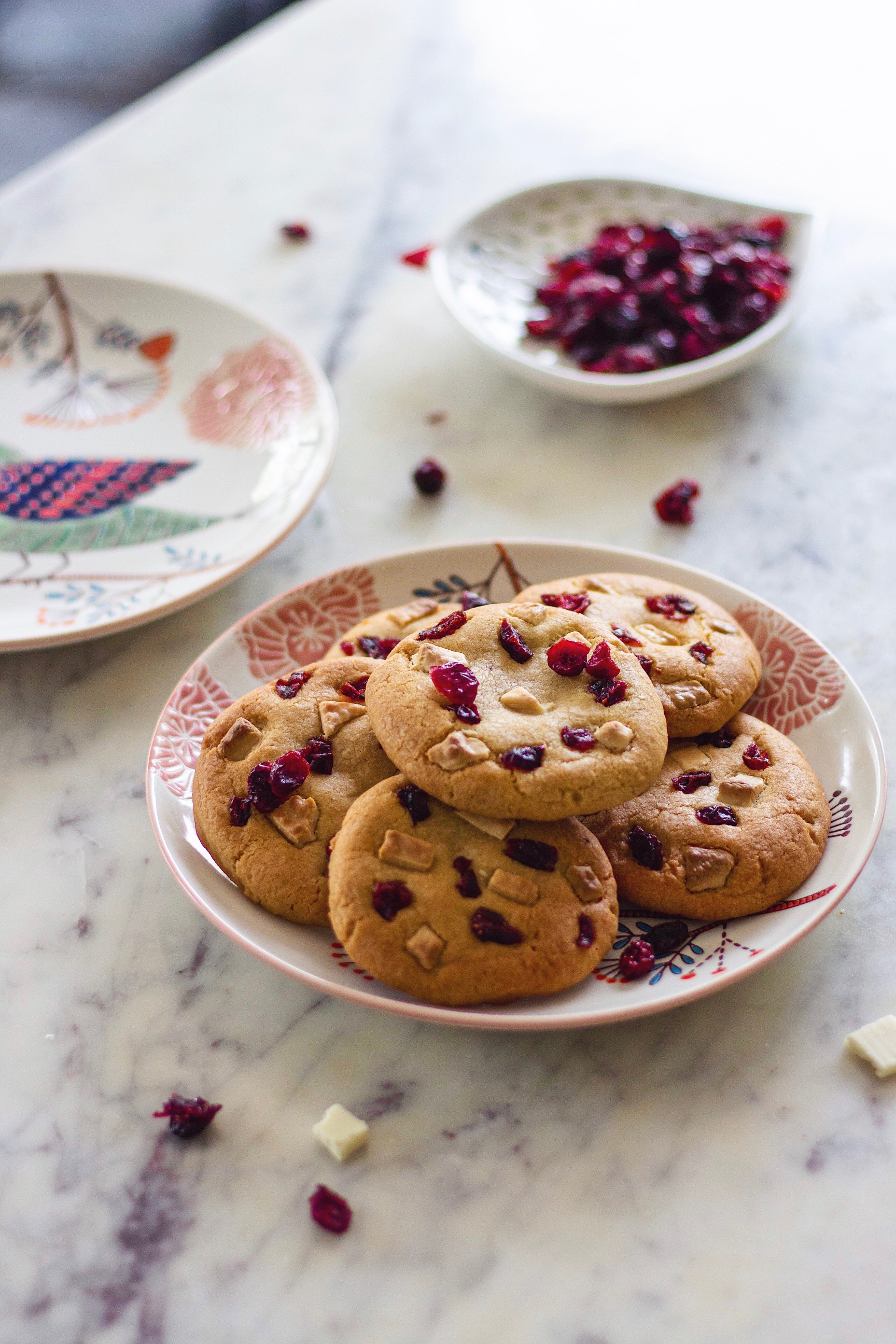 If you love baking and eating cookies, like I do, you're going to love these cranberry and white chocolate cookies. These cookies are crisp on the outside and chewy in the center. They're loaded with dried cranberries and white chocolate chunks. SO good! Before you get started, don't forget to quickly go through my article on Baking Your Cookies Right. You will find lots of tips in the article that you should keep in mind while baking your cookies.
Ingredients for cranberry and white chocolate cookies
I use dried cranberries to make these cookies but you can also use dried blueberries or chopped dried prunes. The dried prunes will taste amazing with dark chocolate chunks. I don't recommend using fresh berries for these cookies but you can use chocolate chips/ chunks of your choice.  I use cornflour in this recipe to make the cookies chewy but you can skip adding that if you like crunchy cookies. Adding both brown and white sugar makes the taste and texture of the cookies just perfect. I use soft brown sugar from Tate & Lyle.
How to make cranberry and white chocolate cookies eggless
If you don't consume eggs, don't worry! Here is how you can make these cranberry and white chocolate cookies eggless. You can use a flax egg instead. To make flax egg- mix 2 tablespoons ground flax seeds with 1 tablespoon water. Let the mixture rest for 5-10 minutes until it becomes thick. Add it to the cookie dough after creaming the butter with sugar.
More cookies to bake
If you bake these cookies, don't forget to share a picture with me on Instagram using #BakeWithShivesh. Also, I hope you've been watching all the recipe videos on my YouTube channel. If you haven't already, please do subscribe to Bake With Shivesh on YouTube.

Cranberry and White Chocolate Cookies
Ingredients
½ cup unsalted butter, softened
½ cup lightly packed brown sugar
½ cup castor sugar
1 egg, at room temperature
1 tsp vanilla extract
1+1/4 cup all-purpose flour
1 tsp cornstarch/ corn flour
½ tsp baking soda
¼ cup dried cranberries
¼ cup white chocolate chunks
Instructions
Pre heat your oven to 170*C
Beat butter and the sugars until the mixture is light and fluffy
Beat in the egg. Add vanilla.
Add the flour, baking soda and corn flour to the butter mixture and mix until the dough comes together.
Scoop out your dough into balls of equal sizes on a baking tray lined with silicon mat or parchment paper
Flatten them lightly using your fingers and place dried cranberries and white chocolate chunks on top.
Bake the cookies for about 12-15 minutes or until the edges become golden brown.
After taking the cookies out of the oven, let them rest on the baking tray for at least 10 minutes.