If I had to pick one ingredient to bake with for the rest of my life, I'd pick lemons. I love how flavorful they are and I absolutely love how they balance the sweetness of the dessert. I made eggless lemon cupcakes last month with so many of you tried and loved. Some other lemon desserts I love are no-bake lemon cheesecake shots, lemon crepes, and the eggless lemon cake. These lemon thumbprint cookies filled with lemon curd are flavor bombs!
These lemon thumbprint cookies are so easy to bake and so flavorful. I fill them with my favorite lemon curd. I use regular Amul butter to make these cookies. The recipe calls for an egg and unfortunately there is no substitute here. If you want to make eggless thumbprint cookies, try these eggless chocolate thumbprint cookies filled with Nutella.
You can also share the recipes you try from the website on your Instagram. Do not forget to tag me and use the hashtag- #bakewithshivesh!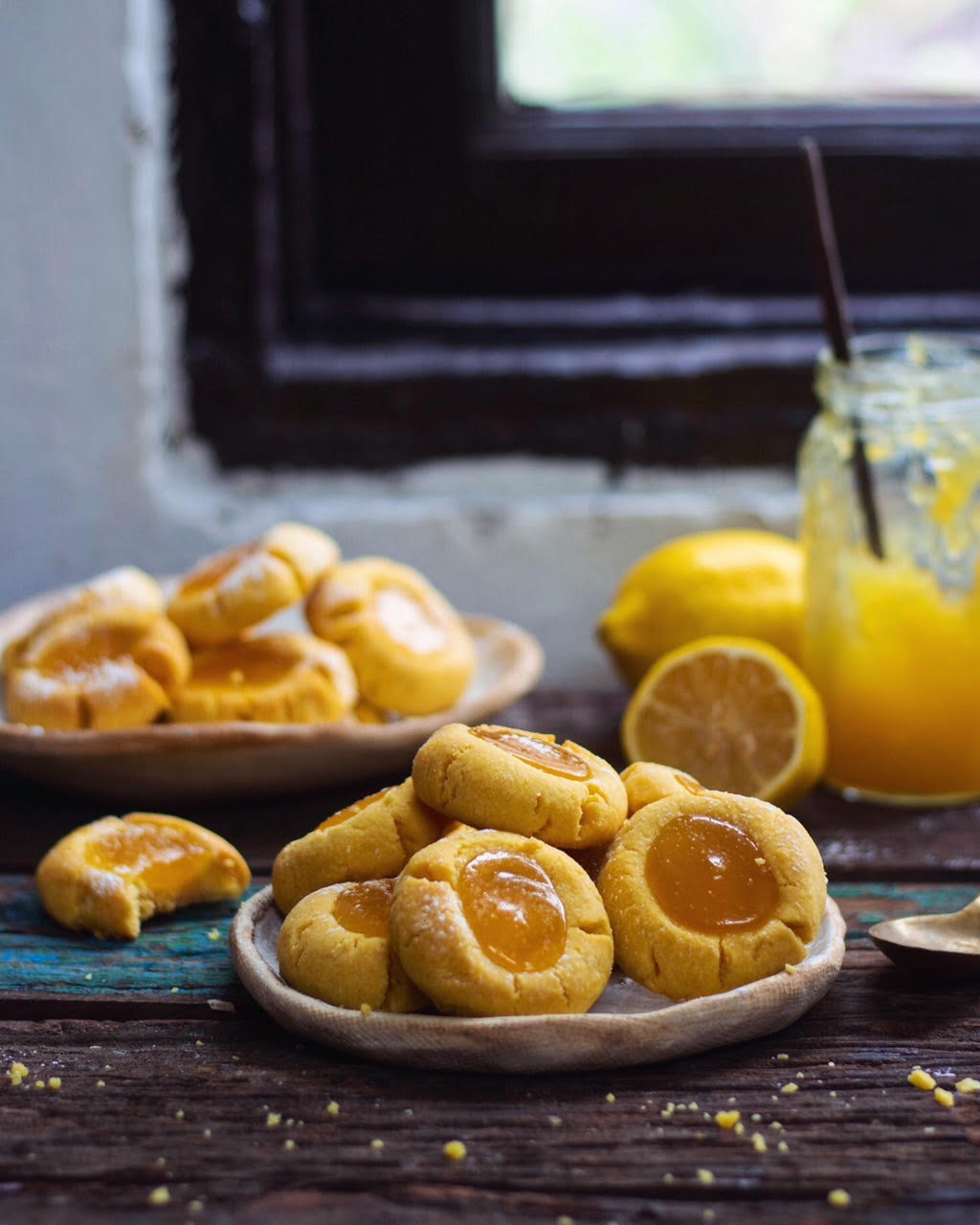 Perfecting these easy thumbprint cookies
Thumbprint cookies are called so because they require your thumbprint- quite literally. Do you see the indentation in the middle of these beautiful lemon thumbprint cookies? These indentations are made with the help of your thumbprint and therefore, the name. But, I have received such bizarre doubts about thumbprint cookies that I cannot even. And as a result, I present some basic tips to follow while making thumbprint cookies.
there is a possibility of the reader of this blog being a female and before you complain about your thumbnail getting in the way of your thumbprint cookies, I'd like you to read this tip- you can easily use the back of a tablespoon to get the perfect indentation.
for the perfect filling texture and taste, half-bake these lemon thumbprint cookies, add the lemon curd and then bake them again.
for more general tips on cookies, you can check out Cookie Tips on the website!
Lemon curd recipe
Ingredients
2 eggs
1/4 cups sugar
4 tbsp fresh lemon juice
2 tbsp unsalted butter
1/2 tbsp lemon zest
Procedure
In a bowl, whisk together eggs, sugar and lemon juice until blended.
Place the bowl over a saucepan of simmering water and stir continuously to prevent curdling
Cook the mixture until it becomes thick and covers the back of your spoon. This will take approximately 10 minutes.
Remove from heat and immediately pour through a sieve to remove any lumps
While the mixture is still hot, add butter and mix until it melts and is well incorporated
Add lemon zest. Cover the mixture and let it cool in the fridge
Lemon Thumbprint Cookies Recipe
LEMON THUMBPRINT COOKIES
Ingredients
1+ ¾ (210g) cups all-purpose flour
½ tsp (2g) baking powder
½ tablespoon (3g) lemon zest
¾ cup (170g) unsalted butter, softened
1 cup (200g) castor sugar
1 large egg
1 tablespoon (15mL) lemon juice
lemon curd to fill
icing sugar, to dust
Instructions
Preheat oven to 180C.
Whisk together the flour, lemon est and baking powder.
In another bowl, cream the butter and the sugar, until fluffy.
Beat in the egg until just combined. Mix in the lemon juice.
Combine dry ingredients and wet ingredients.
Scoop the dough into 1-inch balls and place on baking sheet.
Make a thumb impression in the center of each ball. Bake at 180C for 5 minutes
Pull the tray out and fill the impression with lemon curd.
Bake for another 1o minutes at 180C or until they become golden brown. The lemon thumbprint cookies are ready. Dust with icing sugar.