Last month I announced my association with SPRIG and shared the recipe of mango-cardamom cupcakes with you. This month's recipe is lemon poppy seed crepes, which are super easy and fun to make. Don't forget to watch the video for these lemon and poppy seed crepes on my Instagram.
I think crepes are an underrated dessert. They're literally so easy and so effortless! Why wouldn't one want to make this a daily thing is something I don't understand, haha. These lemon and poppy seed crepes are literally the perfect breakfast according to me. The lemon flavor is beautiful and it will also give you the jolt of freshness right in the morning- which is exactly what you need to get through your day!
If you whip up these moist lemon and poppy seed crepes, please don't forget to share a picture with me on Instagram using #BakeWithShivesh!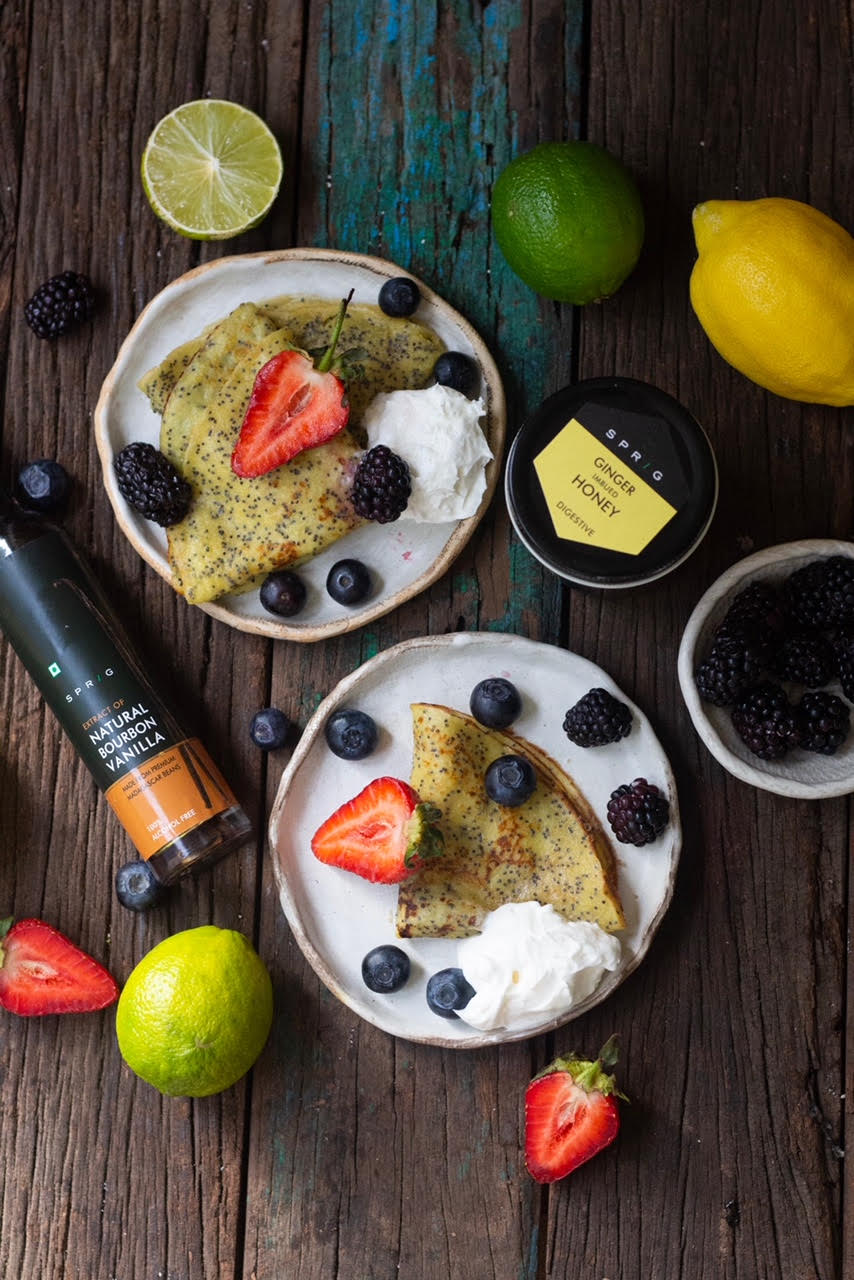 About Sprig's Amazing Products
These lemon poppy seed crepes are flavored with some fresh lemon zest and SPRIG extract of natural bourbon vanilla.  The Indian markets are flooded with poor quality synthetic vanilla essences. Since they're so widely available and so cheap, they've become the popular choice. That is so unfortunate because using a good quality vanilla extract can completely change the dessert and its flavor. Another controversial product in the baking world is food color. I do not support using synthetic colors in food. They're harmful and completely pointless. SPRIG's range of natural colors is a blessing! I use the marigold yellow in these crepes to make them brighter. Since it's a completely natural color, it's not something I need to stress about.
Lemon Blueberry Crepe Recipe
I practice what I preach and one of the things that I preach the most is that one should certainly never stop experimenting with their food and especially, desserts! Furthermore,  desserts are forgiving and since everyone fancies their own ingredients or toppings, one can always fiddle around with them!
The poppy seeds add a very interesting texture to the crepes. If you can't get your hands on poppy seeds, you can also use chia seeds. I top these beautiful crepes with whipped cream and fresh berries. You can either drizzle them with maple syrup or SPRIG ginger embued honey that also goes into the recipe. As you can see, I have used blueberries to top these crepes. You can also use a generous spread of blueberry jam to have delicious lemon blueberry crepes!
More Breakfast Options
As per the common notion, it is also my belief that breakfasts are the most important meal of the day and therefore, there are many breakfast recipes available on the blog. Some of them are:
Lemon and Poppy Seed Crepes Recipe
Lemon and Poppy Seed Crepes with fresh blueberries
Ingredients
1 cup all purpose flour
2 tablespoons caster sugar
1 teaspoon lemon zest
2 eggs, lightly whisked
1+ ¼ cup milk
1 teaspoon SPRIG natural bourbon vanilla
2 drops marigold yellow color
2 tablespoons SPRIG ginger embued honey
2 tablespoons butter
2 tablespoons poppy seeds
whipped cream and fresh berries, to garnish
Instructions
In a large bowl, whisk flour, sugar and lemon zest.
Make a well in the center of the dry ingredients and add eggs and milk. Mix well.
Add vanilla, natural yellow color, and honey. Beat until everything is well incorporated.
Beat in the butter. Add poppy seeds. Let the batter rest in the refrigerator for 15-20 minutes.
Lightly brush a pan/ skillet set over medium heat with vegetable oil/ butter.
Once the pan is hot, pour ¼ cup of crepe batter on the pan. Swirl it to spread the batter all the way to the edges of the pan.
Let the crepe cook for 1-2 minutes and then flip to cook the other side. Once both the sides are golden brown, serve the crepes with whipped cream and fresh berries.