Who said you can't eat cake for breakfast? Meet my breakfast cake!
It is made using whole wheat flour, no butter, and very little sugar. Furthermore, it has fruits, nuts, and oats- basically everything you should eat for breakfast!
Now I know that baking a cake in the morning for breakfast seems like such a huge task one has to go through. However, this breakfast cake is nothing like it. The best way around it is to bake it in the night and you can refrigerate it and have it in the morning as per your convenience.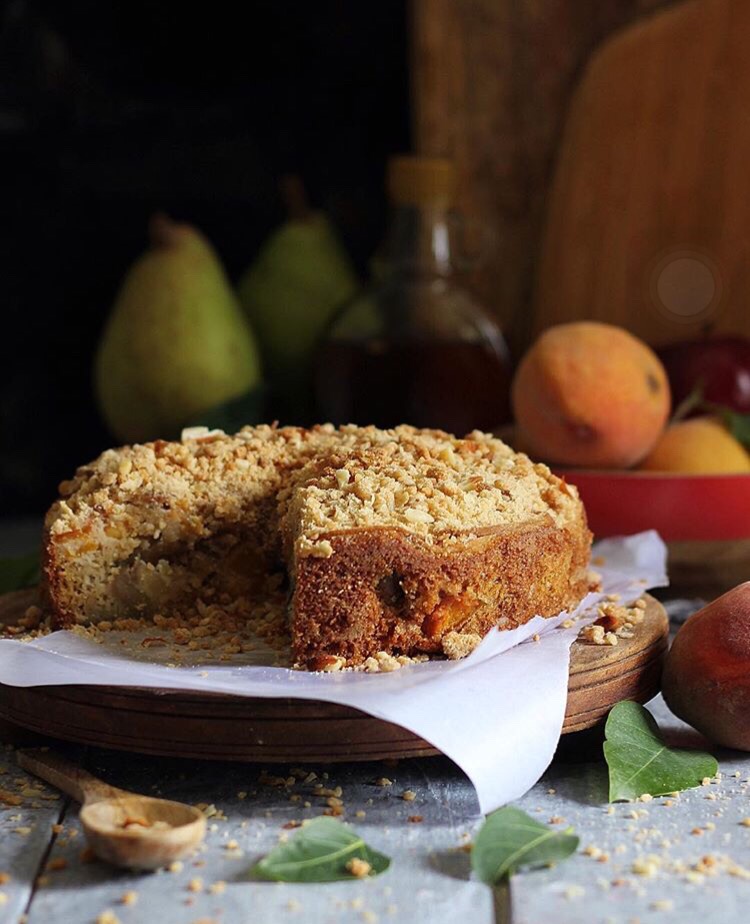 Making the perfect Cinnamon Breakfast Cake
This breakfast cake is like no other. First of all, as I said before, it uses all the major breakfast ingredients- from wheat flour, oats, honey, and dry fruits! Consequently, this cake is super healthy AND probably the most delicious breakfast cake out there.
Also, there are just some basic tips you can remember while baking this cinnamon breakfast cake:
Please try not to over-mix the fresh fruits. I've used fresh pears and peach and you can certainly add even more fruits of your liking. However, overmixing fresh fruits will ruin the fruity flavor and will land you in a mess. This will be in contrast to fresh fruit flavors you will obtain by not over-mixing.
Similarly, remember to refrigerate the crumb topping. It is a delicate mixture and refrigeration certainly helps the ingredients to hold together.
Above all, you are a novice at baking, you can always refer to the Baking tips for Beginners blog on the website to know more!
More breakfast recipes from the blog
If you love having a sweet and delicious breakfast, you guys need to certainly try more breakfast-y recipes from the blog:
Cinnamon Breakfast Cake Recipe
Cinnamon Breakfast Cake
Ingredients
Crumb topping
½ cup whole wheat flour
½ cup traditional oats
½ teaspoon cinnamon
2 tablespoons vegetable oil
2 tablespoons honey
¼ cup finely chopped almonds
Cake
1 cup whole wheat flour, sifted
1 teaspoon baking powder
½ teaspoon baking soda
1 teaspoon ground cinnamon
2 large eggs
¼ cup vegetable oil
⅔ cup castor sugar
1 teaspoon pure vanilla extract
½ yogurt
1 + ½ cup chopped fruits
Instructions
To make crumb topping, combine all the ingredients until it forms a coarse mixture and then you can proceed to refrigerate the mixture.
Preheat your oven to 180C and prepare a round cake tin.
Cake- In a bowl, combine flour, baking powder, baking soda, and cinnamon
Combine eggs and oil using KA hand mixer
Add vanilla and sugar and beat well.
Alternatively, add dry mixture and yogurt to the wet ingredients.
Fold in the chopped fruits. Reserve some for the top. Pour the batter into the prepared cake tin.
Make another layer of sliced fruits on the top. Cover with the crumb topping.
Bake for 40-50 minutes until a skewer inserted into the centre comes out clean