I love a good cheesecake and I'm guessing you do too. I was flooded with pictures of you guys making my raspberry cheesecake bars last month. But honestly, there are some days when you do want to bake cheesecake but don't really have that much time. Hence, for those days and those cravings, these lemon cheesecake shots are just what you need.
I love these lemon cheesecake shots because it's a no-bake recipe, it also does not use gelatine, and it is also eggless! You don't need an oven for them or wait for them to bake. That is what makes this recipe very quick. This is a dessert that you can whip up in absolutely no time. You literally just need to throw in ingredients into a bowl and whip it all together. I top these no-bake lemon cheesecake shots with meringue but it's okay to skip that part.
If you make these no-bake lemon cheesecake shots, don't forget to share pictures with me. I'm also sharing a video for this recipe on my Instagram. Please do check that out.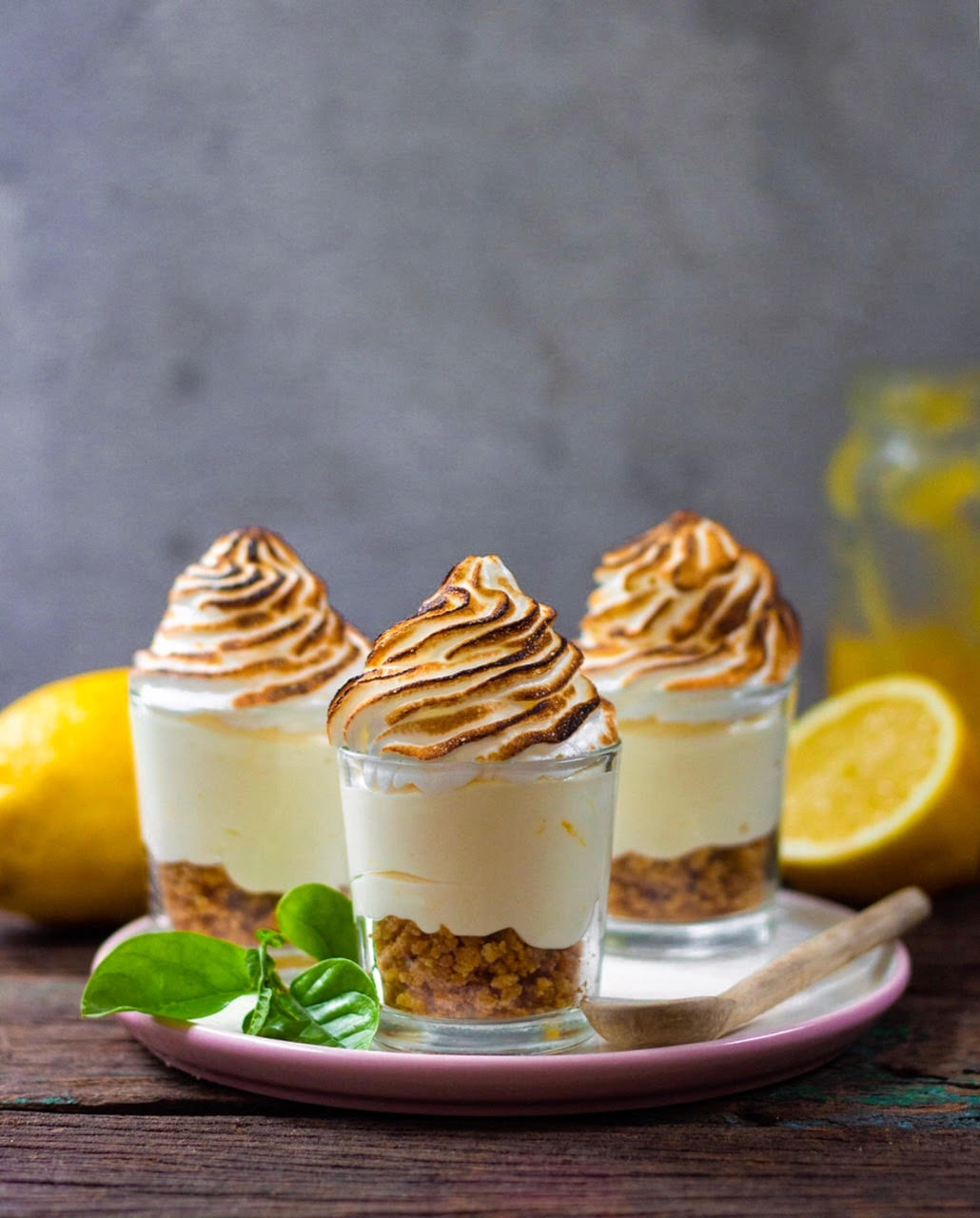 Layers of the lemon cheesecake shots
The first layer of these no-bake lemon cheesecake shots is simply crushed digestive biscuits combined with melted butter. You can use any biscuits you can get your hands in. I use salted Amul butter. The second layer is the real deal- the cheesecake filling. I flavor the filling with lemon curd. I use Britannia cream cheese for this recipe.
Tips to keep in mind while making no-bake cheesecakes
It is imperative that you lest the shot glasses filled with crumbs in the refrigerator for a good time. As a result, the ingredients of your crumb will bind together well.
Make sure that your cream cheese is at room temperature and you are certainly not using cold cream cheese.
In this recipe for lemon cheesecake shots, it is important that you don't over-mix the whipped cream with the lemon zest. Look out for the proper consistency of whipped cream and you're good to go.
If you are worried about whipped cream, there is an entire article dedicated to getting your whipped cream right on the blog. All your queries will be resolved within minutes!
Click here for the recipe for meringue frosting.
No-bake and Eggless Lemon Cheesecake Shots Recipe
No-bake Lemon Cheesecake Shots
Ingredients
½ cup crushed digestive biscuits
¼ cup melted butter
1 cup cream cheese, softened
½ cup
lemon curd
½ cup sweetened whipped cream
1 tsp lemon zest
1 cup meringue frosting
Instructions
Combine melted butter with crushed digestive biscuits. Make sure all the digestive biscuits are coated with butter.
Press the crumbs in an even layer into shot glasses. Let the shot glasses rest in the refrigerator while you make the filling
To make the filling for these no-bake lemon cheesecake shots, beat softened cream cheese and lemon curd.
Carefully fold in the whipped cream. Mix in the lemon zest.
Pipe a generous layer of cream cheese filling on the biscuit layer.
Using a piping bag attached with a large star tip, pipe meringue frosting on top.
Use a kitchen torch to toast the meringue until it is golden-brown.