No-bake Lemon Cheesecake Shots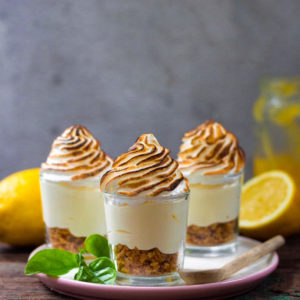 ½ cup crushed digestive biscuits
¼ cup melted butter
1 cup cream cheese, softened
½ cup
lemon curd
½ cup sweetened whipped cream
1 tsp lemon zest
1 cup meringue frosting
Combine melted butter with crushed digestive biscuits. Make sure all the digestive biscuits are coated with butter.
Press the crumbs in an even layer into shot glasses. Let the shot glasses rest in the refrigerator while you make the filling
To make the filling for these no-bake lemon cheesecake shots, beat softened cream cheese and lemon curd.
Carefully fold in the whipped cream. Mix in the lemon zest.
Pipe a generous layer of cream cheese filling on the biscuit layer.
Using a piping bag attached with a large star tip, pipe meringue frosting on top.
Use a kitchen torch to toast the meringue until it is golden-brown.
Recipe by
Bake with Shivesh
at https://bakewithshivesh.com/lemon-cheesecake-shots/