Sometimes you just want to ditch a fancy cake with elaborate frosting and need only a simple no-fuss cake. I have just the recipe for you- this eggless pear and blueberry cake will make for the perfect companion for your cup of tea.
I have been sharing a lot of chocolate desserts here on the blog recently like my triple chocolate banana bread and the eggless chocolate-orange cake. While I absolutely LOVE baking chocolate desserts and eating them, fruit cakes have my heart. It is always such a delight to bake with fruits. I use pears and blueberries for this cake. You can use the fruits you like or the ones that are available. How about apples and cranberries?
This eggless pear and blueberry cake calls for yogurt. Greek yogurt is the best option here. If you don't have that, you can simply hand curd over-night to get rid of all the water. You don't want any extra water in your cake batter, only some thick yogurt. If you're okay with using eggs, you can simply substitute the yogurt with 2 eggs.
If you make this eggless pear blueberry cake, don't forget to share the picture with me! Happy baking!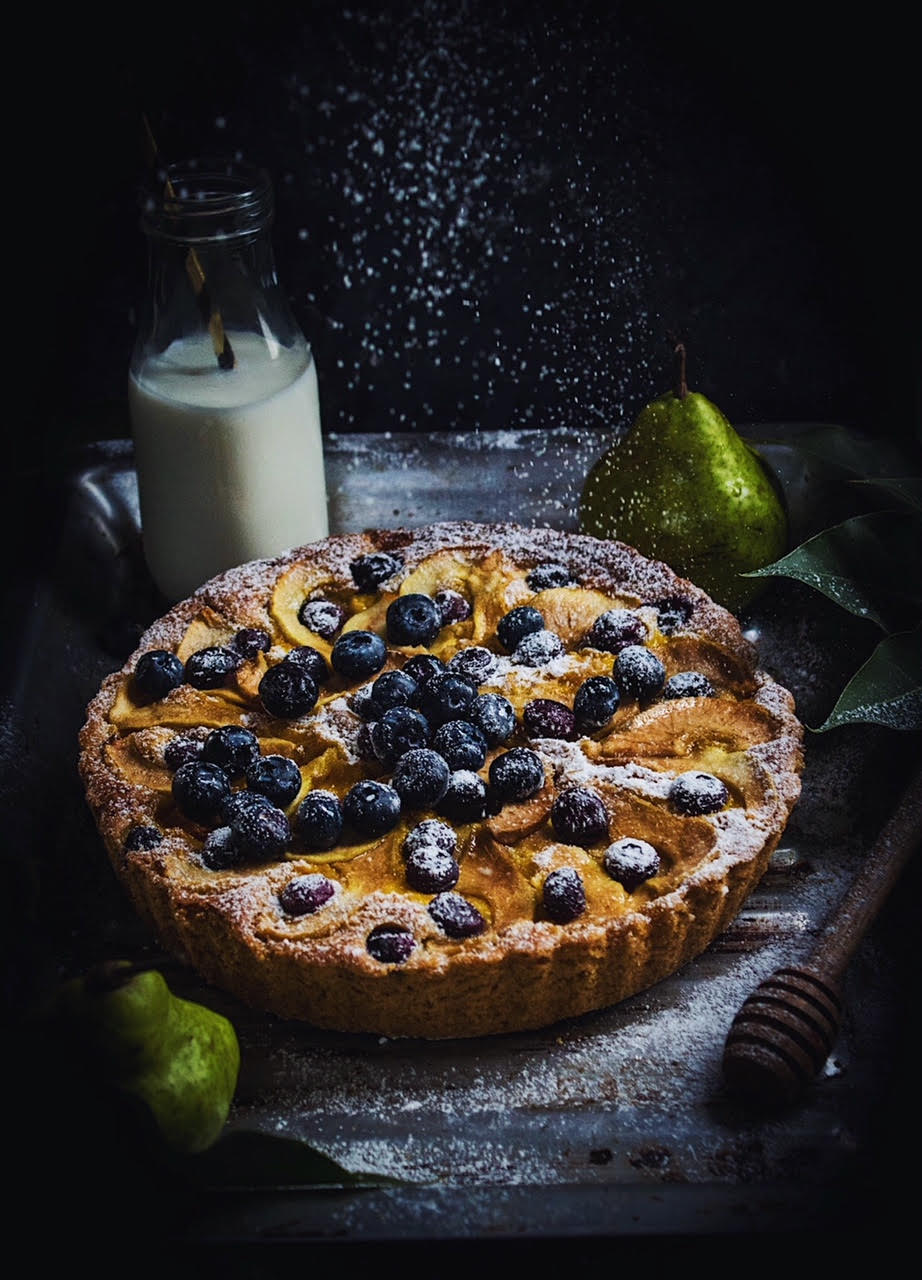 EGGLESS PEAR AND BLUEBERRY CAKE
Ingredients
1 + ½ cup all purpose flour (maida)
1 tsp baking powder
a pinch of salt
1 tsp cinnamon powder
¼ tsp ginger powder
2 table spoons custard powder
1 cup castor sugar
1 cup butter, softened
1 tsp vanilla extract
1 cup Greek yogurt or curd hung overnight/ 2 eggs
¼ cup milk
2 pears sliced
½ cup fresh blueberries
Instructions
Prepare a 9″ tart pan by brushing it with butter.
Pre-heat the oven to 180C.
In a bowl combine flour, salt, baking powder, cinnamon powder, ginger powder and custard powder.
In a separate bowl, beat butter, sugar and vanilla extract until light and fluffy.
Add the yogurt/ eggs. Mix in the milk.
Combine both dry and wet ingredients and mix only until well combined. Do not over mix. The batter will be very thick.
Trasfer the batter to the tart tin. Place the pear slices and blueberries on top.
Bake at 180C for 30 minutes or until a toothpick inserted into the center comes out clean.