LEMON THUMBPRINT COOKIES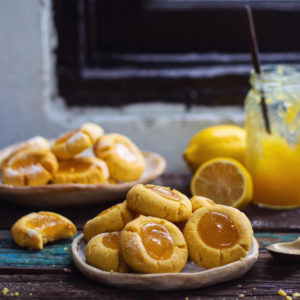 1+ ¾ (210g) cups all-purpose flour
½ tsp (2g) baking powder
½ tablespoon (3g) lemon zest
¾ cup (170g) unsalted butter, softened
1 cup (200g) castor sugar
1 large egg
1 tablespoon (15mL) lemon juice
lemon curd to fill
icing sugar, to dust
Preheat oven to 180C.
Whisk together the flour, lemon est and baking powder.
In another bowl, cream the butter and the sugar, until fluffy.
Beat in the egg until just combined. Mix in the lemon juice.
Combine dry ingredients and wet ingredients.
Scoop the dough into 1-inch balls and place on baking sheet.
Make a thumb impression in the center of each ball. Bake at 180C for 5 minutes
Pull the tray out and fill the impression with lemon curd.
Bake for another 1o minutes at 180C or until they become golden brown. The lemon thumbprint cookies are ready. Dust with icing sugar.