Mangoes are here and I hope you're making the most of them this season. A lot of you made the ragi crepes with mango rose when I shared it a couple of weeks back. Now it's time to bake a mango cake! Very excited to share another recipe from my book Bake With Shivesh. This one bowl mango cake is extremely simple to bake and all the ingredients you need are very simple and basic. I top this cake with cardamom cream cheese frosting and it's an absolute delight!
Before you ask, unfortunately, there is no substitute for eggs in this recipe. I add as many as 4 eggs to this one bowl mango cake and that is what makes this cake light and fluffy. To make mango puree for this cake, all you have to do is take out the pulp of fresh ripe mangoes and run it in the food processor. I also use vegetable oil in this recipe but you can also use equal quantity of softened butter.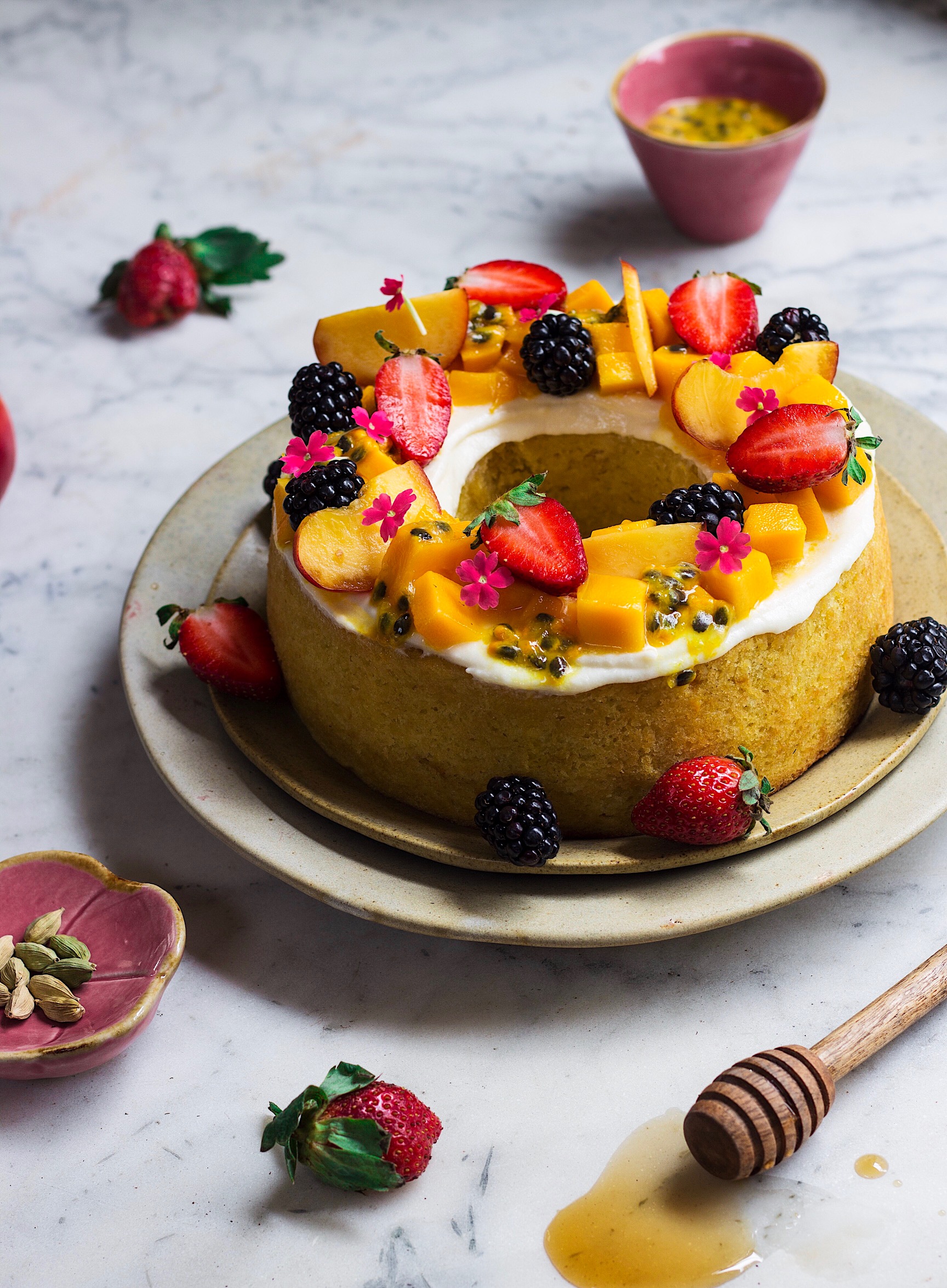 Easy Mango Cake Recipe
I call this the easy mango cake recipe because it is truly very simple to follow and make. I simply mix all the ingredients in one large bowl! So no elaborate equipment or complicated techniques. You can also watch me bake this cake on my YouTube channel with chef Saransh Goila and you will see how the cake batter can be whipped up in just a few minutes.  All ingredients on the list are kitchen staples- flour, sugar, oil, mangoes. I use castor sugar to make this simple one bowl mango cake because granulated sugar does not melt completely in the oven.
Cardamon cream cheese frosting
I use Britannia cream cheese frosting to make frosting for this fluffy mango cake. Make sure your butter and cream cheese are softened. If you use cold butter and cream cheese straight out of the fridge, your frosting will be lumpy. For a smooth and fluffy frosting, sift your icing sugar as well to make sure there are no lumps in the frosting. To flavor the cream cheese frosting, I add a pinch of cardamom powder. Mango and cardamom taste so great together. You must try this combination! I also decorate the one bowl mango cake with fresh mangoes, strawberries, blackberries, nectarines and passion fruit.
Also, don't forget to let the cake cool completely before you frost it!
How to make mango cake light and fluffy
Since the recipe has 4 eggs, the cake will turn out fluffy. But I also sift the dry ingredients before adding them to the batter. That helps incorporate more air into the batter. While mixing in the flour, make sure you don't over beat the batter. Simply use a spatula or wooden spoon to gently fold it in. If you over-mix the batter at this stage, you will end up knocking out all the air. This will result in a dens and heavy cake.
I bake this simple one bowl mango cake in a bundt pan but you can also use a regular 9″ circular cake pan for this recipe.
More mango recipes to try
One Bowl Mango Cake
Ingredients
½ cup vegetable oil
¾ cup castor sugar
½ cup mango puree
1 tsp vanilla extract
4 eggs, at room temperature
2 cups all-purpose flour
4 teaspoon baking powder
CREAM CHEESE FROSTING-
½ cup unsalted butter, softened
½ cup cream cheese, softened
1 + ½ cups icing sugar, sifted twice
1 teaspoon cardamom powder
Instructions
Pre-heat the oven to 180C. Lightly brush a bundt cake pan or a regular 9" round cake pan.
In a large bowl, beat oil and sugar until the mixture is pale.
Beat in the mango puree and vanilla extract.
Add eggs, one at a time. Beat well after each addition.
Sift in the flour and baking powder. Mix until everything is well combined and the batter comes together.
Pour the batter into the prepared cake pan. Bake at 180*C for 30- 40 minutes or until a toothpick inserted into the center comes out clean.
Meanwhile make the cream cheese frosting-
Beat the butter with cream-cheese until the mixture is fluffy. Add in the icing sugar and cardamom powder.
Beat until the frosting is light and fluffy. Spread over the cooled mango cake.
Top the cake with fresh seasonal fruit and berries. I used blackberries, strawberries, passion fruit puree and nactrines