Baking took a back seat in April, since I was traveling most of the month. I spent only 6 days of the entire month at home, most of which were spent planning and packing. I traveled to Kerala for a food styling assignment, to Taiwan for a media trip and then to Bali for a vacation with my friends. But now I'm back and promise to bring you lots of summer desserts this month. Let's start with my absolute favourite- eggless mango cream-cheese tart. It's an eggless tart, so I know a lot of you will love it even more!
This eggless mango cream-cheese tart makes for the perfect summer dessert because the kick of cream-cheese and the sweetness of mangoes is very refreshing.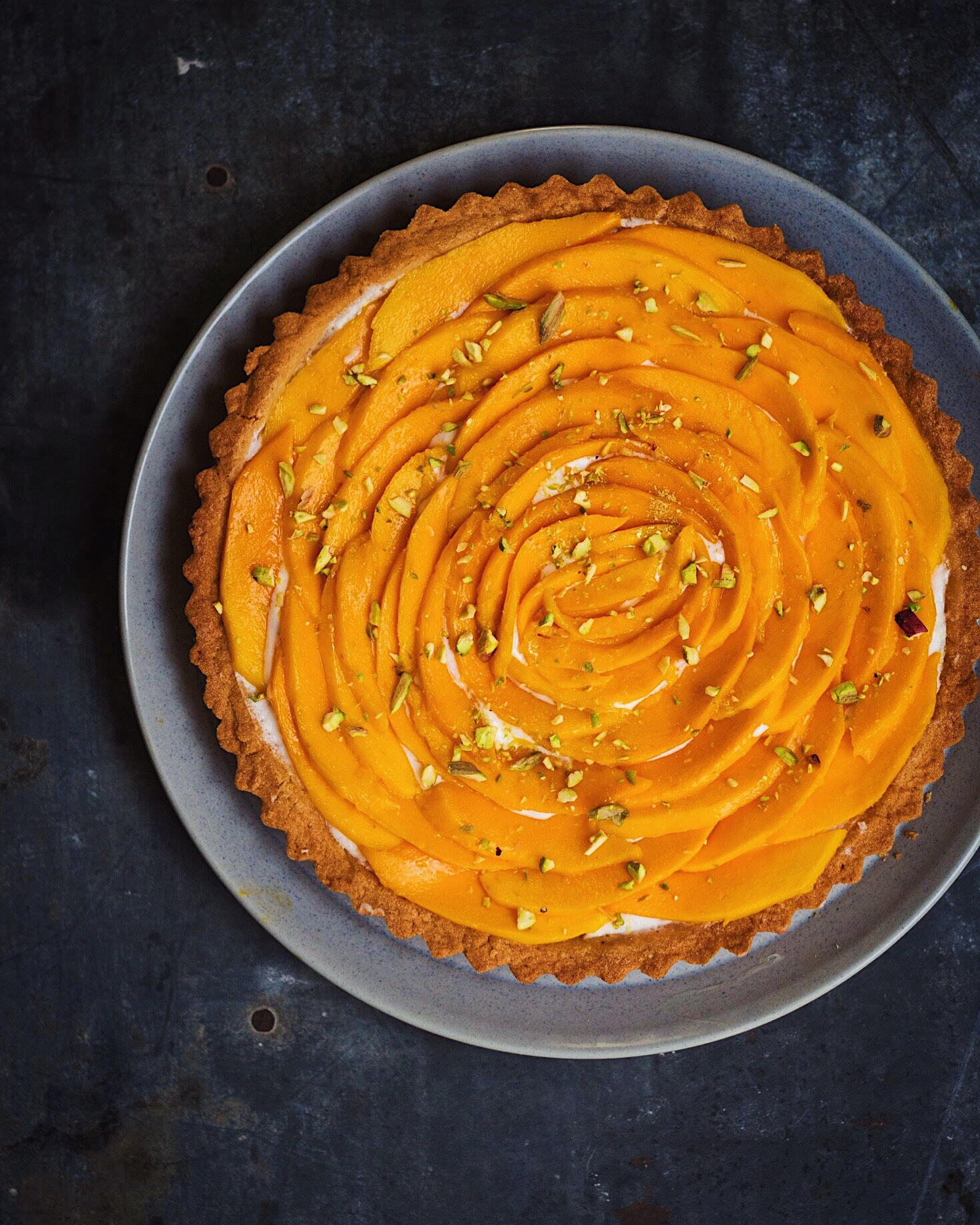 Where to get Cream-Cheese from?
I get a lot of questions regarding the cream-cheese I use because I use it in a lot of the recipes present on the blog.
I use either Philadelphia or Britannia or Dlecta. While I love Philadelphia cream cheese the most, it is also the most expensive. The other two brands work wonderfully as well for this mango cream-cheese tart.
I like cream cheese tarts because they are easy and effortless. And, you can also whip them up in no time! If you like cream cheese tarts like I do, you can also try this Passion Fruit and Cream Cheese Tart.
Using Mango in you Desserts in the right way
Mango is a delicate fruit and my favourite summer guest, haha! And so, one needs to keep some simple things in my mind when you use them in your desserts.
Mangoes are beautiful and delicious fruits but are also very messy. Trust me and keep your apron handy.
If the fruit is too ripe, do not dive straight into cutting it. Massage it a little and cut it while being careful with the juice.
Use a sharp knife. You are playing with a risky fruit here and it is best to not make mistakes
Do not use variants of mango in the same dessert, especially in this eggless mango cream cheese tart. It gives off an unbalanced flavour.
Getting the Perfect Tart
The first step in nailing this gorgeous eggless mango cream-cheese tart is getting your base, that is, your tart right.
And as always, I have you covered. I have an entire blog post dedicate towards getting your tarts perfect and if you follow them, you're pretty much all set!
Moreover, if you love tarts, there are so many recipes from the Bake with Shivesh book that you definitely need to try. I have worked on all the recipes with all my heart and I would love it if you guys try them and love them as much as I do!
Also try other Mango Desserts to beat the summer blues
Mangoes are only here for a limited period which is very sad and thus, one should make the best of it.
Try out more Mango recipes:
If you bake this Eggless Mango Cream-Cheese Tart or any of the mango desserts from the blog, I'd love to see them. Please share pictures with me on my Instagram by using #BakeWithShivesh!
Happy Baking!
Eggless Mango Cream Cheese Tart Recipe
EGGLESS MANGO CREAM CHEESE TART
Ingredients
TART SHELL
½ cup (113 grams) butter, softened
4 tablespoons caster sugar
1 + ¼ cup all-purpose flour
FILLING-
1 cup cream cheese softened
3 tablespoons icing sugar
½ teaspoon cardamom powder
½ teaspoon vanilla extract
½ cup heavy cream, whipped to firm peaks
3 large mangoes, thinly sliced
2 tablespoon pistachios, roughly crushed
Instructions
To make the tart shell, beat the butter and sugar together.
Fold in the flour and mix until the dough begins to come together.
Transfer the dough to a 9" tart pan with a removable bottom. Use your fingers to press the dough into the bottom and the sides of the pan in an even layer.
Refrigerate for at least 30 minutes.
Pre-heat the oven to 180C.
Once the tart shell has chilled completely, prick all over the bottom of the tart using a fork.
Bake at 180C for 10-15 minutes or until the tart shell is golden-brown.
Let it cool completely and remove from the tart shell.
To make the filling, beat cream cheese  with sugar, cardamom and vanilla until it is light and soft.
Using a spatula, carefully fold the cream cheese into the whipped cream.
Transfer the filing into the cooled tart shell.
Arrange the mango slices on top- starting from the outer edge and working it all the way into the center. Top with crushed pistachios
Serve the eggless mango cream cheese tart chilled.