I don't think this dish needs any introduction because the title says it all! I just made the most devour- worthy fried Nutella pancake sandwich which is the sweet treat of your dreams. It is absolutely perfect for a special breakfast or for days when you're feeling lazy but need something decadent to eat. 
My mouth is watering just thinking about the Nutella sandwich. Don't know how I am going to make it through writing this article without actually whipping up another batch of the sandwich. Struggles, I tell you! 
Components of the fried Nutella pancake sandwich 
Okay, let me break down this gorgeous treat for you. The different components that it has includes: a basic pancake batter, slices of bread that bring the sandwich together, lots of Nutella for the stuffing, and some cinnamon sugar mix.
Pancake Batter
For the pancake batter, I used the most basic recipe that anyone can bring together in 2 minutes. You need very basic ingredients like flour, baking soda, sugar, milk, vinegar/lemon juice, vegetable oil, and hot water. The process of making the pancake batter is fairly simple where all you are doing is combining the wet and the dry ingredients. The one thing you need to take care of for this fried Nutella pancake sandwich is to make sure that your batter is more of a liquid consistency than a thick consistency. This will ensure that the sandwich is perfectly coated in the pancake batter and will fry beautifully.
Sandwich bread
I used the locally available white bread but you can easily replace this with brown bread. Make sure to roll out and flatten your bread slightly. This will not only increase the surface area for your stuffing, but also make sure that you do not have a super thick slice of bread in your sandwich. You want to maintain a good balance between the amount of bread, pancake coating, and the stuffing. Lightly brushing the bread with milk is extremely important. This is what will help you seal the sandwich and make sure nothing breaks/pops open in your frying pan.


Nutella stuffing
For the stuffing, I used Nutella and put at least two dollops of it in the centre. You can use any spread you like. Some peanut butter or even some chocolate ganache would make a great alternative filling for these!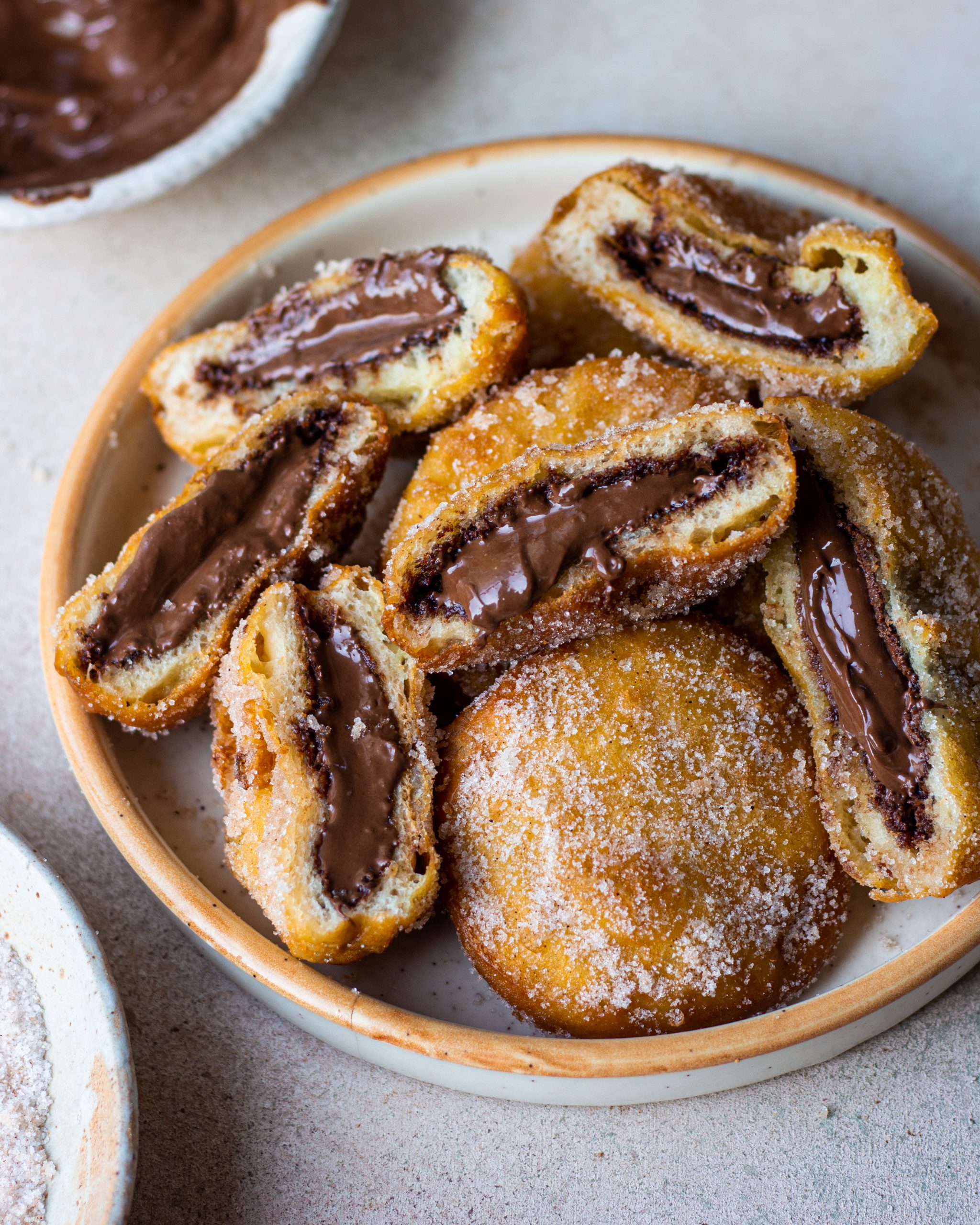 Process of making fried Nutella pancake sandwich 
A few simple steps will lead you to the perfect Nutella pancake sandwich.
The first thing you want to do is prepare your pancake batter. For that, all you need to do is combine all your dry ingredients in a bowl and give them a good whisk. Then make a well in the center and add all your wet ingredients in the same bowl. Keep whisking lightly till all the ingredients are combined and you have a smooth, liquidy, pancake batter. Make sure to not overmix and be gentle with your pancake batter.

Once the batter is ready, our next step is to prepare the bread for the sandwiches but while we are doing that, you will start heating your oil and get it ready to fry our Nutella pancake sandwiches.

Okay, back to our sandwich bread. You will need two slices of bread per sandwich. Both slices need to be rolled out so that you can flatten them a bit and then lightly brush them with milk. Each slice needs to be brushed with milk only on one side each. The sides that are brushed with milk are the ones that will be on the inside.
After your slices are ready, put two dollops of nutella on one slice and use the second slice to place it on complete the sandwich. Use a cutter of any shape to cut off the edges of the bread and seal the sandwich from all sides.
Now all that is left to do is to coat this sandwich in the prepared pancake batter. Make sure to remove any excess batter before putting the sandwich in the frying pan or deep frying. Fry these till they are golden brown on both sides. Lastly, while they are still warm, dunk these beauties in cinnamon sugar and coat all the sandwiches in it. YUM.
Things to keep in mind while making fried nutella pancake sandwich 
For the pancake batter, you need buttermilk as one of the wet ingredients. Buttermilk is simply the combination of milk and vinegar. Combine these two in a small bowl and let it sit for 5-10 minutes before you add it in along with other wet ingredients. 

The pancake batter needs to be of a smooth and slightly liquid consistency. If you feel the batter is too thick, just add in some more hot water till you reach your desired consistency. 

Sealing the sandwiches nicely is extremely important. Brushing the bread slices with milk helps add some moisture and makes sure the sides of two slices will stick to each other. Do not skip this step. 

You can use any flavorless oil for frying these nutella sandwiches. I used vegetable oil but you can also use sunflower oil. Canola oil, or even soya bean oil. 

If you do not like cinnamon, you can simply dunk the sandwiches in caster sugar and leave the cinnamon out. 

These are best eaten immediately. Make sure to gobble all of them down while they are still warm. 
I cannot wait to see your images of these epic fried nutella sandwiches! Tag me on your photos using @shivesh17. Happy baking!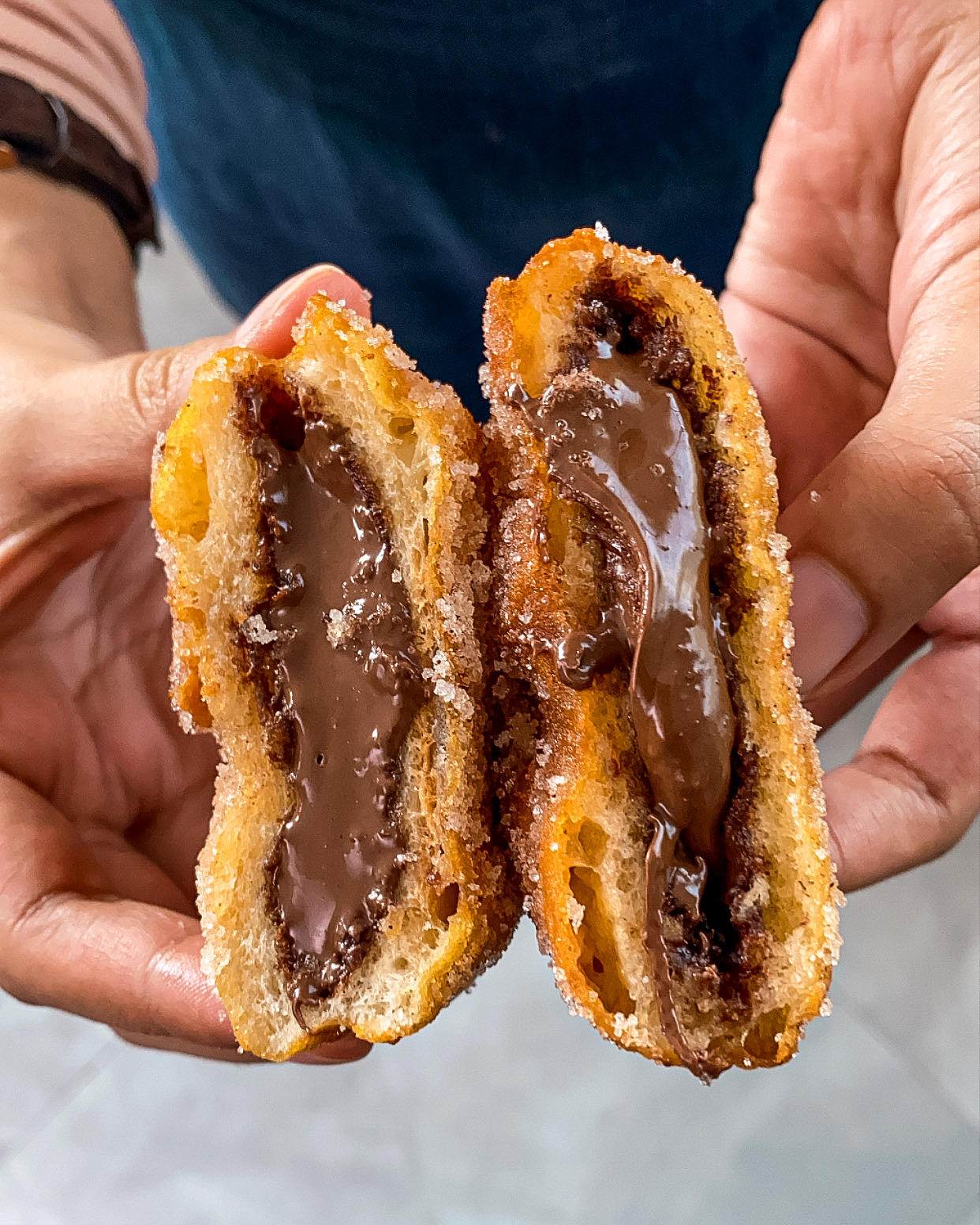 Fried Nutella Pancake Sandwich
Ingredients
Pancake batter
1+1/2 cup milk
1 tbsp white vinegar / lemon juice
2 cups flour
1 tsp baking powder
½ tsp baking soda
¼ cup caster sugar
¼ cup vegetable oil
½ cup hot water
10-12 slices of white bread
2 tablespoons milk (for brushing)
Nutella (for stuffing)
Cinnamon sugar:
¾ cup caster sugar
1tsp cinnamon
Instructions
To prepare the pancake batter, in a small bowl, add in milk and vinegar. Give it a good mix and set it aside for 5-10 minutes.
In another bowl, add in flour, baking powder, baking soda, and caster sugar. Whisk all of these together.
In the same bowl, add in all wet ingredients. This includes the milk and vinegar mixture (buttermilk), vegetable oil, and hot water.
Combine the wet and dry ingredients to get a smooth batter.
Next, before you start to assemble the sandwich, assemble your frying station and start heating the oil.
Meanwhile, to assemble the sandwich, take two slices of bread and on one side each, lightly brush it with milk. Using a rolling pin, flatten the bread slices.
Drop a dollop on Nutella in the middle of one slice and place the other bread slice over it. Make sure to seal it from the edges.
Using a cutter of any desired shape, cut the edges out. Dip your sandwich in the prepared pancake batter. Make sure to remove any excess batter before putting it in the frying pan.
Fry each sandwich for about 2 minutes or until golden brown on one side and then flip it. Cook it on the other side for another minute or so.
Continue the same process till all your sandwiches are ready.
To make the cinnamon sugar, simply combine sugar and cinnamon in a bowl.
While still warm, drop each sandwich in cinnamon sugar and roll it around to evenly cover it.
Serve warm.