If I were to pick a desert that I could eat for the rest of my life, it would most definitely be chocolate chip cookies. I mean is there anything better that exists? They are crispy, but also chewy. Little nuggets of chocolate spread throughout that surprises my palette every time. It is a personal size dessert and this time I have come up with a recipe for a no oven chocolate chip cookie! 
And I think we are all in this together cause I get the most love on my socials whenever I post a chocolate chip cookie picture or recipe. But I also get flooded with the 2 most popular questions that exist in the baking world. How to make it EGGLESS? How to bake without an oven? Well I listened, here we have it. My no oven chocolate chip cookie that is also eggless. These are perfect to push your cookie cravings away and let me tell you they are the real deal.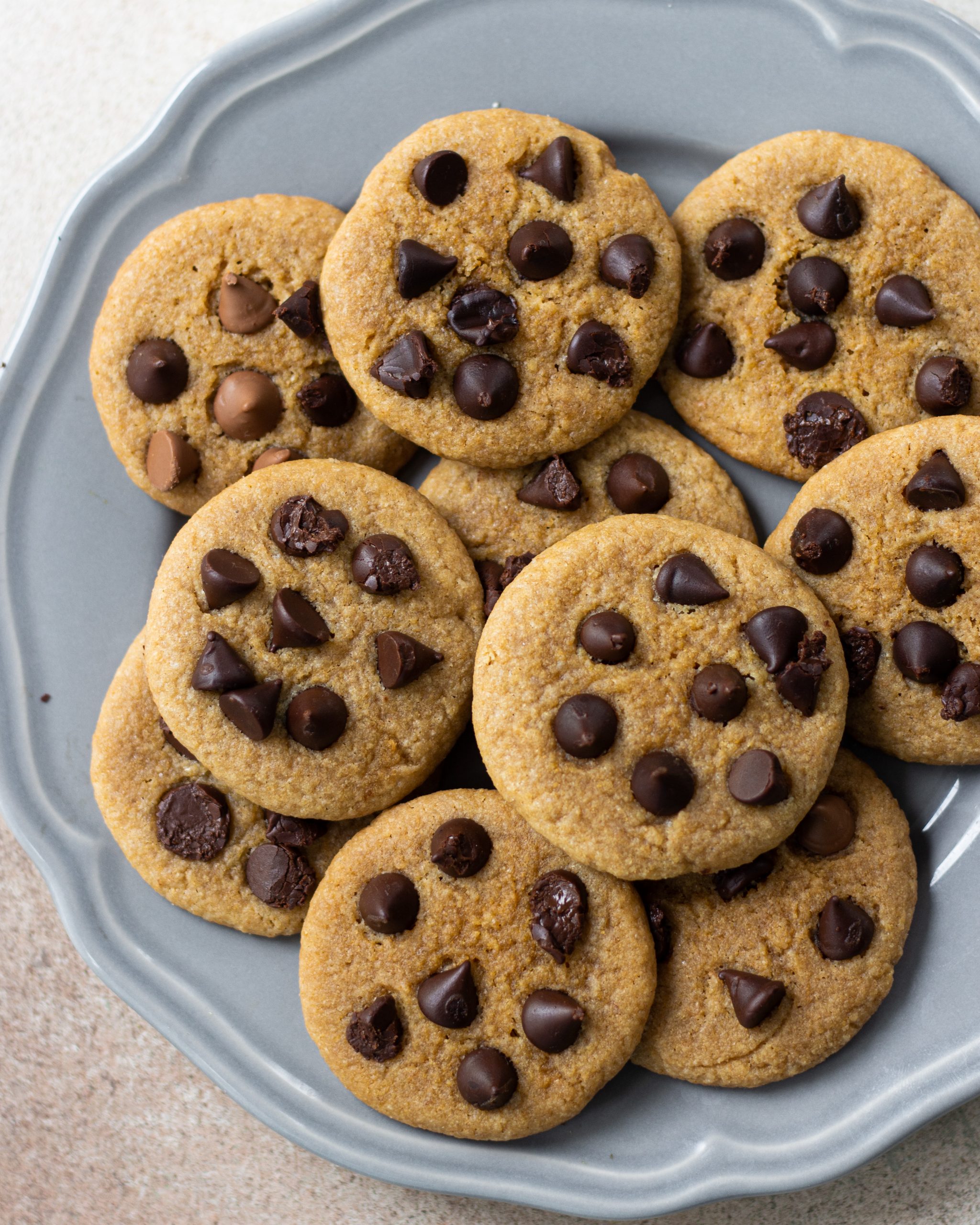 How to make cookies without an oven
For these no oven chocolate chip cookies we will be creating a similar set up to an oven but over an induction. Now you can totally do it over a regular gas stove too. Things you would need for the set up:
A large pan- this will be our cooking medium, so go ahead and pick the biggest pan you have. But make sure to grab one that has higher rims and is not flat like a 'tava'.

A trivet- this separates and protects our cookies from direct heat. You can use one of those circular wire racks you get with your microwave or be absolutely care free like me and use an idli making mould. Basically anything with a little bit of a height. 

A steel plate- this would act like our oven tray and we would prop this over the trivet. Since steel is a good conductor of heat, this will ensure that our cookies are cooked evenly and thoroughly. Please do not use glass or plastic plates, this could lead to a hazard.

A lid- I love using a glass lid cause then just like my oven, I will be able to see how my cookies are cooking here as well. The lid would help trap the heat in our make do oven and help with our cookie cooking process. 
If you are cooking these in the oven, make sure you chill your dough for 30 minutes in the fridge, use an ice cream scoop to scoop the cookies on a tray lined with parchment/foil. Bake in a preheated oven @ 180C for 10-15 minutes until golden brown. 
Ingredients for the no oven chocolate chip cookie
Whole wheat flour
Whole wheat flour has slowly become one of my favourite flours to bake with. Its earthy, warm and lends this beautiful texture to our no oven chocolate chip cookies. I use the regular 'atta' that I steal from my mom's kitchen. Hehe! I always recommend sifting your flours, especially when using whole grain flour. Sifting the dry ingredients will ensure that a lot of air is being incorporated into the batter which is especially important when baking anything eggless.
Softened butter
Using softened butter is so crucial for these no oven chocolate chip cookies, or any other cookie for that matter. Softened butter will whip better and dissolve the sugars faster. I love using salted Amul butter, using butter that is already salted will help us skip that extra addition of salt in our desserts. 
Sugars
For almost all my cookie recipes I prefer and encourage using both brown and white sugar. While white sugar gives my no oven chocolate chip cookies that crispy texture and some structure. Brown sugar helps with the chewiness and gives a beautiful earthy, almost caramel hint. Brown sugar is readily available in the Indian market now, and I love using the brand Tate and Lyle. However you can completely skip out on the brown sugar and just use ¾ cups of white caster sugar. 
Chocolate chips
These are the sheer essence of these delicious cookies, but I do understand that it can get very difficult to procure chocolate chips here in the country. And while I continue to use my stash of chocolate chips that I have smuggled across different vacations abroad, let me give you guys a solution. 
Chocolate chips can easily be replaced by any chopped chocolate of your choice. P.s. this is actually better, bigger the chunks more chocolate for you. Wink! Wink!!
Or you are not feeling chocolate that day, by the way which should never happen. You can simply replace the chocolate chips with any nut/seeds of your choice. 
The golden cookie rule
Okay, I am just going to say it out in the world, it's not easy to wait while your cookies sit in the fridge. I know, I get impatient and have this urge to constantly give up and bake the cookies right away…but! Do NOT do that, pleaseee. If you want those perfect looking grammable cookies, chill your dough in the refrigerator for 30 minutes at least this process will allow the butter in our cookie dough to solidify and allow our cookies to hold shape in the oven while baking them. So trust the process, relax, set a 30 minute timer and grab a beverage. 
Now, since I am a cookie maniac, and if you are too I think you would love the Double Chocolate Chunk Cookies, Red Velvet Cookies and Chocolate chip and Pecan Cookies.
And when you do recreate then don't forget to show it off on your social media and tagging me @shivesh17 on Instagram.

No-oven chocolate chip cookies
Ingredients
1 + ¼ cup (157 gm) whole wheat flour
1 tbsp cornflour
½ tsp baking soda
½ cup (113 gm) softened butter
½ cup (100 gm) light brown sugar
½ cup (115 gm) caster sugar
1 tsp vanilla extract
¼ cup (61 gm) milk
¼ cup (40 gm) chocolate chips
Instructions
In a large bowl add softened butter, brown sugar, caster sugar and vanilla. Use a spatula to cream the butter and sugar together until everything becomes nice and fluffy.
To the same bowl sift in the whole wheat flour, cornflour and baking soda. Mix everything together until the texture of the dough looks sandy.
Add milk to the dough to bring everything together and mix well. Refrigerate the dough for 30 minutes.
For the cooking setup, place a high rim pan on the induction cooktop. Place a trivet on the pan (any wire rack/idli mould). Place a steel plate on top of it and cover the pan to preheat on a medium heat for about 10 minutes.
Take a spoonful of the chilled cookie dough, roll it into a ball, flatten them and place it on top of the plate in the pan. Cover and cook for 20 minutes.
Once the cookies have risen and cooked almost all the way through, top them with chocolate chips and cover and cook for a couple of minutes more.
Turn the heat off , let the cookies cool off and then devour them asap!