Some recipes are so comforting to make that they completely calm you down. One such recipe for me is this chocolate chip and pecan cookies. We all need to do everything that can make us feel good and productive these days. I see a lot of you baking these days. Some of you are doing it everyday and that makes me very happy.
This lockdown has had a significantly positive impact on me because it is after so long that I am getting to bake so much. Usually, my team is there to help me out in my studio kitchen while I handle other meetings and photoshoots. Consequently, I never get the time or the opportunity to bake as much as I would like to.
It is absolutely amazing to be in my studio kitchen every single day and bake everything from scratch. It reminds me of my initial baking days. How I got started with my website, and my Instagram profile. Keeping this nostalgia in mind I want to share a cookie recipe with all of you and these chocolate chip and pecan cookies are an absolute delight!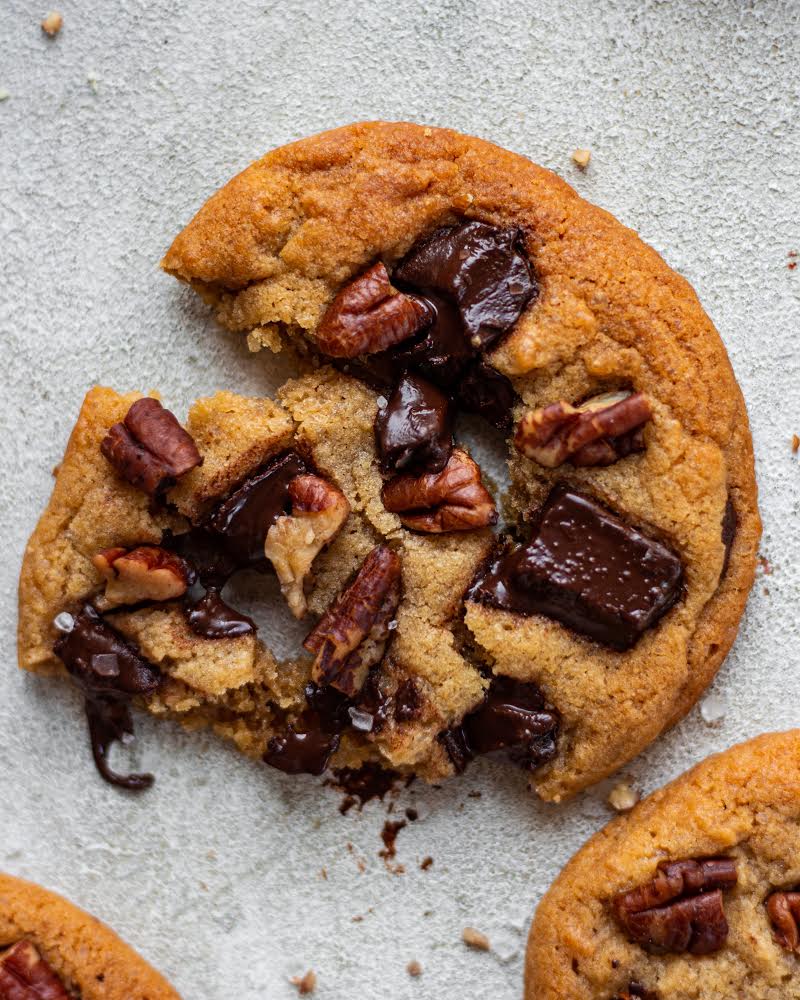 Ingredients used in Chocolate Chip Cookies
Baking these chocolate chip and pecan cookies is one of the most simple things and they taste amazing! And yes, they make use of everyday ingredients. But there are a few things that I would like to point out.
In all of my cookie recipes, I always add a small portion of cornflour to the dry ingredients. I prefer chewy cookies and cornflour really helps me achieve the same. If you are not a fan of chewy cookies, you can choose to not add cornflour in your dry ingredient mix!
Another thing I always take care of while baking cookies is use a combination of both, white and brown sugar. Brown sugar has molasses which again enhances the texture of the cookie and makes it a hundred times better than the cookies made with just white sugar.
Instead of using dark brown sugar, I use packed light brown sugar. I find the flavor of packed light brown sugar to be much better than that of dark brown. And please note, 'packed' light brown sugar means, whenever you're measuring it out, make sure to push down the sugar in your measuring cup and keep on adding till the cup is full!
I love using pecans in my desserts because they have such a sweet and nutty flavor. But if you do not have pecans at home or are someone who does not like their taste, you can always substitute pecans with walnuts. They will also work beautifully in this recipe!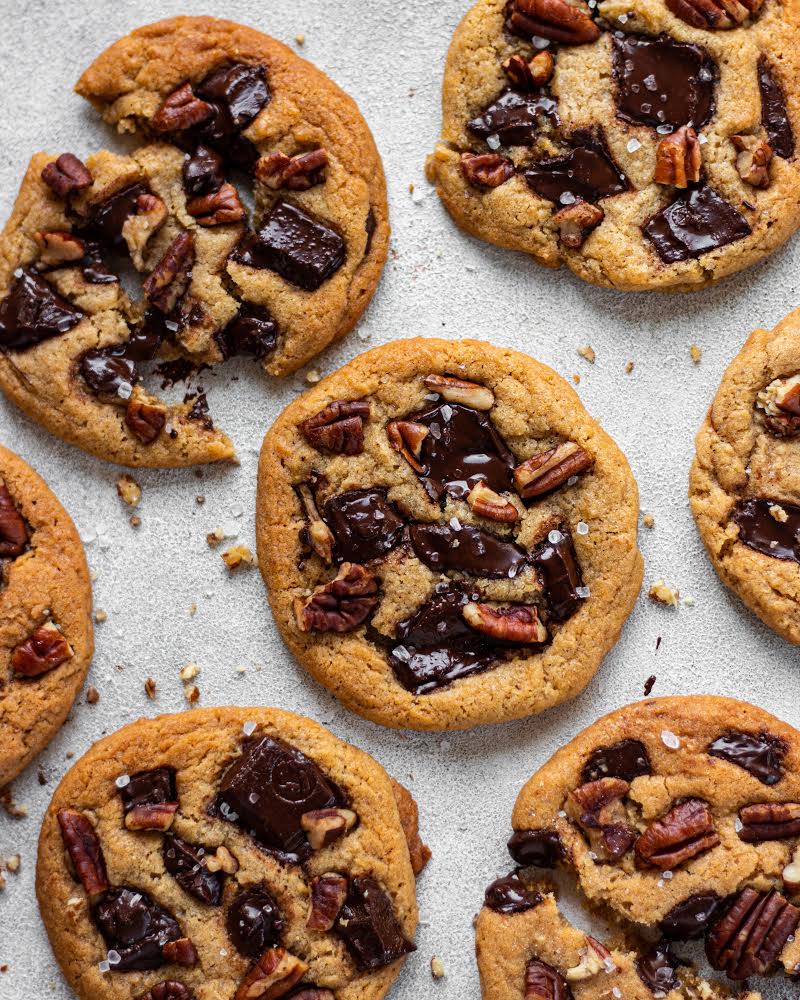 Baking Cookies in a Microwave
If your microwave has a convection mode, you can also bake these cookies in it! Cookies do not really have disappointing results. They do not have strict guidelines for temperatures and other baking rules. To bake these Chocolate Chip and Pecan Cookies in the microwave, preheat until 180 degrees Celsius. Place the cookies evenly on your tray, and allow to bake for 15-17 minutes only. Again, microwaves differ, so keep a sharp eye out for the golden edges!
PS- If your microwave does not accept a flat tray, take that round cake tin out and evenly place your cookie dough onto it. You might take a longer time to bake a sufficient batch of cookies, but you will succeed!
Helpful tips for perfect chocolate chip and pecan cookies
●
Have all of your ingredients at room temperature, especially the butter. However, if you forgot to take out ingredients ahead of time, then pop the butter in the microwave for just 10 seconds, till it becomes soft to touch.
●
Cream your butter and sugar really well, till the mixture reaches a pale color. Do not rush this process as it will effect the texture of your cookies.
●
Always rest your cookie dough. The flavor and texture, both are much better if you rest your dough.
●
Please scoop out the dough using an ice-cream scoop to make sure your cookies are evenly sized.
●
Line your baking tray with a silicone mat or parchment paper so that cookies do not get burnt from the bottom and come off easily.
●
Bake your cookies till the edges are golden brown. If you over bake them, they will be very hard to eat.
●
Store your cookies correctly, in an airtight container. This will keep your cookies fresh for longer.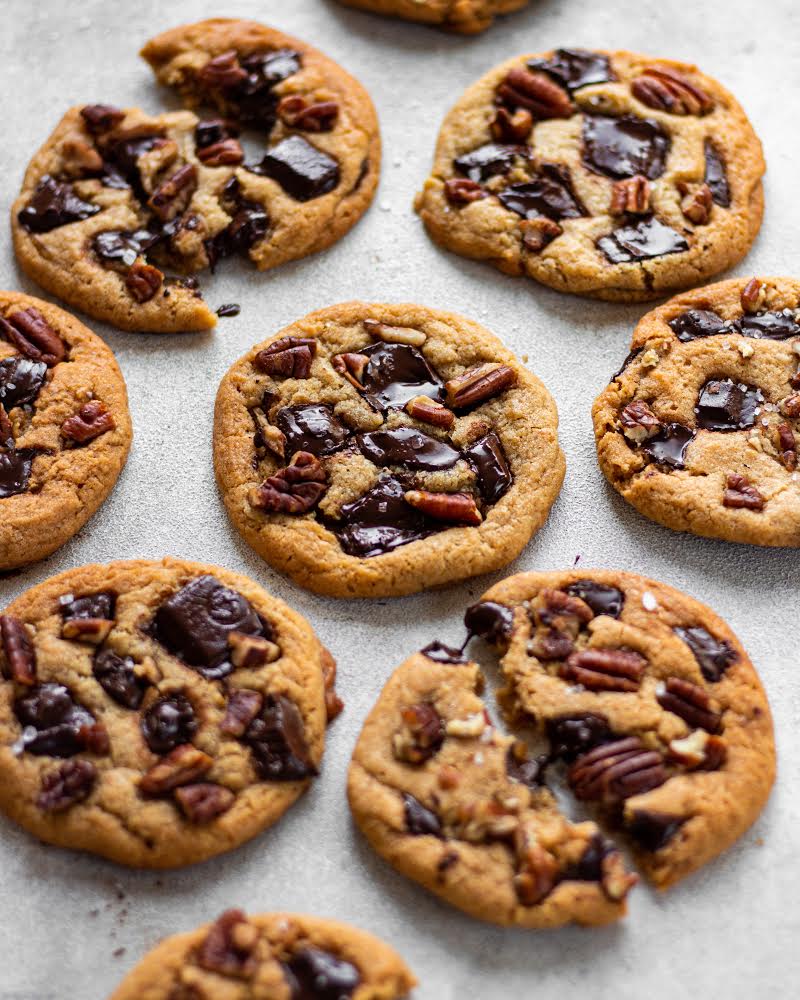 More cookie recipes!
I have been obsessed with cookies since I started baking and I can eat an entire batch in one sitting! I know it is not the healthiest habit, but i just can't help it. To express my love for cookies. I have shared multiple cookie recipes on my blog. Here are a few that you can check out:
Almond Chocochip Cookies- Eggless
There are so many cookie recipes on the blog, it's crazy! If you try some of these out, do not forget to share images with me on my instagram @shivesh17. Happy baking!
Recipe for Chocolate Chip and Pecan Cookies
Chocolate Chip and Pecan Cookies
Ingredients
1¼ cups all-purpose flour
1 tablespoon cornflour
½ teaspoon baking soda
½ cup unsalted butter, softened
½ cup lightly packed brown sugar
½ cup castor sugar
1 egg
½ cup pecans, crushed
½ cup chocolate chips
Sea salt, to top
Instructions
In a small bowl combine all-purpose flour, cornflour and baking soda.
In a separate bowl, beat the butter with the brown and castor sugar.
Beat in the egg.
Fold the dry ingredients into the wet ingredients.
Refrigerate the cookie dough for 30 minutes.
Preheat the oven to 180°C.
Line a baking tray with parchment paper. Using an ice-cream scoop, place balls of cookie dough on the tray.
Bake the cookies for 5 minutes. Take the tray out and top the cookies with crushed pecans and chocolate chips.
Bake for another 10 minutes.