You know how they say, 'there are different foods for different moods!' For me, chocolate brownies are a mood themselves! No matter what emotion I'm feeling. If I'm feeling happy, festive, stressed or sad, brownies are always there to rescue me. Oh! And I'm feeling a little bit of everything in these testing times of quarantine. In order to bring myself at peace, I turn to my no bake brownies! These will take a tad bit longer than regular brownies and you NEED to chill them in the fridge for an hour before cutting into them. But, all of this is so therapeutic for me, because the result is utterly divine. Trust me, I can't be this patient to dig into my desserts but I need the best results and I have to wait it out. So do you!
These no bake brownies are fudgy, ultra chocolatey, eggless and do not use an oven or microwave to make. This is a super easy recipe, but the end product is no lesser than an oven baked brownie. Many of you are quarantined away from what one would call their safe spaces. You are away from home and oven is further idea, you many not even own a microwave. And you know what? It's okay. One does not require an oven or a microwave for this recipe. You need a kadhai, a sauce pan! If you have one, you're fully set!

Ingredients for these no bake brownies
The Chocolate:
I have used amul's 55 % dark chocolate (sugar free) for the no bake brownies, because that's all I had on hand. Any chocolate will work here, whatever you have lying around in the house, throw in it.
The Butter:
Helps in giving structure to our no bake brownies. Especially when we put our brownies in the refrigerator to cool after baking. This process solidifies the chocolate and butter in the brownies, giving it that texture that brownies have.
The Yogurt:
I have used yogurt in I have used home made curd/dahi. Yoghurt will also help the brownies texturally, giving it that gooey and fudgyness.
The Topping:
To top these no bake brownies, I have used chopped walnut pieces and chopped dark chocolate. This step is completely optional if you are short on ingredients, or are allergic to nuts. However I personally love the crunch it gives to these no bake brownies. The crunchy bits balances out the gooeyness of these brownies!
The Cooking Process of these No bake brownies
Unlike my few other quarantine recipes, we are not cooking these in a pressure cooker. Instead I wanted to try another cooking method, apart from the traditional oven and microwave. So, I thought why not take a chance on our trusty KADHAI.
Kadhai is basically a wide mouthed cooking vessel, just like a wok. Now, let's talk about the step up. So you take your kadhai, place a round wire rack on the bottom. If you don't have a wire rack, an inverted plate will also do the same job. Now place your 6×6 square baking pan on top. Then fill the kadhai with water, say about 1 inch (this may vary depending upon the shape and depth of your vessel. The water should be enough to just touch the base of your cake pan but shouldn't be submerging it. Now, cover the kadhia with a lid, set it on low-medium flame and cook the no bake brownies for about an hour.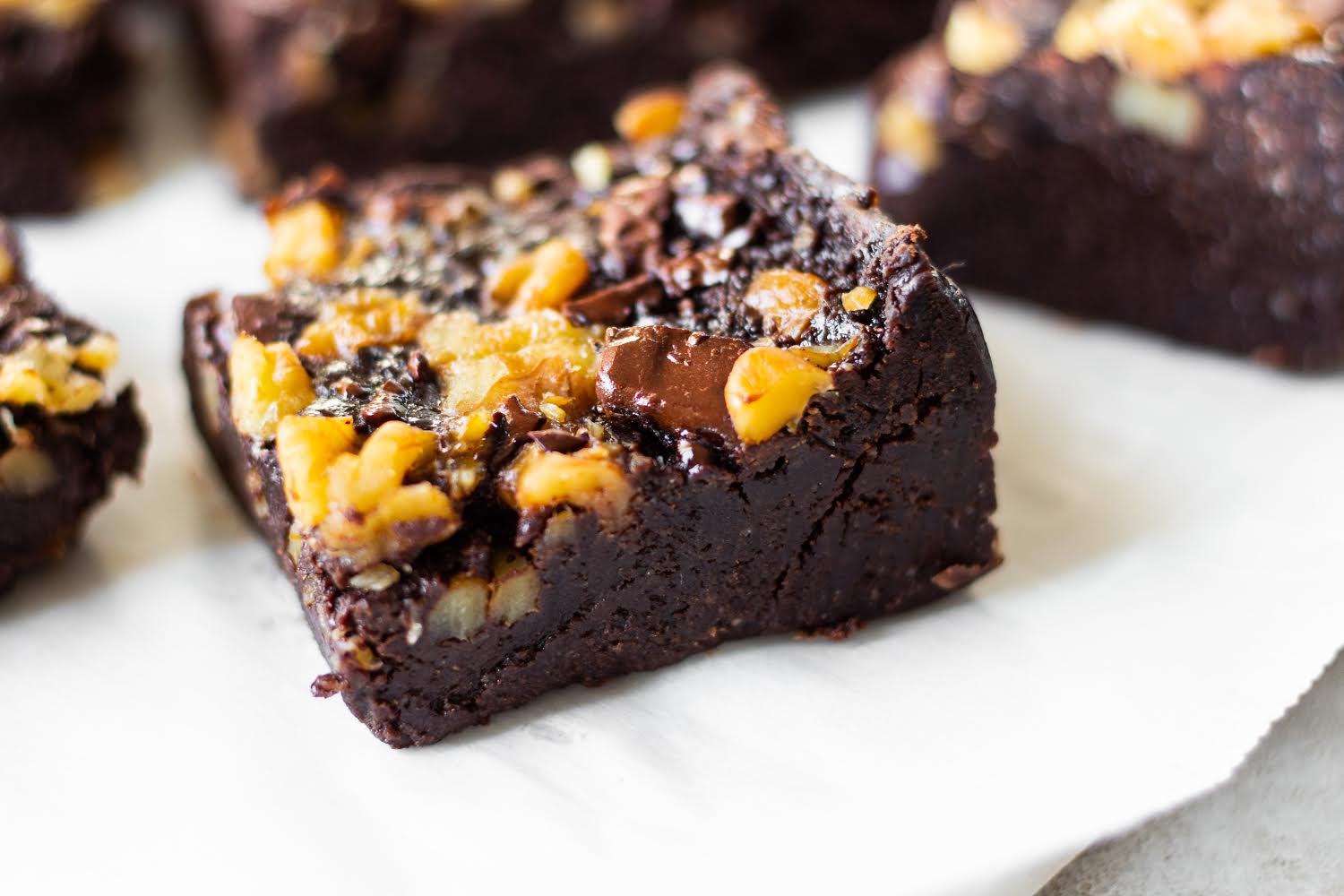 COOKING TIME
These no-bake brownies will take upto an hour of cooking on a low-medium flame on the stove top. There is no point of inserting a skewer and checking up on the brownies, since the centre will remain soft and fudgy. So as to set the centre, chilling the brownies in the refrigerator is a crucial step. This step will set the chocolate and butter back, and solidify the brownies.
IMPORTANT TIPS TO GET THESE NO BAKE BROWNIES RIGHT, EVERYTIME!
1. Make sure to tightly seal your 6×6' baking pan with aluminum foil. Sealing this properly means that there are zero chances of condensation getting into your no bake brownie.
2. You have to keep refilling water in the kadhai as the water keeps evaporating. Not keeping a tab on the water level, will result in undercooked brownies. I observed that adding water every 15-20 minutes worked perfectly for these no-bake brownies. Please be careful when you do, as there will be a lot of steam buildup. Steam can burn and cause injury.
3. Chilling the no bake brownies for an hour in the refrigerator. This a crucial step, which is have I have mentioned it here multiple times, please do not skip this!
OTHER COOKING METHODS
These brownies can be made in the oven or microwave too if that's the cooking method you prefer. For an oven, you can cook them @ 180 C for 30-35 minutes. You can do the same in a microwave, on convection @ 180 C for about 25 minutes.
I also have some other brownie recipes on the blog, that you can check out too. These are 'eggless brownies in microwave' and 'fudgy chocolate brownies'.
If you bake them, please tag me on Instagram too!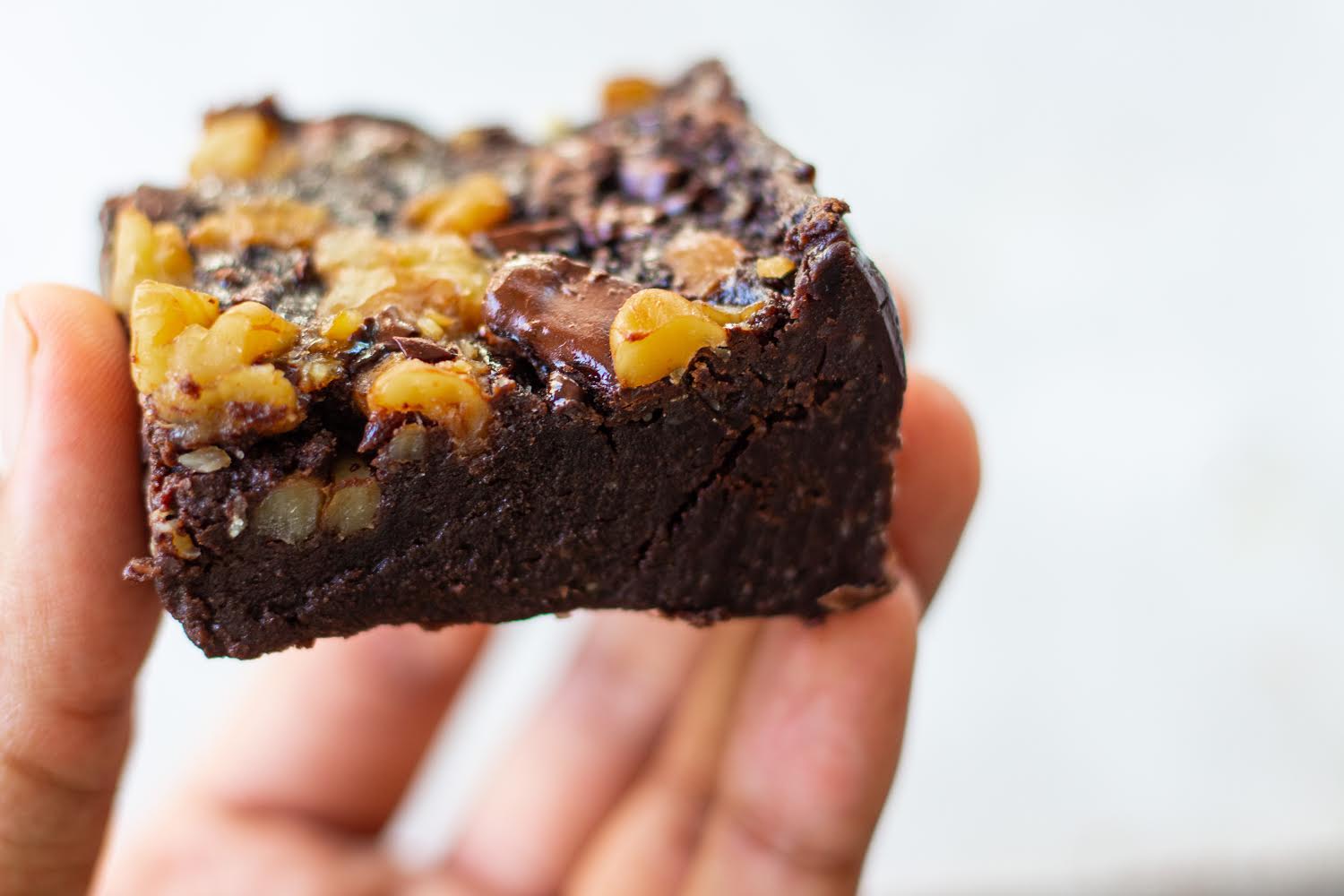 Recipe for these No bake brownies
No bake eggless brownies
Ingredients
1 cup ( 175gm) dark chocolate, coarsely chopped 1⁄2 cup (113gm) butter
1 cup (200gm) caster sugar
1⁄2 cup (60gm) all purpose flour
1 tsp (4gm) baking powder
3 tbsp ( 23gm) cocoa powder
1 cup Greek yogurt/ homemade curd
1⁄2 cup (63gm) crushed walnuts
Instructions
Melt the butter and chocolate together in a pan set over low heat. Once melted set it aside to cool.
In a separate bowl, take the sugar and add the yoghurt in, mix well.
Once the chocolate- butter mixture has cooled, add it to the sugar- yoghurt mixture
and mix well.
Now add in the flour, baking powder and cocoa. Gently mix the dry ingredients in,
until well combined.
Transfer the batter to a 6x6' baking pan, lined with parchment paper. Top it with
chopped walnuts and chocolate(optional).
Cover the baking pan with aluminum foil.
To prepare the cooking set up. Take a kadhai, place a wire rack on the bottom. Set
the baking pan on top of the wire rack. Add in about an inch worth of water. Cover
with lid.
Set this on a low-medium flame, cook for about an hour. Replenishing water every
-20 minutes or as needed.
Once cooked, carefully remove the brownies, let it cool for about 5 minutes. Then
place it in the fridge to chill for an hour.
Once cooled, you are free to devour it after all this wait! Enjoy!