I know we are all quarantined, and have been mindlessly snacking. Well I have been doing it to say the least. So I thought why not bring you guys a recipe that is equally good as any other recipe but is also guilt free? This whole wheat banana bread tastes like magic and is so much more healthier for you! I believe that the true existence of bananas was to be made into banana bread. Yup! I said it.
Bananas add such a brilliant taste to baked goods that it surprises me everytime. So caramely, gooey and sweet, all natural by the way. I do have other banana recipes here on the blog, but this Whole wheat banana bread is something else. Basic ingredients, correctly spiced, no refined sugar or flour. It's perfectly guilt free and will be your go to dessert once you try it.
With the lockdown now enforced for 15 more days, we know that we can really use some delicious whole-wheat recipes. Thus, I bring to you this utterly yummy Whole wheat banana bread recipe. Not only is this recipe heavenly in terms of taste, it is also super healthy because of the absence of refined sugar. This Whole wheat banana bread uses powdered jaggery instead of refined sugar. So, if you are looking at ways to get your yum and sticky jaggery outside its box, this Whole wheat banana bread is your solution, y'all!
Now, if you have any inhibitions related to jaggery and wheat recipes, I have already attached my youtube video above. Click away to know better about how to make this Whole wheat banana bread perfectly! If you wish to check out more recipe videos, you can catch me on youtube here.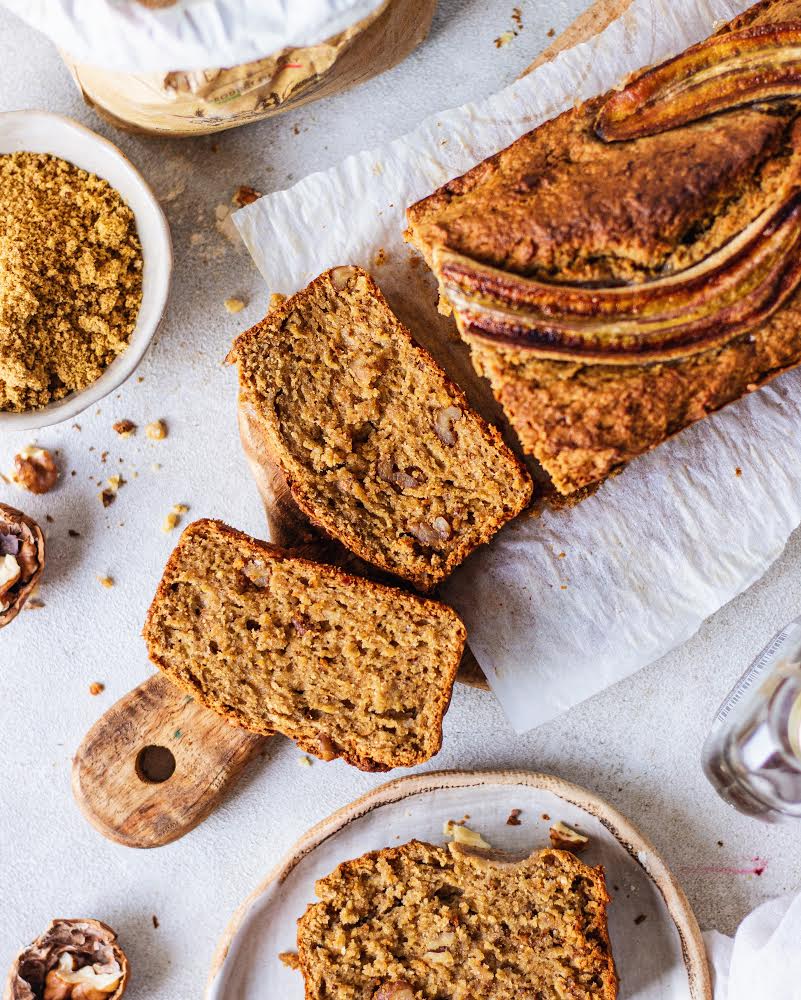 Tips on ingredients for this Whole wheat banana bread
WHOLE WHEAT FOUR is processed and has more nutrient value when compared to white flour. However no compromise has been made to the taste of the banana bread. However if you do not have it on hand, any other flour would do great in this recipe.
JAGGERY POWDER gives the banana bread that rich, caramelized flavour. Jaggery or 'shakkar' is a healthier sweetener. I did not use any refined white sugar here. You can substitute this with brown sugar, coconut sugar or even white sugar if that is what is available to you.
EGGS add structure and texture to banana bread. However to make this eggless, you can skip the eggs and add in a cup of greek yoghurt/hung curd. This would yield similar results.
CINNAMON AND GINGER POWDER add that much depth in the banana bread. The warmth of spices feels like a nice cozy hug. But if this something you don't have at home, you can omit this.
WALNUTS add a beautiful crunch and textural satisfaction to the banana bread, you can replace them with almonds, or any other nut of your choice.
This recipe is a very easy-peasy one with literally zero things to fret about. A delicious Whole wheat banana bread fills your home with the exact kind of warmth that one needs to forget the stresses around. Especially with this deadly virus, all we tend to do is talk about it and increase the stress. That is not how it should be. Baking as an activity is really meditative and it helps to ease not only the one baking but also the surroundings. Plus, this Whole wheat banana bread is easy and quick.
The flour
This Whole wheat banana bread is made completely of whole wheat flour or atta. Now, you can use any normal atta, just make sure you are sieving it as many of you might use pure mill flour.
The spices
I love using spices in my cakes. This whole wheat banana bread uses cinnamon and ginger powder. While these happen to be my favourite, you can surely go ahead and use some nutmeg or some cardamom. Whatever makes you feel at ease! You can also drizzle the baked bread with some honey!
The leavening agents in this whole wheat banana bread
I have used both baking powder and baking soda in this whole wheat banana bread. I prefer the brand Weikfield because it is highly trusted and is also the bestseller! Always remember that baking soda should be lesser than your baking powder in all desserts!
The jaggery powder
Don't worry if you don't have jaggery powder. Just cut down your solid jaggery and throw it in a mixer. Blend to a fine powder like consistency and use it in your whole wheat banana bread batter!
Which bananas to use in your cakes and breads
To get the sweet sweet banana flavour in the whole wheat banana bread, please only use the ripest bananas only! When they have freckles, they are super spotty. This means the natural sugar in the bananas is high, this will benefit the taste of your banana bread. But what do you do if you don't have ripe bananas at home? Just put them in the oven, bake them @ 200 for 15 minutes. Do this with their peels on please, when the peep turns black, that's when you know the bananas are done.
Why black bananas are often preferred for breads and such is because when the peel has turned black, the banana has converted almost all the starch to sugar and thus has gotten as sweet as it can before it spoils. Un-ripe bananas hardly have any sugar juices flowing through them. It will take an un-ripe banana a lot of time to secrete the sugar juices once being baked. Often, it is hardly able to do so. Thus, if one uses un-ripe bananas in desserts like this whole wheat banana bread, they get a bad and undesirable flavor.
Equipment
I made this using my stand mixer. Simply because I have it on hand and much easier to do so in one. But if you just have a bowl and a whisk in your hand, you will do just fine. This recipe is so forgiving that what kind of equipment you use has a very less say in how the product turns out to be.
Tips for the best ever whole wheat banana bread
Use the yellow-est of bananas. Actually, the blacker the better. If you don't have a too ripe banana, microwave it at 180 degrees for 15 minutes! Bake 'em.
Ensure your jaggery powder is really fine and smooth. Obviously smooth batters are more desirable. This whole wheat banana bread should also have a nice and flowy batter.
Don't go overboard with the spices. They are desirable but nothing tastes good when it goes overboard. This whole-wheat banana bread is a well balanced dessert anyway.
Roast your walnuts or your almonds. They impart a nice and crunchy taste to this delicious whole wheat banana bread.
Recipe of this whole wheat banana bread
Whole wheat banana bread- No refined sugar!
Ingredients
2 cups whole wheat flour
1 tsp baking powder
½ tsp baking soda
1 tsp cinnamon powder
½ tsp ginger powder
½ cup softened butter
⅓ cup jaggery powder (Shakkar)
2 eggs
1+ ½ cup mashed bananas ( about 5 bananas)
1 tsp vanilla
½ cup milk
¼ cup walnuts
Instructions
Preheat oven to 180 celsius,
In a bowl, combine your dry ingredients- flour, baking powder, baking soda, spices and mix well.
In a large bowl, add butter and jaggery powder. Cream them both.
Once it looks fluffy, throw in your eggs and mix well.
Mix the bananas into the butter mix. Add the milk and mix well.
The batter looks curdled. Add the dry ingredients and fold them in.
Add the walnuts or any other nuts of your preference.
Shift your batter into a prepared loaf tin.
Bake your bread for 45-50 minutes until toothpick inserted comes out clean.