If you guys have been following me on Instagram, you would already know that I have no self control when it comes to cookies. I love all kinds of cookies, but nothing beats the classic- Chocolate Chip Cookies! The recipe that I am sharing with you makes the most delicious cookies ever, and its eggless!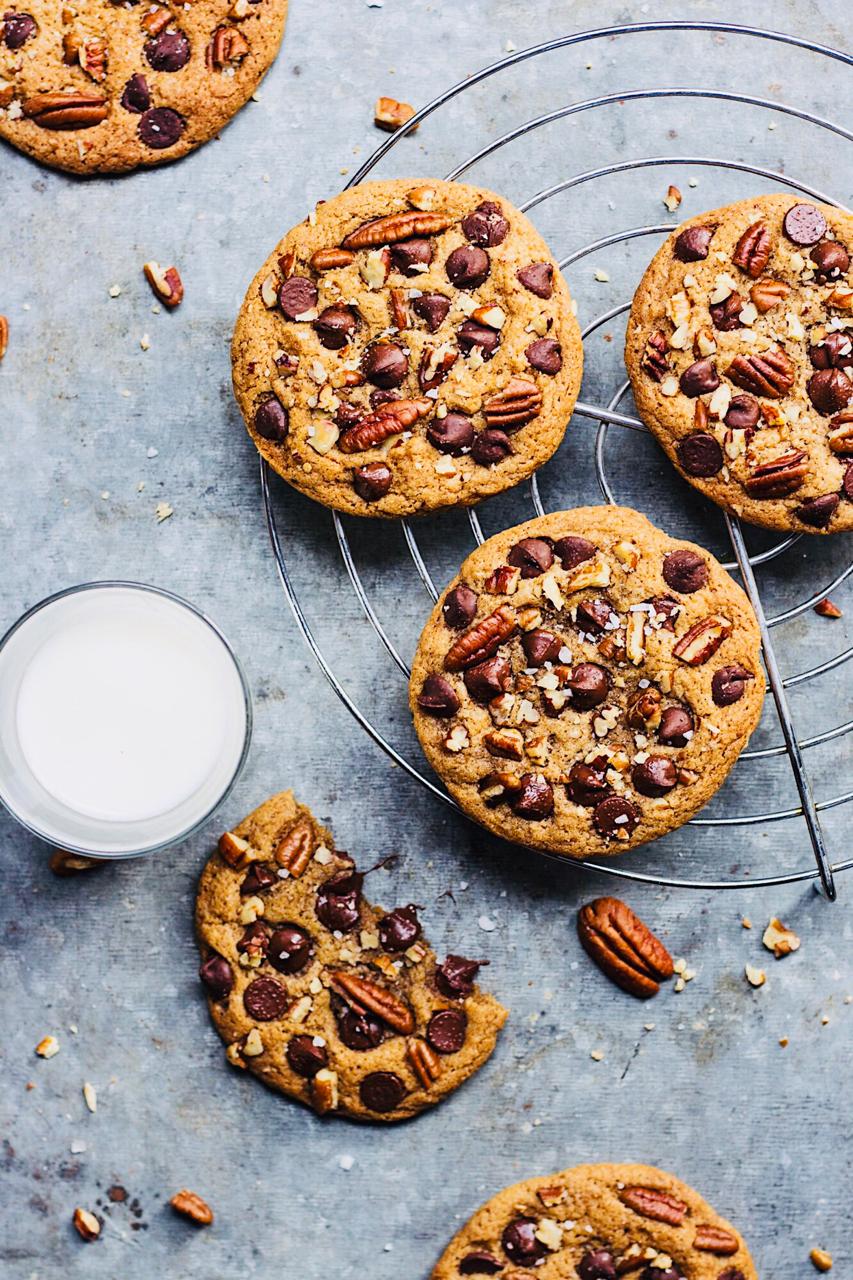 Ingredients for
 Eggless Chocolate chip Cookies
I like using a combination of caster sugar and brown sugar for my cookies because I love the flavour and texture that it gives. I  use packed light brown sugar and not dark brown sugar, because I personally feel dark brown sugar gets overpowering. Another thing to make sure while baking these cookies, or anything for that matter, is to have all your ingredients at room temperature, unless mentioned otherwise in the recipe. 
Tips to keep in mind while making Eggless Chocolate chip Cookies
Always scoop out the dough using an ice-cream scoop to make sure your cookies are evenly sized.

 

Line your baking tray with a silicone mat or parchment paper so that cookies do not get burnt from the bottom and come off easily.

 

Do not over-bake the cookies as they'll end up being really hard.

 
I also have so many other cookie recipes on the blog. Have you guys tried the Eggless Peanut Butter Cookies with Chocolate Chips yet?

Eggless Chocolate Chip Cookies
Ingredients
1 cup (227g) butter, melted
½ cup (100g) light brown sugar
½ cup (100g) castor sugar
2 + ¼ cup (270g) all-purpose flour (maida)
1 teaspoon (6g) baking soda
4 tablespoons(60mL) milk
1 tsp (5mL) vanilla extract
Instructions
In a large bowl, combine melted butter with brown and castor sugar.
Stir in the vanilla extract.
To this mixture, add flour and baking soda. The dough will be very thick and dry at this stage.
Add the milk and beat until the dough comes together.
Pop the dough into the refrigerator overnight or for at least 4 hours.
Pre-heat the oven to 180C. On a baking tray lined with parchment paper/ silicon mat, scoop the cookie dough in equal sized balls.
Use your fingers to gently press the dough balls to flaten them a little. Top with chocolate chips
Bake the cookies for 12-15 minutes-only until the edges are golden-brown. Top them with sea salt
Let the eggless chocolate chip cookies sit on the baking tray for another 10 minutes before you lift them