Delicious cherries are in season right now and I can not stop myself from incorporating these beautiful and red fruits into literally all my desserts. Another recipe that I played recently with is this very easy and effortless eggless black forest tart. This eggless black forest tart is topped with a delicious layer of cherry compote. It doesn't only make it prettier but also ten times more yum!
I absolutely love playing around with fruits in my desserts. While I don't particularly enjoy cherries on their own, I am a fan when it comes to cherry desserts, especially like this eggless black forest tart. It is literally a stress-free recipe and even the harsh summer loo won't discourage you from getting up and whipping this up! This eggless black forest tart is just that amazing!
Making the perfect eggless black forest tart shell
A tart is the easiest, most delicious and versatile dish that one can prepare in no time. It goes well with both sweet and savory fillings. Whether it is custards, lemon curd, or cream cheese filling, you just need to put on your thinking caps and go where your creativity takes you! So many you ask me- how to make perfect tarts and I have the perfect blog post on how to make perfect tarts, that I am sure you guys will absolutely love! This eggless black forest tart shell is also super easy to make and the tips will certainly help you guys on how to go about tart-ing, haha!
Tips on baking with fruits
As you guys may have already noticed, I love my fruits and I love my fruity desserts- exactly like this eggless black forest tart. But, there are some very basic tips that one should remember about cooking or baking with fruits and they are as follows:
Please remember to always wash your fruits. There are a plethora of new germs in the market and you wouldn't want those in your body- trust me. So, always thoroughly rinse your fruits and your berries as well!
While baking with fruits, make it a point to read up the recipe properly. Some fruits are easier to deal with while some aren't and obviously, some are required to be incorporated in a specific way. Most recipes will guide you on how you should go about using your fruits. Thus, it is my advise to never take recipes casually.
Be aware of how cooking processes will affect your fruit. For example, the Vitamin C in your lemons is destroyed on heating.
Other Tarts from the blog
If you liked this eggless black forest tart, you are sure to like the following tarts as well: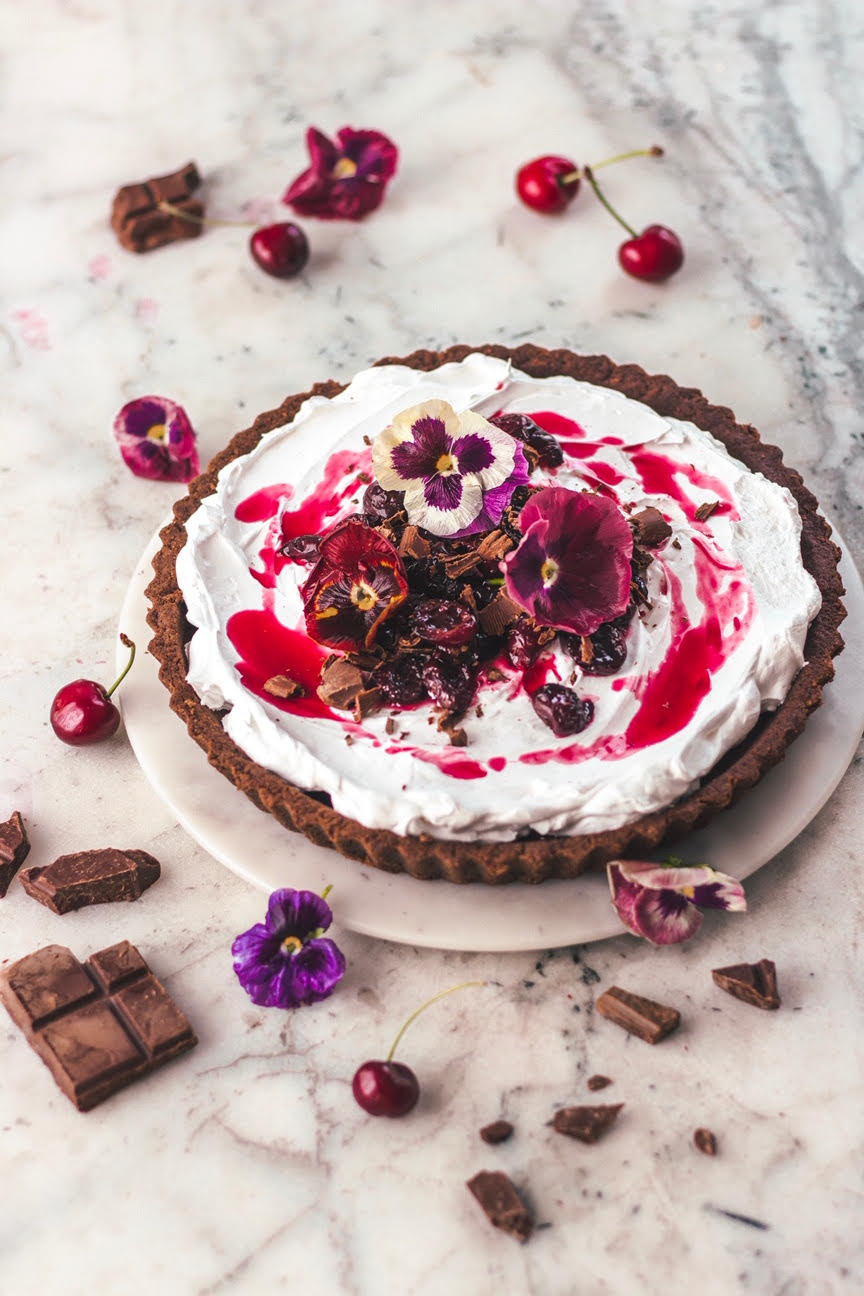 Eggless Black forest tart with cherry compote recipe
Eggless black forest tart with cherry compote
Ingredients
For the tart
½ cup (113 grams) butter, softened
4 tablespoons caster sugar
1 + ¼ cup all-purpose flour
4 tbsp cocoa powder
For the filling
3 tablespoons icing sugar
½ teaspoon vanilla extract
½ cup heavy cream, whipped to firm peaks
For the cherry compote
4½ cups pitted fresh cherries
1 cup lemon juice
½ cup sugar
Instructions
To make the tart shell, beat the butter and sugar together.
Fold in the flour and the cocoa powder and mix until the dough begins to come together.
Transfer the dough to a 9" tart pan with a removable bottom. Use your fingers to press the dough into the bottom and the sides of the pan in an even layer.
Refrigerate for at least 30 minutes.
Pre-heat the oven to 180C.
Once the tart shell has chilled completely, prick all over the bottom of the tart using a fork.
Bake at 180C for 10-15 minutes or until the tart shell is golden-brown.
Let it cool completely and remove from the tart shell.
For the filling, beat the whipped cream with sugar and vanilla until it is light and soft.
Transfer the filling to the baked and cooled tart shell
For the cherry compote, Bring all ingredients to a boil in a large heavy saucepan; reduce heat and simmer until cherries are softened and start to release juices, about 10 minutes.
Using a slotted spoon, transfer cherries to a medium heatproof bowl.
Simmer juices until thick for about 15–20 minutes.
Pour the syrup over the cherries and let this cool down a little.
Top the black forest tart with the cherry compote and chocolate shavings.